---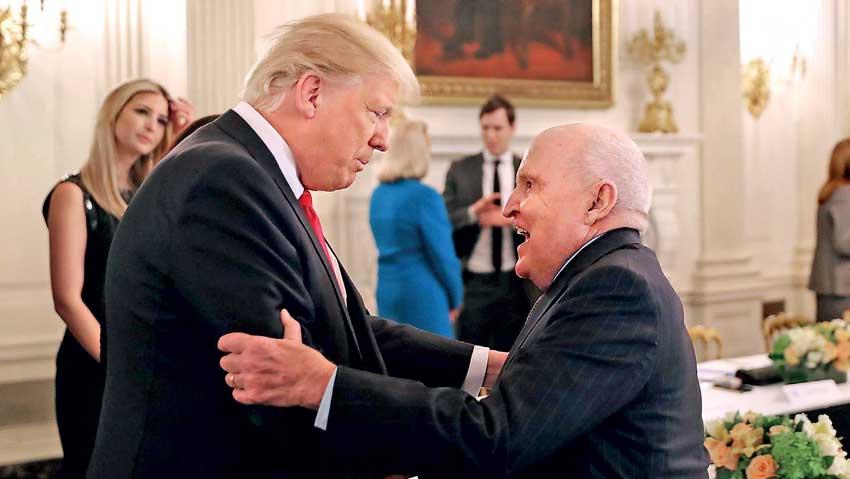 Donald Trump with Jack Welch (Photo credit Chip Somodevilla)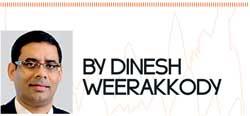 Jack Welch, who was described by the Fortune magazine in 1999 as the 'Manager of the Century', died this week, at the age of 84.

Welch, an only child, grew up in a working-class Catholic family. His father was a railroad conductor; his mother was a homemaker.

Welch, who joined General Electric (GE) on completing his PhD, lost no time moving up the GE corporate ladder. He became the youngest Vice President in 1972 and he became Vice Chairman in 1979.

In 1981, he became Chairman and Chief Executive Officer and turned around the grumpy appliance maker into a multi-billion conglomerate. In Welch's 20 years as CEO, GE's market value grew from US $ 12 billion to US $ 410 billion, making him one of the most sought-after corporate leaders of his era and was hailed as a role model whose business philosophy paved the way to get rid of the old boy traditions of corporate America.

Welch's achievements made him the torch bearer of the shareholder value philosophy and that philosophy led to the tacit agreement between companies and their employees, in which employees shared in the company's profits in good times and had to take a big hit in bad times like the owners.

Welch to reinforce his mantra often described his thinking into one or two sentence power slogans like: "Control your destiny or someone else will.", "Be candid with everyone.", "Bureaucrats must be ridiculed and removed.", "If we wait for the perfect answer, the world will pass us by.", "Hit out of the park." and "When the rate of change outside exceeds the rate of change inside, the end is in sight."

Ambition
His ambition at GE, Welch wrote in his popular autobiography, was to create "a company filled with self-confident young entrepreneurs who would face reality every day." In his famous book, 'Winning', Welch wrote that he would like to be remembered "as a huge advocate of straight talk and for installing a meritocracy.

He said many times that he would like to be remembered for trying to make the case that you can never allow yourself to be a victim of circumstances. Welch was a tireless innovator and a change champion, changing virtually everything he touched—from quality management to leadership, to procurement to strategy.

He was a proponent of dismantling big bureaucracy and creating less hierarchical workplaces and later on an adopter of Japanese-influenced quality management processes. Welch became the leading proponent of the business theory known as Six Sigma – the drive to constantly improve the way business is conducted in a firm.

Perhaps the ideas he's most associated with, though involve aggressive acquisition as a means to growth and what can best be described of the man would be the CEO who wanted the bottom 10 percent of the organisation annually weeded out to pave the way for organisational renewal.

Welch's teachings
To Welch, "excellence" meant being "better than the best". He said in many of his writings that to achieve that state one would require a brutal assessment of everything we do, say or make, to find out if we are better than the best? If it is not, we will ask ourselves, "What will it take?"

To get there and then rally the resources required to get there. If the economics or the environment determines that we can't get there, we must take action to disengage ourselves from that which we can't make "better than the best".

He adopted three strong guiding principles in his corporate life – pursue a small number of objectives with single-minded passion, build a high-quality management team and weed out the poor performers. All this required ruthlessness and tough empathy. This philosophy led GE to strip away many traditional but poorly performing manufacturing businesses and move into financial services that had better ROI.

Fame
Business success and frankness brought him worldwide fame. His book, 'Straight From The Gut' became a best-seller and led to frequent speaking engagements, where he took his no nonsense talk on to the global stage. There he would argue that to recapture the essence of management, a CEO would need to start making smarter choices in how work should get done through other people.

Management is a central driver of economic activity, he argued and arguably even more important in today's economic climate than ever. Welch revolutionised the concept of a firm's management model: the deliberate choices made by top executives on: how they set objectives, motivate people, coordinate activities and make decisions. Too often companies even now subconsciously adopt the same management model as their competitors. But for Welch, the management model was the key driver of competitive advantage to make smarter choices.
Welch's management legacy even after 25 years still remains relevant and will live on. United States President Donald Trump tweeted, "There was no corporate leader like "neutron" Jack. He was my friend and supporter. We made wonderful deals together.

He will never be forgotten."

Georgetown University's McDonough School of Business Professor Thomas Cooke wrote, "When the book about business leaders in this century is written, Jack Welch will be near the very top. What he did as the leader of GE was remarkable."

In the final analysis, Welch's teachings were extremely effective and most importantly, focused a lot on helping leaders succeed. The philosophy was simple: build great teams, with great people and the company will win.