---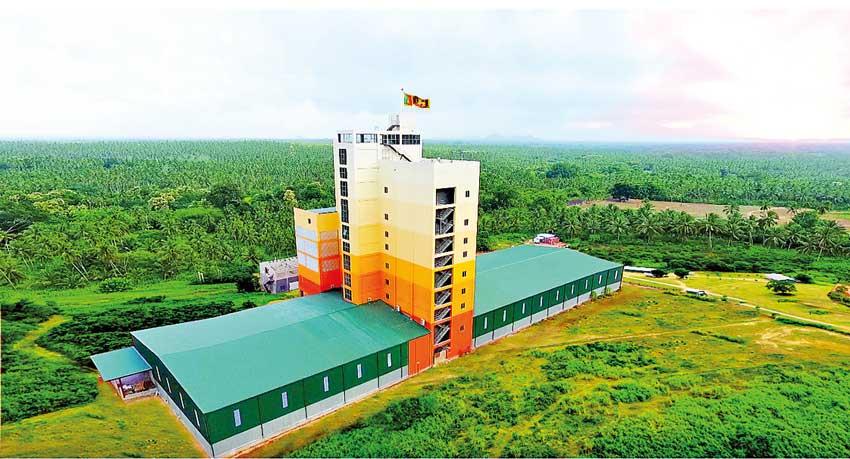 Crysbro's state-of-the-art feed production facility in Kurunegala
Across Asia, the issue of food security perpetually hovers over numerous poor and working class households. Many global social organisations list malnutrition as a major regional challenge, with several estimating that Asia houses 67 percent of the world's hungry.

This is an extremely relevant issue for Sri Lanka, as a national survey conducted by the World Food Programme indicated abysmal levels of acute malnutrition across all 25 of the country's districts.

Crucial factor
When considering these facts, Sri Lanka's poultry industry stands as a crucial weapon in the battle to nourish the 22 percent of Sri Lankans who are undernourished and 33 percent who cannot afford an enriching diet.

Prior to the 1950s, chicken was a delicacy even for the most well-heeled in Sri Lankan society. Over time though, with the rapid development of the poultry sector, its price quickly declined to beat out other animal-based food sources, making it a low-cost yet nutritious option for all consumers, regardless of income bracket.

Chicken and poultry products are now a staple component of the Sri Lankan diet, and offer ample nutritional benefits aside from their obvious high quantity of protein. For instance, the maize used to feed the chickens is particularly rich in pro-vitamin A carotenoids, which are converted into Vitamin A once they enter the human digestive system. Vitamin A is vital for the body's processes of growth, development and immunity.

From an economic perspective, the sector's yields have been exemplary, with the poultry sector accounting for roughly half of the livestock industry's 0.6 percent contribution to Sri Lanka's Gross Domestic Product.

Poultry's contribution to agriculture
In recent years, poultry's contribution to the agriculture sector is accelerating at a dizzying pace, and the potential for poultry production to contribute to Sri Lanka's export revenue is forecast to be high. Presently, broiler hatching eggs and meat are exported to the Middle East and the Maldives, with plans in place for reach to be extended to the European Union market. Furthermore, the poultry industry is among Sri Lanka's most structured and disciplined tax contributors.

Additionally, the current government has offered a tax concession for poultry products and exports that in turn can be leveraged to strengthen the country's poultry industry through an increase in export earnings. A number of companies have already taken advantage of this, especially in the Middle East, where significant market share has been thus obtained. In the current global climate, where massive international poultry markets are at a standstill, opening a line of exports will undoubtedly help Sri Lanka boost its poultry market.

As a major player in this swiftly progressing industry, Crysbro has been at the forefront of battling food insecurity and delivering greater economic dividends through the provision of high-quality chicken.

"Each year, Crysbro bolsters the rural economy by spending Rs. 1 billion to purchase maize from 2,000 farmers in regions such as Moneragala and Mahiyanganaya. Crysbro's feed mill alsoallows farmers to engage in direct selling. This entirely erases their reliance on a mediating middleman and ensures that they are compensated immediately after the collection of stocks," said Crysbro Senior Marketing Manager Amores Sellar.

These strong local connections will prove invaluable in the weeks ahead, with the world closing its borders to international trade due to the novel coronavirus pandemic, making Sri Lanka almost entirely reliant on local production.

The challenge
The entire poultry sector will be confronted with the stern challenge of aiding national efforts to ensure food security, particularly within the poorest communities, while simultaneously maintaining the industry's current momentum in order to nurture economic stability.

Nevertheless, regardless of the approaching challenges, the poultry industry will be buoyed by its stellar track record as an economic overperformer, and will continue to act pragmatically to nourish the nation.

Established in 1972 with just 100 chicks and a deep desire to be a market leader in quality and innovation, Crysbro has emerged as Sri Lanka's first and most sophisticated, fully vertically-integrated poultry producer. Its operations span grandparent and parent farms, hatcheries, broiler farms and feed mills. This thriving 'Farm-to-Fork' concept has formed the core of its success.

In turn, it has yielded unprecedented benefit for numerous stakeholders including direct and indirect employees, outgrowers, domestic maize farmers and ultimately Sri Lankan consumers.These local links have immeasurably aided domestic production and led to a reduction in reliance on imported poultry products.