---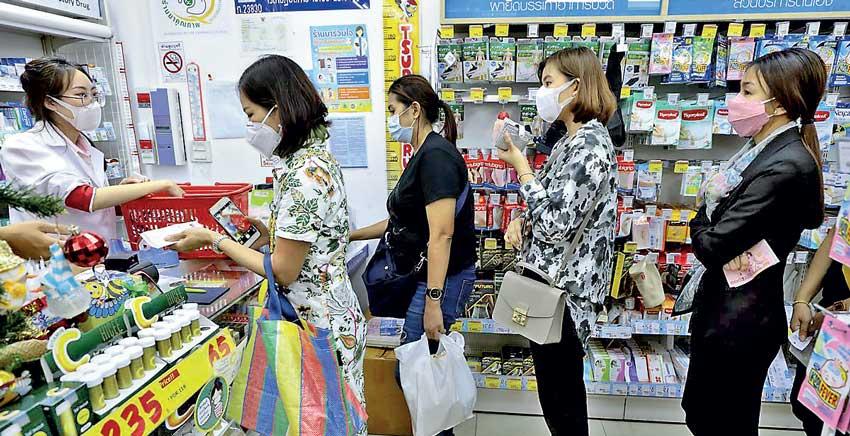 Although we think people would buy excess products and stock more for this crisis period, survey data shows that people do not stock food for a longer period as we expected
By Praneetha Amunugama
One of the biggest challenges seen due to the coronavirus outbreak is the socio-economic downfall with over 200,000 deaths around the world without any cure at the moment (by end April 2020) (Source: World Health Organization – WHO).
Demand on essentials has been increased while supplies are running out without required capacity. Panic buying and excess purchase has created supply shortages of essential goods like medicines and food items.
Due to the outbreak, major economies like the U.S and China, are struggling economically and this situation has threatened the global economy. Political systems around the world are badly affected due to suspensions in legislative activities, postponement of elections and deaths of health sector expertise and decision-makers.
According to the world economic senses we see that every figure of all economic sectors has gone down like a magic due to the present situation of the world. Though this virus is fatal, with the development of the technology globally it should be preventable. However, the time taken for this solution is not foreseeable anytime soon.
While the global economy has taken a serious hit due to the pandemic, there are some businesses thriving as a result of this poor situation. Countries are strictly observing quarantines and social-isolation. This crisis forced people to 'stay home'. Therefore, many have had to work out of their office premises remotely. There are many benefits by doing so.
The travelling cost of the workers has gone down. The monthly expenditure of the companies too has gone down as the companies don't have any utility costs to incur as well as other expenses like sanitary or maintenance. The travelling time can be utilized to work from home.
Proving the old saying "Every dark cloud has a silver lining" some intelligent minds around the world have started to find some good solutions to wave-off the bad devil. While the medical experts find the proper medicine for the virus, the governments are making new concepts to face the future challenges. They know that if they do not take the necessary actions to develop the economy, they have to face many more unexpected circumstances in near future.
Food sector
Food is the most important part and the first basic need of the mankind and it is given priority in any country. So, our first focus should be given to grow it sufficiently. Once our country was called "The Granary of the East" as our ancestors had supplied the essential rice food for other countries though, they had very simple technology. Why can't we get the same entity with such technology?
Our country is situated in the center of the equator. So, the sun comes in the correct time to help us with sunlight. Thanking to the kings who ruled very early, we have many water resources. The soil is enriched with all essential substances to grow all type of food items to consume within the country as well as to export. Though this is a long term development method, this will last forever. All people of the country have engaged in the agricultural revolution to face the future challenges. It is a good side of the crisis. The indirect job opportunities will also be created by doing so. It will be a proper solution for the unemployment crisis.
Based on the SRL food survey conducted during COVID- 19 period (early April 2020), people behave totally different to the usual way of purchasing and stocking essentials.
Although we think people would buy excess products and stock more for this crisis period, survey data shows that people do not stock food for a longer period as we expected. For an example, usually around 4/10 household stocks rice required for a period of 15-30 days, during the crises only 2/10 households stock for a 15-30 days requirement. On the other hand, only around 22 percent and 15 percent of household stocks chicken and fish respectively in the crisis time which is a drastic change from their usual food consumption pattern. While there could be many reasons for these food purchases and stocking behavior shifts in these crises, experts' opinion is that some of these changed food behavior patterns would continue even after the crisis.
Agriculture sector
With the open economy that introduced in 1977, the agriculture gets less importance. As a result of that many of the farmers left farming and many people waited for the free food that is given by the government. So, with this crisis, the present government has to spend more money on them.
According to the figures of the government, 5.4 million families have been given monthly Rs. 5000 each (Source: Daily News published on 10th April). What does this figure indicate? Out of 7.4 million families in the country, 6.4 million jobs are unstable. Can the government bear this forever? Now COVID 19 has taught us a good lesson.
If we want to over-come the problems, we need short and long term stable methods and every family should take part in to the growth of sustainable economy. It may be at least in a small scale.
The government shouldn't allow importing food items that can be grown here in our country and similar food should be produced instead. Then the country can save the farmers and provide them a sustainable price to their products and add value to them.
Self-employment
With this global crisis, all developed countries are going in shortage of medical kits and cannot supply the requirements to fulfill their needs by themselves. Now the time has come for the government to invest on serving solutions.
The government can provide a sewing machine to the families that get 'the Samurdi' with a proper training to stitch the important medical kits like face masks and body kits that is required to prevent COVID19 globally. Then women can be utilized as well. It will be a short and a long term investment as well as foreign money will also come to our country to protect our rupee value that has gone drastically down with this crisis. With these solutions, rupee value will remain stable at a certain level without decreasing.
Engineering sector
After a long time, some expert engineers as well as some apprentice in our country in the engineering field have made unbelievable findings including robotic methods to use in the medical sector to challenge the COVID 19 pandemic.
As a developing nation, we haven't done such inventions for many decades, instead buying those from developed countries by spending billions of dollars. We can develop them and sell them in the world market under Sri Lankan name tag with good returns.
Retail sector
With this situation, the customers cannot go out to their regular shopping centers. So, the sellers have to come to the door step to sell their products. Though some young generation had a habit of buying products with the use of e-commerce, older generation did not do so with the technology. Now the time has come for both generations to use the new technology for the betterment of the future.
The retail companies have to develop good user-friendly, e-methods to sell their products and services rather using the complex methods. With the introduction of new methods, jobs in logistics will be increasing exponentially.
The small scale business will also be increased when they reach the customers. When the sellers are increasing, the customers can buy quality food items at an affordable price. It is expected to see a tremendous growth of e-commerce in Sri Lanka and hence it is a duty of the retail sector to be ready to grab the best opportunity from this change.
Finance sector
The banking sector also has to think about both generations and they have to develop the e-banking solutions to adapt to the situation as all customers do not like to gather around the banks or around the ATM machines.
This would be a remarkable time period for digital banking in Sri Lanka. Irrespective of different perceived and experienced barriers about digital banking, people are forced to use digital platforms for banking during this period.
Adoption of online payment methods to pay electricity, water and other utility bills would be showing a trend in to the future as it was never before. Financial and banking sector get a bigger opportunity to expand their digital reach and leverage their existing digital infrastructure as the positive side of COVID-19.
Educational sector
The coronavirus disease has created a setback in education sector due to closure of very important places such as schools and educational institutes. Most governments around the world have temporarily closed educational institutions in an attempt to contain the spread of the COVID-19 pandemic.
These nationwide closures are impacting over 90 percent of the world's student population. Several other countries have implemented localized closures impacting millions of additional learners (Source: UNESCO, Covid-19 school closures, distance learning solutions).
School examinations have been postponed or canceled with some schools automatically promoting even their students to the next year. In addition to this, several religious, sports including Olympic Games, and entertainment events indefinitely postponed as well.
Thanks to the situation, all countries including developing countries are now engaging in distance learning through online platforms. Online education and remote learning have become more popular among students. The IT experts have good opportunity to develop new apps to suit the education system in our country. It will be a major income source as parents will not allow children to gather in classrooms. Thus, smart classrooms can be arranged for future learning. Brainstorming of the experts will be more and we will get opportunities to sell the expertise among the globe.
(The writer is the Senior Research Manager – Survey Research Lanka (Pvt) Ltd (SRL). He can be reached via
[email protected]
)