---

The Hotels Association of Sri Lanka (THASL) has charged the Ceylon Electricity Board (CEB) for singling out the hotels sector and imposing a tariff higher than the normal industry tariff applicable to industrial sector.

According to the retail tariff proposal for 2013 submitted by the CEB to the country's power regulator for approval in March, the hotel sector has been the hardest hit with highest unit charge per kilowatt hour, above the industrial sector (Refer table).

"We believe, this is a grossly unfair classification and that there is no logic or justification whatsoever of categorizing hotels under a separate tariff category and charging a premier tariff," charged the Past President of The Hotels Association of Sri Lanka (THASL) Srilal Miththapala.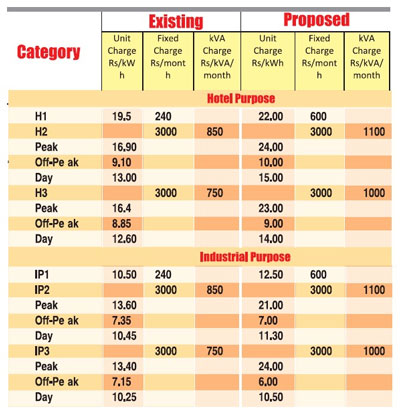 Making oral representations on the proposed tariff hike to the Public Utilities Commission of Sri Lanka (PUCSL), he questioned under what grounds the authorities could consider the hotel sector was immune to electricity tariff hike.

"Hence just because hotels are perceived to be high-end electricity users, it is wrong to charge us a higher than normal, punitive tariff", he remarked.

At a time when the luxury hotels are witnessing a downhill in occupancy with vast majority of tourists opting for low-end hotels, the proposed tariff hike will be nothing but a burden that can further squeeze the industry margins.

"The proposed peak tariff increase for hotels indicate a very steep increase without any justification whatsoever.

When the 'time of use' tariff was introduced a few years ago, most hotels undertook in-depth load analysis and removed all non-essential loads from peak time use period," he pointed out.

Miththapala thus urged the authorities to suspend this peak tariff increase until a clear justification is available. He further pointed out that hotels will find it extremely difficult to re-adjust themselves to another peak time charge, because they had already gone through the process.

The proposed tariff revision for 2013 by the CEB demonstrated a clear diversion from the Road-Map 2011-2015 which otherwise would see all non-domestic classes (retail and industry, hotel & general under bulk categories) unified, except in terms of voltage at which the service is provided.

Road Map which is now being abandoned for reasons only known to PUCSL & CEB, was to breakeven the sector in 2014, following a fully cost-reflective pricing by 2015, which is now far from reality.

"More seriously, such ad-hoc changes have major detrimental effect on strategically forecasting new hotel feasibilities, which may now seriously hinder much needed foreign investment to new hotel developments," said Miththapala requesting an immediate adherence to a clear and transparent cost-reflective tariff methodology, rolled out in a phased out and pre-planned manner over several years.
---
---
Add comment

Comments will be edited (grammar, spelling and slang) and authorized at the discretion of Daily Mirror online. The website also has the right not to publish selected comments.

---