---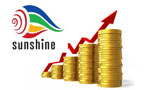 Power unit signs two hydro PPAs with CEB
Diversified conglomerate Sunshine Holdings PLC (Sunshine) posted Rs. 144.59 million net profit for the quarter ended September 30, 2014 (2Q'15), an 18 percent decline from the same quarter last year. The earnings per share was 108 cents from 132 cents a year ago.
The negative performance is due to the higher direct costs which rose by 28 percent Yearon-Year (YoY) to Rs.3.31 billion, but the revenue grew at a slower pace.

Hence the group's gross profits declined 6 percent YoY to Rs.851.73 million on revenue of Rs.4.17 billion which recorded a growth of 19 percent YoY.
Sunshine has i nterests i n pharmaceuticals i mports, plantation of tea, rubber and palm oil, travel, food manufacturing, power generation and portfolio management. The agriculture segment leads the pack.Other incomes virtually doubled to Rs.47.34 million during the period. In line with top line growth, the selling and distribution expenses rose 16 percent YoY to Rs. 219.6 million but administration costs were contained by 3 percent YoY to Rs. 357.67 million.

The finance costs dropped by 32 percent YoY to Rs.53.3 million as the company retired loans amounting to Rs. 576.62 million (during the 1H'15), but the finance income also dropped by a similar percentage to Rs. 29.68 million.Meanwhile during the quarter, the group's power unit signed two Power Purchase Agreements ( P PA ) wi t h the Ceylon Electricity Board (CEB) to sell collective 5 Megawatts of hydro power.

"Construction is expected to start next quarter," the Group Chairman Rienzie T. Wijetilleke told in a statement. Further, during the six months ended September 30,2014 (1H'15) the group increased its consolidated net profit by 17 percent YoY to Rs. 282.75 million on a revenue of Rs. 8.15 billion.Agriculture segment of the group – represented mainly by the subsidiary Watawala Plantations PLC posted a net profit of Rs.262.14 million – an increase of 166 percent YoY on a revenue of Rs.3.68 billion.

Healthcare segment's net profits were Rs.154.41 million, almost flat from last year on a revenue of Rs.2.92 billion.However the Fast Moving Consumer Goods segment contracted its net profits by 7 percent YoY to Rs. 123.02 million on revenue of Rs. 1.32 billion."Group revenue was largely driven by the Healthcare, Agri and FMCG sectors which recorded growths of 8 percent, 28 percent and 16 percent respectively, whilst Group operating profits were boosted by Agri sector," the company stated.

Meanwhile both the revenues and the net profits of the power segment declined by 25 percent and 36 percent respectively to Rs. 46 million and Rs.2.5 million.As of end September, the group's net asset per share was valued at Rs.37.58 while its share was trading at Rs. 48.Lamurep Investments Limited held 20.47 percent stake in the Sunshine Group as of end 1H'15.