---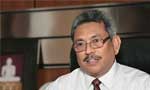 The private sector should take the initiative to develop the country, according to Defence and Urban Development Secretary Gotabaya Rajapaksa, who was speaking at the Business Today Top Twenty-five 2013-14 at the Colombo Hilton recently.
"As Sri Lanka strives to become the Wonder of Asia, those in the corporate world have a special responsibility to help the nation achieve its economic potential," he said. He claimed that the government will do its best to maintain a conducive environment for development; the opportunities of which should be taken maximum use of.

However, at a post-budget discussion last month, top business leaders in the country agreed that the private sector was now being forced out of large projects, and t hat t he government was engaging in profit seeking. Meanwhile, in Rajapaksa's view, t he main challenge for the government in the post conflict period was to further strengthen the platform for rapid economic development.
"Much has been done to improve secondary, tertiary and vocational education and facilities available for research and development, and low interest rates have been maintained to spur domestic investment, while inflation has been contained," he noted.He said that one of the most visible activities of the government was the work done to improve the quality of life in the urban areas both physically and socially, which will help attract and retain the professionals and knowledge workers required by a middle income economy. In his opinion, this urbanization would also help attract more foreign direct investments and for the further development of local industries and businesses.

He said that the removal of slums and shanties and moving the residents to high rise apartment complexes, has freed prime land for commercial and other development, and that the Colombo skyline will change in the coming years with world-class hotels, apartment complex, office buildings and entertainment centres.

According to Rajapaksa, mass transit systems, better flood controls, reduced congestion, cleanliness and the moving of administrative centres to Sri Jayawardenapura will help Colombo the dynamic centre of the Wonder of Asia. He also said that Hambantota, Kandy, Galle, Anuradhapura, Jaffna, Matara, Nuwara Eliya and Trincomalee will undergo further urbanization.Good cities were just one aspect which was requested by leading corporates at the recent Sri Lanka Economic Summit, asking for better law and order, transparency and compensation packages. "While there are still a few other areas in which improvements can be made, the government is keen to work with the private sector and civil society to overcome any impediments for the unfettered functioning of our democracy and the inclusive, sustainable, vibrant, economic growth," Rajapaksa said. He also said that reforms and ideas which could only be dreamt of in the past are being requested for immediate implementation by a society powered by higher income level. He asked not to lose sight of the past and the future.