---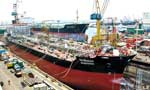 The net profit of Japan's Onomichi Dockyard owned Colombo Dockyard PLC saw its September quarter net profit (3Q14) dwindling over 80 percent yearon-year (yoy) to Rs.36.3 million, amid its main shipbuilding segment under performing.
As a result, the quarterly earnings per share deteriorated t o 51 cents from Rs.2.68.

The revenue for the quarter under review fell 24 percent yoy to Rs.3.17 billion. Cost of sales also fell 24 percent yoy to Rs.2.86 billion. The gross profit fell 30 percent yoy to Rs.304.5 million.Other income during the period also fell 52 percent yoy to Rs.84.8 million.Net finance income improved 31 percent yoy to Rs.84.3 million, as result of prevailing lower interest rates.For the nine months ended September 30, 2014, the company reported a net profit of Rs.115.5 million against Rs.644.4 million in the same period of the previous year.

The main ship building segment of the company saw its profits plunging to Rs.132.4 million for the nine months from Rs.849.1 million in the same period of the previous year. The segment's revenue fell to Rs.6.94 billon from Rs.8.6 billion.The ship-repairing segment reported profit of Rs.659.3 million, up from Rs.435.8 million i n t he previous year. The revenue also improved to Rs.2.95 billion from Rs.2.44 billion.

The profit of heavy engineering segment also edged up to Rs.144.5 million from Rs.135.3 million. The revenue however fell to Rs.532.8 million from Rs.570.1 million.The company in a management review said the setback in company's performance is short term.The company said unexpected congestion within the yard due to a delay in delivering some of the order already placed, impacted the ship building revenue negatively. "Further, these drawbacks hindered the ship repair volumes as well."

However, despite the present setback, the company is expected to recover gradually back to its normal operations in the future with secured shipbuilding orders until end of 2016 and gradual improvement on ship repair volumes expected in 2015-2016 periods. Colombo Dockyard handed over 400 Passenger cum 250 ton cargo vessel to India successfully on 28th October 2014. "This is the single largest shipbuilding project undertaken by company as well as by Sri Lanka in terms of capacity, contract value and duration. The second vessel of two project series is expected to be delivered end of December 2014," the company said. Japan's Onomichi Dockyard holds 51 percent of Colombo Dockyard while state-controlled private sector pension fund, Employees' Provident Fund has 16.3 percent. Sri Lanka Insurance Life and General Funds collectively owns 9.9 percent.