---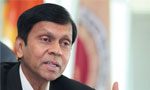 The 2015 budget is ushering a new era for the country's development, according to Central Bank (CB) Governor Ajith Nivard Cabraal, who was speaking at the KPMG Budget Highlights event, recently."Now you see a new beginning, where the focus is no longer what was there in the past, but a new focus has been created in our country," he said.He said that plans for recent budgets were all followed and achieved systematically and so too will the new goals, which are part of an intricate plan for 2020, instead of being an election gimmick."Some people might say it's because of the elections that are in place, but with or without elections, you've got to have the strength to do certain reforms and effect certain improvements," he spoke of the change.

The objectives therefore are: to attain 90 percent IT literacy, less than 1 percent poverty, 3 percent unemployment, 4.6 percent budget deficit, debt-to-gross domestic product (GDP) ratio of 50 percent, public investment 8 percent of GDP, facilitating the doing business indicator, sovereign to be weighted at investment rate, reduced regional disparity and utilization of technology.He said these goals should be attained sustainably while maintaining the current growth and inflation rates.

According to Cabraal, the real economy will be strengthened with greater emphasis on services, knowledge and the need to have the industries supported with modest costs and tax breaks. "That's the way to go forward. Tax holidays have been discouraged and we have half tax, so everybody pays his due," he noted. Cabraal said that reduced defence and interest expenditure will help towards the country's development, while energizing the private sector and improving productivity will also contribute to the cause.He also noted that the private sector was very supportive in forming the budget.

"Previously, when US $ 4000 dollar target was given, the private sector said, 'That's not possible; how can we do that?' Now the private sector was the group that came forward and said that we should go for US $ 7000 income," he said.He noted that in 2006, the entire focus was on achieving objectives such as US $ 4000 per capita income, foreign direct investments (FDIs) forming 2 percent of GDP, 8 percent growth, 100 percent electricity and good macro fundamentals.

According to Cabraal, all government policies that were implemented since then were to achieve these objectives. "If you look at the trend of the budget proposals, you will realise the President was moving the economy in a particular direction," he said.Therefore, he said that the new budget was not a stand-alone budget for 2015 but a longterm plan for 2020 and President Mahinda Rajapaksa, during discussions, even expressed his visions for 2040.