---
Mahinda at 70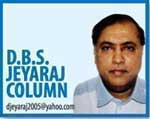 By D.B.S. Jeyaraj





The age of seventy or three score and ten regarded as the span of life has a special aura about it. The Bible (psalm 90 verse 10) says "The days of our years are threescore years and ten; and if by reason of strength they be fourscore years, yet is their strength labour and sorrow; for it is soon cut off, and we fly away".William Shakespeare observes in his "Macbeth" - "Threescore and ten I can remember well: Within the volume of which time I have seen Hours dreadful and things strange; but this sore night Hath trifled former knowings".




Mahinda Rajapaksa observed his milepost birthday on a religious note participating in a Bodhi pooja held at Anuradhapura. He was also in Kandy to pay homage to the tooth relic at Dalada Maligawa. The ex-president met with the Diyawadana Nilame of the Dalada Maligawa, Pradeep Nilanga Dela. Thereafter he called on the Anunayake of the Malwatte Chapter, the Ven Niyangoda Vijitha Siri Thera and had a private discussion. The Venerable Thera spoke to the media afterwards and said that, considering what is now taking place in the country, the former president was now seen to be worthy of merit. The former president also paid a courtesy call on the deputy registrar of Asgiriya Chapter, the Ven Narampanawe Ananda Thera.

The man who served as Sri Lanka's Executive President from November 2005 to January 2015 finds himself presently impaled upon the horns of a dilemma to use a somewhat quaint phrase. One school of thought is concerned about the prevailing political climate and wants the former President to withdraw voluntarily from the hurl-burly of contemporary politics and gracefully retire while retaining his dignity. Another school of thought wants the Machiavelli of Medamulana to prolong his political journey despite the adverse circumstances and continue battling his national and international opponents. Mahinda himself keeps quiet while various speculative tales about his political future go around.

Mahinda Rajapaksa has held two terms of office as President. He has suffered two defeats after holding such office. He lost the Presidential election of January 8th 2015 to Maithripala Sirisena. Instead of calling it quits , Mahinda chose to enter the electoral arena again when the "Bring Back Mahinda Movement"promoted him as potential prime ministerial candidate of the United Peoples Freedom Alliance (UPFA). Ranil Wickremesinghe emerged victor at the August 17th 2015 Parliamentary elections. It is against this backdrop that the question is now being raised whether Mahinda would quit politics.





Mark Twain


The course of politics in Sri Lanka has become extremely unpredictable in recent times. However it does seem highly unlikely that Mahinda Rajapaksa would throw in the towel so quickly and so easily.The "New York Journal" once mistakenly published an obituary of Mark Twain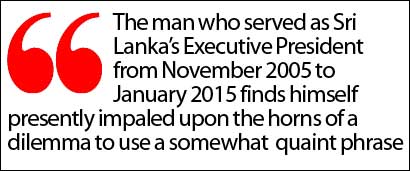 while the reputed author was still alive and travelling around in London.Upon hearing of the "premature obituary" the irrepressible Mark Twain cabled the journal saying "the reports of my death are greatly exaggerated". Likewise the time may soon come when Mahinda Rajapaksa demonstrates through action that reports of his political retirement are greatly exaggerated.


Why is it unlikely that Mahinda Rajapaksa would quit politics at this point of time and retire? There are three reasons. One is the combative personality of Mahinda Rajapaksa. In the words of Dylan Thomas, Mahinda is one of those who would 'rage against' what he may consider as ' the dying of light'. One cannot imagine him going out 'gently into that good night'.

The second and more important reason is that he cannot retire from politics at present even if he wants to. He cannot afford the luxury of

retirement as J.R. Jayewardene, D.B. Wijetunge or even Chandrika Kumaratunga.Ghosts of the past haunting him at present would not leave him and/or his extended family alone in the future. There is a saying that the winds will not let a tree remain still even if it wants to.That aptly sums up Mahinda's present situation.

The third reason is Mahinda Rajapaksa's self – perception of being the chosen guardian of Sri Lanka and divinely sanctioned saviour of the Sinhala Buddhists. There is no denying that the separatist threat posed by the Liberation Tigers of Tamil Eelam (LTTE) was defeated militarily due to the political leadership provided by Mahinda Rajapaksa.In his mind, he is the one who defeated the perceived enemies of Sinhala Buddhism and restored the majority community to its rightful place in the country.Yet he was defeated at the presidential elections by the votes of the Tamils and Muslims. Nevertheless it was he and not Maithripala who gained greater support among the Sinhala voters. This Sinhala vote base got further eroded at the Parliamentary elections but analysts say the UPFA got more "Sinhala" votes than the UNFGG at the Aug 17 polls.

It is this third reason that will provide greater impetus to Mahinda Rajapaksa in continuing to be in politics. Saying " I am a fighter by nature" or "I have to be in politics to safeguard myself and my family" is direct and honest but is politically inconvenient. On the other hand saying "I will be in politics to protect race, nation, faith and country" will be more acceptable politically. Of course Mahinda will be criticised severely by the league of political correctness but as long as a majority of the majority community which is regarded by Mahinda as his true constituency is supportive Rajapaksa will be content.





"Panashaye Daruwo"


Mahinda Rajapakse was born in 1945 but he is in reality the politically quintessential child of 1956 (Panashaye Daruwo). It is well – known that Mahinda is a strong Southern regionalist. Such Ruhunu Consciousness has its own baggage. There is the Dutu Gemunu syndrome where many Sons of the South think they are latter – day incarnations of Rohana. They have to protect the Country and liberate it from its enemies.Mahinda sees himself as the divine instrument that led the rightful owners of this Island to complete victory over the enemy threatening Country, Race and Religion or Lanka, Sinhala and Buddhism.There was much talk of the great liberator "Diyasena" in 1956. To some people Mahinda is Diyasena delayed perhaps by 50 to 60 years.

Though defeated politically twice within one year the prevailing political reality in Sri Lanka is that of Mahinda Rajapaksa being the single most popular mass figure in the Sinhala if not Sri Lankan political firmament. His political base may be diminishing but it will never be reduced to zero. The sense of gratitude felt by many people may shrink but wont completely go away.If and when the Sirisena-Wickremesinghe Govt tries to "penalise" him in accordance with the US initiated UN resolution co – sponsored by Sri Lanka, the fall –out could result in a massive upsurge of sympathy for "Apey"Mahinda. This may have the potential to de-stabilise the Govt.

If patriotism is the name of the game then Mahinda Rajapaksa could snatch victory from the jaws of political defeat. His weakness and fallibility however are on other fronts. Unlike the Greek mythical hero Achilles - this flesh and blood Ruhunu hero - has many heels of vulnerability. The Mahinda Rajapaksa presidency was notorious for its authoritarianism, nepotism, corruption,vengefulness and maladministration. There are numerous allegations against Mahinda, his cohorts and extended family members. This is perhaps the reason for the multiple inquiries launched against Medamulana Mahinda and his clan. Currently there is a lot of media hype over such probes but if continuous investigations leading to prosecutions, could provide tangible results that appear credible and valid in the eyes of the Sri Lankan population , then Mahinda's rapid descent into political disgrace is inevitable. As long as this Damoclean sword hangs over his head ,Mahinda Rajapaksa has to be in politics. He cannot quit.

There have been many politicians on either side of the ethnic divide who have
aroused emotions on the basis of ethnicity and religion to garner votes from their own community. Some of these politicians are people above such considerations on a personal basis but resort to such means for political reasons. There are others who really believed in the ideas they propagated. Many people of such a mindset have widened their horizons over a course of time and moved away from their previous mindsets.


Mahinda Rajapaksa however is one who has not progressed much in that direction. In fact he seems to have regressed greatly in recent times. There were some attempts by him to reach out to Tamils when he was president. The development of Tamil majority regions in the north and east, the effort taken to learn and speak in Tamil were some of these.Still they did not win him Tamil votes in bulk. Mahinda finds that he can rely only on Sinhala and Buddhist votes. That is his reliable vote bank. Hence he would continue to focus on those votes by whipping up "soft" communal sentiments. The threat of separatism and terrorism would be exaggerated beyond belief.





Communal Politics


It is indeed sad that a politician of Rajapaksa's calibre is unable or unwilling to realise that the prosperous future of Sri Lanka lies in inter-racial reconciliation, ethnic amity and national unity. He is being anti-historic and even atavistic by engaging in a communal mode of politics.

This type of politics will be outdated and obsolete in the long term but could wreak havoc and pay some dividends in the short term. Mahinda is a politician who failed to become a statesman after the military victory over the Tigers . The phrase "winning the war and losing the peace"describes him appropriately.Current circumstances are making him deteriorate into a third –grade politician. Given his political stature and acumen it is indeed saddening to see this great fall.

It may also be useful and pertinent at this juncture to delve briefly into the personality of the man and his political journey. Mahinda who hails from a political family was perhaps decreed by fate to be a politician. The man who turned 70 this week, first entered Parliament at 24 in 1970. What sort of a man was Medamulana Mahinda in childhood and his formative years? How and why did this son of Kurakkan country in Hambantota enter politics? How did the political journey of Mahendra Percy Rajapaksa begin?

The Giruwapattuwa Rajapaksas have been involved in politics from the time S.W.R.D. Bandaranaike entered the State Council.The Rajapaksas are an old and respected Southern Province Govigama family. They have deep Buddhist roots and were wedded to the land.

Unlike some other eminent Sinhala families who obtained posts and perks from the colonial masters, the Rajapaksas of Giruwapattuwa remained sturdily independent.

The finest example of that sturdy independence and anti-colonial spirit was D.M. Rajapaksa, known popularly as the 'Lion of Ruhunu'. When universal suffrage was introduced and elections to the State Council were held in 1931, D.M. Rajapaksa supported V.S. Wickramanayake in the Hambantota Constituency. Wickramanayake was elected. In 1936 D.M. Rajapaksa himself plunged in and faced hustings. In those days candidates used different colours for their respective ballot boxes. D.M. chose brown, the colour of kurakkan, to symbolise 'Kurakkan Country'. He won with a majority of 12,097 votes.





Kurakkan Country


The area inhabited by the Rajapaksa family was the division known as Giruweva/Giruwapattuwa. It was an agricultural region where the growing of crops and vegetables, coconut cultivation and buffalo/cattle rearing was the basis of the local economy. 'Slash and burn' chena cultivation was a fact of life. Cultivation of kurakkan or millet was widely prevalent and the region was regarded generally as 'Kurakkan Country'.
Don Mathew Rajapaksa was a man of the people. He gave voice to the oppressed and stood up for the underprivileged. He did much for the emancipation of the Rodiya community. Though the British were the rulers at that time, the 'Ruhunu Sinhaya' would brook no nonsense from pompous bureaucrats. Once he slippered the English Government Agent for being callously indifferent.

It was D.M. Rajapaksa who first started the practice of wearing a kurakkan-coloured shawl to symbolise Giruwapattuwa. This was followed by his brother and later his sons. The 'sataka' worn by the Rajapaksas of today is not merely due to notions of sartorial elegance. The practice has deeper meaningful roots.

Unfortunately D.M. Rajapaksa died at the age of 49 in 1945. His eldest son Lakshman had not even reached the voting age of 21 then. The mantle therefore fell on his unassuming younger brother Don Alvin Rajapaksa. Their father D.D. Rajapaksa had died in 1912. While D.M. Rajapaksa had taken to social service and politics, his brother D.A. Rajapaksa had tended to look after the family occupation of farming and livestock breeding. The elder brother lived at the Mahagedara in Kondagala and the younger at the Medamulana Mahagedara.

After D.M. Rajapaksa's demise the people of Giruwapattuwa wanted D.A. Rajapaksa to step into his brother's shoes. The simple D.A, content with his agriculture, refused.

Finally a deputation of notables went in procession to the paddy field where D.A. was engaged in ploughing. The delegation had with them the nomination papers and pressed D.A. to replace his brother in the State Council. Finally Don Alvin agreed. He washed the mud off his hands and legs and signed the nomination papers, whereupon one person removed his shawl and wrapped it around D.A. Rajapaksa in a symbolic gesture. The kurakkan sataka tradition continued. D.A. Rajapaksa was elected unopposed to the State Council representing the Hambantota constituency on 14 July 1945. His second son and third child Mahinda Rajapaksa was born a few months later in Weeraketiya on 18 November 1945. The feeling among many rural villagers then was that D.M. Rajapaksa had been reborn as Mahinda Rajapaksa. According to old timers from the country beyond Bentara River, Mahinda was more like his uncle D.M. Rajapaksa in spirit and temperament. Both were aggressively fierce in political approach and had empathy for the underdog, he said. Chamal Rajapaksa on the other hand was more like his father D.A. Rajapaksa in looks and outlook. Both were mild-mannered, unambitious persons. Judging by his steady rise in politics and fearless demeanour, it appears that Mahinda has to some extent taken after his paternal uncle whom he never saw.





Don Alvin Rajapaksa


Don Alvin Rajapaksa was an old student of Richmond College Galle and was well-versed in English. He captained the soccer team and was vice captain of the cricket team. It is said that the ground record he set up in the match with Prince of Wales College, Moratuwa, still stands. Yet he had no qualms about becoming a full-fledged agriculturist. When he entered the State Council and took his oaths on 8 August 1945, he became a member of the Executive Committee on Agriculture and Lands.

Mahinda's father D.A. Rajapaksa represented the Beliatta seat in Parliament from 1947 to 1965 with a short break in 1960 March when he lost to D.P. Atapattu of the UNP. D.A. Rajapaksa lost in 1965 to D.P. Attapattu again. D.A. Rajapaksa won Beliatta on the UNP ticket in 1947 and thereafter on the MEP/SLFP ticket till '65.

Don Alvin Rajapaksa was a faithful deputy of S.W.R.D. Bandaranaike, who crossed over from the UNP to SLFP on 12 July 1951. Five others (A.P. Jayasooriya, George R. de Silva, Jayaweera Kuruppu, D.S. Goonesekera and D.A. Rajapaksa) were supposed to follow suit, but when the moment came, only D.A. Rajapaksa crossed the floor behind Bandaranaike like his faithful shadow. The others got cold feet to cross over in the House but did so later. On 2 September 1951, the SLFP was formed. D.A. was one of the 44 signatories giving notice of the formation of the SLFP. In the 1952 May elections, the fledgling SLFP won nine seats. D.A. Rajapaksa was one of the nine victors. In spite of these impressive credentials and loyalty, D.A. Rajapaksa was not a cabinet minister in the 1956 Cabinet or 1960 July Cabinet.

In 1956, S.W.R.D. offered D.A. any Cabinet post other than the one to be given to C.P. de Silva, but D.A. declined firmly and only wanted nephew Lakshman to be given a deputy minister's post, so Lakshman was made Deputy to Trade and Commerce Minister R.G. Senanayake. But the people of Hambantota under the leadership of Tangalle lawyer Wickramasuriya protested strongly to S.W.R.D. and D.A. So a reluctant Rajapaksa was forced to be deputy minister of land, irrigation and agriculture under C.P. de Silva.

During Wijayananda Dahanayake's short-lived Cabinet after S.W.R.D. Bandaranaike's assassination on 26 September 1959, D.A. Rajapaksa was minister of agriculture and lands. He resigned in two weeks on 10 October to pre-empt dismissal by the eccentric Dahanayake who was sacking his ministers en masse and appointing fresh ministers.

In July 1960 Mrs. Bandaranaike became Premier and offered a Cabinet portfolio to D.A. Rajapaksa, who declined to accept the offer. Then she offered him the office of Speaker. This too was refused. It is said that Rajapaksa said that he preferred his home in Medamulana to Mumtaz Mahal. He continued to remain in a room at Shravasti when in Colombo.





Deputy Speaker


On 6 November 1962, upon the death of Deputy Chairman of Committees Wariyapola MP A.M.A. Adhikari, D.A. Rajapaksa was appointed to fill the vacancy. When the Speaker R.S. Pelpola resigned on 24 January 1964 to accept a ministerial portfolio, the then Deputy Speaker Hugh Fernando became Speaker. D.A. Rajapaksa succeeded Hugh Fernando as the Deputy Speaker, which position he held until the defeat of the Sirima Bandaranaike Government in December 1964. D.A. Rajapaksa lost his seat in 1965 and passed away in 1967.

Don Alvin Rajapaksa married Dona Dandina Samarasinghe Dissanayake of Palatuwa, Matara. They had nine children – six boys and three girls. Their names in the order of age are Chamal, Jayanthi (deceased), Mahinda, Tudor, Gotabaya, Basil, Preethi, Dudley and Gandini.
The eldest Chamal and second son Mahinda were extremely attached to each other as children. Though the given name at birth was Percy Mahendra, he was called Mahinda by family and friends. Chamal and Mahinda were admitted by their father to his alma mater Richmond College, Galle, run by the Methodist Church then.

According to information provided by land former MP, Buddhika Kurukularatne in his eminently readable series of articles published in 'The Island' under the column 'Men and Memories,' Mahinda was a naughty child but quite studious. The brothers were initially boarded at the residence of Bandara Village Council Chairman Weeraketiya.

Mahinda then six years old had cried when his father and mother left after leaving him with the Bandaras. He had also refused to go to school the following morning. Mrs. Bandara however had dressed him up and taken him to school. After a few days Mahinda and Chamal together with other students in the vicinity began walking to school and back.

Mahinda got well-noted for his mischievous ways then. He would often shake his little suitcase from side to side while walking. Another habit was to keep kicking stones like playing football. He was also fond of walking on the railway track and would place coins on it before a train approached. Mahinda was apparently delighted by the sight of flattened coins after the train ran over them. Another amusement was to climb a rock by the rail track and hoot at passengers.





Play "Tarzan"


Mahinda also liked to play 'Tarzan' at times. There were large 'pusbatri' creepers hanging from two huge mango and breadfruit trees near a junction. Mahinda, like the Tarzan of Edgar Rice Burroughs, would jump and hang on to the creepers, swinging wildly like the ape man did.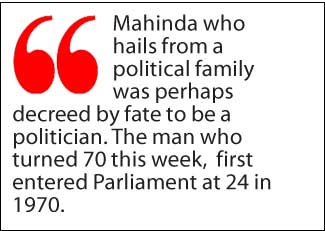 Another encounter was with a tame elephant tethered in the compound of a house. Excited by seeing the pachyderm at close quarters, young Mahinda ran up to it and hit the jumbo on its legs and challenged it. Fortunately the good-natured elephant took no notice of the tiny brat who was pulled away by grownups. (Perhaps Mahinda's anti-UNP tendencies came to the fore when he saw the elephant).

Mahinda's stay with the Bandara family did not last long. Young Mahinda's mischievous conduct made Mr. Bandara often resort to the cane in a bid to discipline the 'Manthrithumage Putha'. Naturally Mahinda resented it. He would often run away before the elderly Bandara could reach him with the cane. Matters came to a head when Mahinda threw a stone at Bandara and drew blood. The boy ran away to another house and refused to return.

Finally Mahinda's mother had to move to Galle and rent a house and live with her children Chamal, Jayanthi, Mahinda and Tudor. The house was known as 'Singapore House'. This helped things and soon Mahinda began studying well. He took away the class prize when in the upper kindergarten and in standard two for two years in succession.

There was a small playground nearby which was close to the railway station. The boys used to play cricket there in the evenings and weekends. Once young Mahinda wanted to bat but was not allowed to do so. Peeved by the refusal, Mahinda went near the railway station and climbed the steel ladder to the top of the signal post, refusing to climb down unless he was given a batting chance.

Apparently Mahinda had often resorted to climbing high and making demands. According to a story related by Chamal Rajapaksa to Buddhika Kurukularatne, Mahinda had once climbed a huge cashew tree in the Medamulana house compound when their father had attempted to cane him for some prank of his. Mahinda had run away and climbed to the very top of the cashew tree. He demanded that his father should throw the cane away if he wanted him to get down from the tree. With a lot of support from a very frightened and concerned mother, Mahinda won his first "political"demand, with the father meekly giving way by acceding to his son's ultimatum.





Sir John Kotelawela


Another story about mischievous Mahinda lingering in the collective memory of his Medamulana household was about how a missile thrown by D.A. Rajapaksa's second son collided with Sir John Kotelawela. Apparently D.A. Rajapaksa had gone to see the laird of Kandawela at Ratmalana. Chamal and Mahinda were in the car.

While the loku putha remained in the vehicle, podi putha had got down and plucked a mango. He was happily chewing on it when Sir John and his father came out. Seeing Mahinda and the mango, Sir John had humorously asked the boy as to who gave him permission to pluck and eat the mango. Angry at being questioned, the enraged boy had thrown his half-eaten fruit at Sir John hitting him in the chest. An embarrassed D.A. apologised profusely, while an amused Sir John chuckled at the boy's impertinence.

Mahinda's parents moved to Colombo in the mid-fifties. While Chamal and Jayanthi were placed in the hostels of Richmond and Southlands respectively, the younger kids including Mahinda were taken to Colombo. Mahinda was enrolled at Nalanda College. After a few years in 1957 he was moved to Thurstan College.

After a few years Mahinda's mother went back to Medamulana and D.A. Rajapaksa began staying at the Shravasti MP hostel. Mahinda was first boarded at a home near Thurstan College but later began residing more and more at Shravasti itself than in the boarding. Often he would travel to and from Shravasti to Thurstan.

According to contemporaries at Thurstan, Mahinda was an impish student in school who often fell foul of the master in charge of discipline – the late Kingsley Fernando. Mahinda played cricket and rugger. Apparently he was good in batting being a 'polladiya' but was a horrible fielder known for repeated 'bokkus'. In rugger he played in the pack as both prop and lock forward. He was good in athletics also and was the putt shot champion. Mahinda also ran in the 4x400 relay team. He was also a good orator and debater in Sinhala.





"Kana bona minihek"


Mahinda left school after completing his A/Levels and worked as an assistant librarian at the Vidyodaya University later to be made the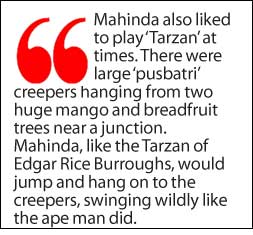 Vidyodaya campus and now the Sri Jayewardenapura University. Colleagues remember him as a jovial, fun-loving person. "Kana bona minihek" (eating, drinking man), described one. (Of course as President, Mahinda became an avowed teetotaller and vegetarian.)
It was during this time at Vidyodaya that Mahinda got enamoured of left-leaning politics. He became a card carrying member of the Ceylon Mercantile Union (CMU).

Meanwhile elder brother Chamal Rajapaksa joined the Police force as a Sub-Inspector. Their father D.A. Rajapaksa who had lost elections in 1965 passed away on 7 November 1967. Sri Lanka Freedom Party Leader Sirima Bandaranaike offered the post of party organiser for Beliatta to Chamal after D.A. died. Chamal however declined and recommended his malli Mahinda instead. Initially Mrs. Bandaranaike was hesitant thinking Mahinda was too young and somewhat irresponsible. Later on she relented and appointed Mahinda as Beliatta Organiser in 1968.
This brought about a marked change in Mahinda. He buckled down to the task and strove to meet the challenge. He gave up his assistant librarian job and relocated to Medamulana. He began working with the people at grass roots level.

All the Rajapaksa brothers had been nurtured and brought up in a simple, down-to-earth lifestyle by their parents. Despite the posts they went on to hold later, all of them have had experience in ploughing a field or driving a bullock cart. Thus it was quite easy for Mahinda to capture the hearts and minds of the ordinary people. Besides, the name Rajapaksa always casts a magic spell on the denizens of Giruwapattuwa.





Mahinda "Gamana"


The 1970 elections saw the United Front sweeping the polls with the SLFP getting 91 seats and the LSSP and CP winning 19 and 06 seats respectively. Percy Mahendra Rajapaksa defeated his rival from the UNP, Dr. Ranjith K.P. Atapattu. Mahinda got 23,103 votes and Ranjith 16,477. Mahinda Percival Rajapaksa entered Parliament and commenced his political journey. A triumphant journey that took him after decades to "Temple Trees" and "Janadhipathi Mandhiraya". Despite setbacks that jouney still continues. Mahinda may have turned 70 but "Mahinda Gamana"is not over.(ENDS)

D.B.S.Jeyaraj can be reached at dbsjeyaraj@yahoo.com