---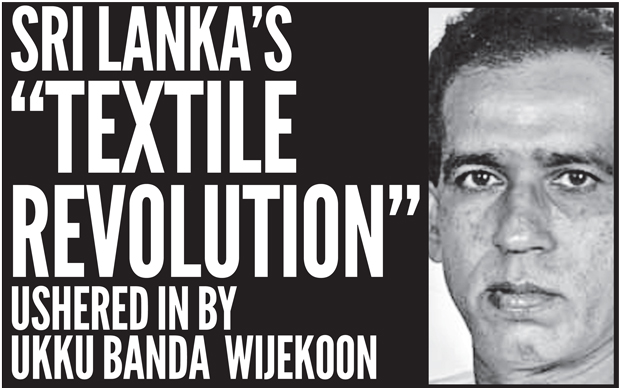 By D.B.S.Jeyaraj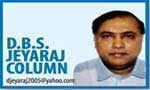 "Kollanta Pavement, Kellanta Garment" was a humorous saying frequently repeated during the days of former President Ranasinghe Premadasa. It was an allusion made in lighter vein about the proliferation of garment factories employing girls in most parts of the country during President Premadasas's rule. The inference was that while young women were being gainfully employed at the garment factories ,the young men left unemployed were loitering on the pavements.

Though aimed as a critical barb at the Premadasa regime the reference to "Kellanta Garment" was in actuality a huge compliment to the Govt headed by Ranasinghe Premadasa. The prevailing reality in those days was that of thousands of young women literally walking to work at garment factories opened in their neighbourhoods. The credit for implementing Premadasa's policy directive went to his textile industries minister at the time U. B. Wijekoon who set an overall target of opening 200 garment factories and succeeded in setting up 155 establishments during his ministerial term.

The modest and unassuming UB Wijekoon who brightened the lives of thousands of girls seeking employment in the by gone years passed away last week at the Kandy hospital after a brief illness. 79 years old UB Wijekoon's remains have been handed over – at his request - to the Peradeniya University Medical Faculty by his family(Sri Lanka's ace badminton player Niroshan Wijekoon is his son).

Ukku Banda Wijekoon was indeed a great son of Sri Lanka. He served his country as an administrator, parliamentarian, district minister, cabinet minister and ambassador. He was also a Presidential candidate. It was my privilege to have known and interacted with UB Wijekoon at the time he was MP for Dambadeniya and District Minister of Jaffna under President Junius Richard Jayewardene.

Wijekoon Mudiyanselage Ukku Banda Wijekoon generally known as UB Wijekoon was born in Madowita in the Uva province in 1936. He was from a farming family.He did not have elitist schooling.Wijekoon studied at the village school and then Welimada Central School from where he entered Peradeniya University.His headmaster at Welimada Central School was Mr.Aseervatham who later taught at St. Thomas' College, Mt.Lavinia. Aseervatham recognized the potential in young Ukku Banda and provided guidance and encouragement thereby enabling his prize pupil to enter varsity.

Divisional Revenue Officer
Wijekoon graduated from Peradeniya in 1959 and then entered the Ceylon Administrative service in 1960. He served as Divisional Revenue Officer(DRO) in Vavuniya, Nuwara-Eliya, Anuradhapura and Kurunegala districts. Later the DRO's became known as Assistant Government Agents(AGA)UB Wijekoon was "attracted" to politics when he was in charge of the Polgahawela AGA division.Polgahawela electorate in the North-Western province had for long been represented by the United National Party (UNP)veteran MD Banda.Impressed by Wijekoon's working ability and sense of duty it was MD Banda who drew him into UNP politics. Wijekoon quit Govt service and became UNP organizer for Dambadeniya.

Banda, a much respected, simple, efficient, honest politician had passed away by the time Wijekoon successfully entered parliament as Dambanediya MP in 1977. Dambadeniya in the Kurunegala district of the North Western province had not been represented by the UNP ever since R. G. Senanayake went over to the SLFP. At the 1977 polls UB Wijekoon of the UNP reversed that trend by defeating P. B. Wettewa of the Sri Lanka Freedom Party(SLFP). Wijekoon with 26,089 votes registered a majority of 7857 over Wettewa polling 18,232 votes.Wijekoon was part of the massive UNP landslide in which the party got 141 of 168 seats in Parliament. After being a backbencher for some years, the low profile UB Wijekoon gained national prominence when he was appointed District Minister of Jaffna District.
It was only when it was clear the TULF would not accept district minister posts that JR filled the vacancy with UB Wijekoon

I first met and interviewed the gentle, soft-spoken UB Wijekoon soon after he had been appointed by Junius Richard Jayewardene as District Minister for Jaffna in 1979.This was two years before the District Development Councils were set up in 1981.Section 45(1)(a) of the Constitution enables the President to appoint non-cabinet ministers from MP's and assign them functions.JR appointed district ministers as a form of de-centralised administrative measure where he as Executive President delegated some of his powers in practice to the newly-created district ministers. This was not an exercise in Devolution.

Jayewardena appointed people from his UNP as district ministers to the North and East though the provinces were pre-dominantly represented in Parliament by the then chief opposition party the Tamil United Liberation Front(TULF). People like G.D. Mahindasoma , M.E.H. Maharoof , H.G.P. Nelson etc were appointed district ministers for Vavuniya,Mannar and Trincomalee districts respectively

Jaffna District Minister
JR held back from appointing a District Minister for Jaffna (encompassing present Kilinochchi district also) thinking the Tamil United Liberation Front may accept that post.The TULF then held all fourteen seats in the Northern Province.The political atmosphere was electric then with the emerging militant movement beginning to challenge the TULF "old guard". The TULF was trying desperately to ward off this challenge.It was however shackled by the mandate of Tamil Eelam which it claimed to have received in 1977 elections.Unable to either co-operate with the govt or confront it, the TULF kept on asking JR Jayewardene to provide them with "a viable alternative to Tamil Eelam".

JR was in no mood to oblige. Also Jayewardene was of the opinion then that a reasonable amount of de-centralisation would be enough to solve the problem. Devolving powers to the regions was not something he favoured. JR had also centralised power in the institution of the Executive presidency. He was not prepared to reduce such powers through actual devolution.What he wanted to do was delegate some of his powers in practice to the district minister.

It was only when it was clear the TULF would not accept district minister posts that JR filled the vacancy with UB Wijekoon.It was a master stroke because only a person with "soft power" like UB Wijekoon could have got on amicably with the TULF Politicians of that time.Appointing a Sinhala politician from Govt ranks as district minister of an overwhelmingly Tamil district represented by an opposition Tamil party elected on a secessionist platform was a delicate issue.Despite the turbulent political climate and the sensitive nature of the office he held, the non-strident, quiet, amiable Wijekoon established good rapport with the Tamil leaders elected on a separatist mandate.

In what was perhaps another of JR's Kautilyan tactics he had transferred out of Jaffna, the enormously popular Lionel Fernando (Envoy to Paris now) as Government Agent and replaced him with ex-diplomat Yogendra Duraiswamy. Mr. Yogendra Duraiswamy - the son of former State Council speaker Sir Vaithilingam Duraiswamy - had contested the Kayts constituency as an Independent in 1977 and lost. There was rank hostility between him and the TULF in general and "Pundit" KP Ratnam the Kayts MP in particular. Both hailed from Velanai.

Most meetings presided over by the District Minister soon turned into verbal fireworks displays between the MP's and the GA and it was left to the "outsider" UBWijekoon to uphold peace among the natives of Jaffna.Though shuttling to and from Jaffna, UB Wijekoon had his finger on the Jaffna pulse through his secretary Balasingham (Not Anton Balasingham of the LTTE). I believe UB was District Minister of Jaffna from 1979-89.In UB Wijekoon's own words the "function of the District Ministers happened to be the implementation and coordination of government policies and development activities of the districts".

Dambadeniya Electorate
There was also another irony in UB being appointed to Jaffna. He was then representing the Dambadeniya electorate in Parliament. Dambadeniya had for long been represented by the Sinhala hardliner RG Senanayake as MP.It was indeed a refreshing change to see the "dovish" UB from Dambadeniya capture the hearts and minds of the Jaffna Tamils whereas the "hawkish" RG had only helped deepen the ethnic divide during his time.

The UNP government of JR also introduced the District Development Councils (DDC) in 1981. The pre-election violence in Jaffna where indisciplined policemen burnt down the Jaffna public library and other buildings marred the atmosphere.The cops were retaliating for two policemen being shot dead by members of the Peoples Liberation Organization of Tamil Eelam(PLOTE. The political fall-out from the violence saw the TULF winning all ten elected seats of the Jaffna DDC. Such a feat was deemed impossible under the proportionate representation scheme of voting.Yet it happened in Jaffna due to the massive polling in favour of the TULD by the people angered by the burning of the public library.
I still remember my first interview with U.B.Wijekoon for the "Virakesari" after he had been appointed District Minister. An interview with the newly appointed Jaffna district minister was crucially important to a Tamil newspaper

The tough-talking ex-Senator S. Nadarajah became Jaffna DDC chairman. There was now a shift in the power relationship. There were two manifestations of district authority.The District minister appointed by the President on the one hand and the District Development Council Chairman elected by the people on the other.Again to his credit UB Wijekoon straddled these "divides" with tact and compromise. Sadly the DDC experiment came to naught despite efforts to make it work.

With the 1983 July anti-Tamil violence the climate altered utterly. The TULF refused to take oaths disavowing separatism under the 6th Amendment to the Constitution and forfeited their seats in Parliament.Jaffna was devoid of elected representation with the DDC and local authorities becoming defunct and the MP seats remaining vacant. The new authority in Jaffna was the Army. The Tamil armed groups challenged this authority.

Despite these difficult circumstances UB Wijekoon continued to function as district minister of Jaffna and attempted to serve the Jaffna people to the best of his ability.UB Wijekoon's yeoman service to Jaffna amidst adverse circumstances was much appreciated by the people and politicians. He endeared himself to the people of Jaffna.Wijekoon made no huge waves but he did not drown or sink either. Instead he steered himself successfully through choppy political waters.

Appapillai Amirthalingam
Wijekoon evoked cheers from even the ranks of Tuscany!(In this case it was the TULF) .Former opposition leader Appapillai Amirthalingam said of him; "Mr.UB Wijekoon was one of the best district ministers in the country. The Tamil people in Jaffna respected him not for his title but for his human qualities".

I still remember my first interview with U.B.Wijekoon for the "Virakesari" after he had been appointed District Minister. An interview with the newly appointed Jaffna district minister was crucially important to a Tamil newspaper.In a bid to scoop the other scribes, I went to his house before the crack of dawn in order to "catch" him early. But what I saw there surprised me. There was a long line of constituents waiting to meet him. Though looking sleepy, UB was up and active listening to each person sympathetically and doing the needful wherever possible.He was surprised at seeing me there along with his constituents but very kindly obliged and I had my interview-feature.

Those were the days when each MP was tied to his electorate and catered to the needs and concerns of the people he or she represented in Parliament.Since my family has had links with Kurunegala for three generations I had thought the then-Dambadeniya MP was from Wayamba too. But I discovered that his roots were in the Uva.

I have written much on Wijekoon's role as Jaffna district minister because that was the phase in his life that I inter-acted with him.But district minister Wijekoon later became a Cabinet minister and distinguished himself in that capacity.I had left Sri Lanka by then and did not have a ringside view of how Wijekoon functioned. But I did hear a lot of good things about what he did then.

President Ranasinghe Premadasa
UB Wijekoon was elected to Parliament as a Kurunegala district MP in 1989 and served as Cabinet minister for Home Affairs, Public Administration and Provincial Councils and also Textile Industries under President Ranasinghe Premadasa. Hailing from a simple, rural background Wijekoon appreciated and understood the problems of the ordinary people well. Realising that most people preferred to work at a place near their homes he advocated the idea of "walk to work".

As textiles minister he reversed the trend to concentrate garments factories in investment promotion zones or urban areas regarded as being more conducive for locating them.Since another political leader sensitive to rural needs like Ranasinghe Premadasa was then at the helm, Wijekoon was able to inspire his president with the idea of establishing garments factories in rural areas.

A blueprint was laid out for 200 factories in all parts of the country other than those controlled by the Liberation Tigers of Tamil Eelam (LTTE) Factories were opened even in districts like Batticaloa,Puttalam, Amparai and Vavuniya where members of the minority communities live in large numbers.When UB Wijekoon relinquished office as Textiles minister 155 of the envisaged 200 garments factories were in operation providing gainful employment to nearly 200,000 rural women.It was then that the colourful expression "Kollanta pavement,Kellanta Garment" came into vogue. What UB Wijekoon accomplished then was truly a "Textile Revolution".

As Public Administration Minister , Wijekoon re-organized the Grama Sevaka divisions into small and efficient units. He also strengthened the AGA divisions. These changes reflected his genuine interest in fostering grass-roots democracy.It was during his tenure as minister in charge of Provincial Councils that UB Wijekoon developed a distaste for that structure. As Provincial Councils minister he saw how it was functioning in the Sinhala-majority provinces and perceived it as a "white elephant". In a situation where the Provincial Councils were imposed on Sinhala majority provinces not desiring them there had been no motivation to make them work satisfactorily. As such the whole scheme stood discredited in the eyes of many including Wijekoon. Ironically the TNA administration headed by Northern Chief Minister Wigneswaran has in the past few years undermined the scheme of provincial councils as no Sinhala majority province has ever done so in the past.

UB Wijekoon's viewpoint on the Provincial Councils was illustrated clearly in a letter to the Editor (The Island)that he wrote in June 2006. Responding to another letter, Wijekoon said:"I fully agree with the view expressed by him regarding the Provincial Councils.I had the opportunity of gaining some experience on provincial Councils sometime ago when I was the Minister of Public Administration, Provincial Councils and Home Affairs.I strongly recommended the abolition of Provincial Council system. Provincial Councils have failed to achieve the objects for which they were created and they have become a financial burden to the country".

After serving as Sri Lanka's ambassador to Russia in 2003 – 2004 , UB Wijekoon went into virtual retirement from active politics. However in 2010 Wijekoon came out of "retirement" to contest the Presidential poll as an Independent backed by the "Apey Swarajya" (Our Self Rule) movement. He stood for a partyless people's democracy where the rural areas would have some form of self-rule.He had the Jak fruit as his symbol. In an election which proved to be a titanic clash between Mahinda Rajapaksa and Sarath Fonseka, the other 20 candidates fared very poorly.UB Wijekoon polled only 9, 381 votes.

"Apey Swarajya" Movement
The "Apey Swarajya" movement had no illusions about winning the election but had only wanted to promote its policies and message through the election campaign.UB Wijekoon himself stated then "It is our message that is the real candidate at this election. I am only the messenger." In a public appeal made during the 2010 Presidential election campaign, UB Wijekoon outlined his objectives in contesting the poll.The points he made in that appeal reflect his political vision and ideals for Sri Lanka. It was also a sad indictment of all that has gone wrong in our country. Here are a few relevant excerpts -

"By contesting the Presidential election I intend to convey a message to the country. We need to change the present political culture and move in a new direction. Today, we are caught up in a trap due to not facing realities. If we are to achieve any progress in the political, social and economic spheres, I firmly believe that there has to be a real change in the present Constitution and system of governance".
Our present Constitution and administrative system are of western origin and devoid of any indigenous features. The political party system, which is one of its main features, has caused immense harm to
our country

"The Article in the Constitution to the effect that sovereignty is in the people, is limited solely to marking ballot papers at an election. Thereafter, the people who voted become the slaves of the elected representatives. Those elected fly past in luxury vehicles waving at us while we watch them helplessly. We have to make the people participate in administration and development".

"Our present Constitution and administrative system are of western origin and devoid of any indigenous features. The political party system, which is one of its main features, has caused immense harm to our country. It has led to political instability, societal problems, ethnic disharmony and conflict, youth unrest, terrorism, mutual hatred, corruption, violence and even character assassination. Instead of bringing about unity, everyone is seeking to gain power by dividing themselves on political lines. This process has caused a huge setback to the country's progress".

"The country that was once the granary of the east is today dependent on external aid. We continue to live by mortgaging the country's future. People are lulled into a state of complacency, by narrating fables and hiding the reality. This situation has to be changed.As a preliminary step, we should strive to set up a Government based on a party-less system. A question may surface as to whether we would be able to break with this system having been used to it for over 60 years. It can be done and it is to explain this point, that I have come forward" .

New Political System
Now Ukku Banda Wijekoon is no more but the above mentioned passages encapsulate his broad political vision for the country. Currently the Sirisena – Wickremesinghe Govt has embarked on a mission to introduce a new Constitution for Sri Lanka. Prime Minister Ranil Wickremesinghe has stated often that Sri Lanka needs a new political culture devoid of divisive party politics. Ranil has articulated his vision for consensual politics citing principles enunciated under the golden period of rule by the ancient Licchavi rulers of India and Nepal.

Much of what Ranil Wickremesinghe suggests now reflects or tallies with the vision of Ukku Banda Wijekoon as stated in 2010. The wave of optimism and hope that engulfed the country with the advent of the new "Yahapalanaya" Govt is now rapidly diminishing. Nevertheless there is still light at the end of the tunnel. It is to be hoped that despite these initial faltering steps , Sri Lanka would ultimately complete the journey successfully and ensure that the idealistic vision and hopes of Sri Lankan patriots like U.B.Wijekoon are fulfilled.

D.B.S.Jeyaraj can be reached at dbsjeyaraj@yahoo.com