---
According to some media reports, there had been an open "war of words" between Sajith and Ravi at the UNP parliamentarian parley
Vital that Sajith learns valuable lessons from his father's political life at a time when he is being pressured to pull out of the UNP and strike out independently
Sajith's spouse Jalani, while addressing a women's conference at Hatton in Sinhala, is reported to have referred to herself as the "first lady of the future leader" 
After getting married to Hema, Premadasa never suffered any major setback. Thereafter, it was a steady political ascent
By
By D.B.S. Jeyaraj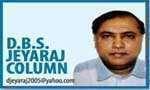 The eighth Sri Lankan presidential election is expected to be held on or before December 7 this year. Although dates have not been announced yet, many names are being bandied about as potential candidates. Among them is Hambantota District Parliamentarian and Cabinet Minister of Housing and Construction Sajith Premadasa who is also the United National Party (UNP) deputy leader. 

Sajith Premadasa is the son of former President Ranasinghe Premadasa who was assassinated by the Liberation Tigers of Tamil Eelam (LTTE) on May 1, 1993. Sri Lanka, known formerly as Ceylon, was the first country in South Asia to adopt the practice of dynastic succession in political leadership. The first Prime Minister of Independent Ceylon D.S. Senanayake was succeeded by his son Dudley Senanayake in 1951. In 1960, Sirimavo Bandaranaike, the widow of Prime Minister S.W.R. D. Bandaranaike, assassinated in 1959, became Prime Minister. Chandrika Bandaranaike Kumaratunga, the daughter of two past Prime Ministers, became premier in August 1994. When she became President in October 1994, her mother Sirimavo Bandaranaike was appointed Prime Minister. Mother and daughter being Prime Minister and President simultaneously is a world record. If therefore Sajith does indeed become a President like Ranasinghe Premadasa, they would be the first father and son to be Sri Lankan presidents. If that happens, Sri  Lanka would have added another notch to its totem pole of dynastic politics. 

51-year-old Sajith Premadasa was born in Colombo on January 12, 1968 to Ranasinghe and Hema Premadasa. He has one sister; Dulanjali. Sajith is married to Jalani Premadasa nee Jayawardane. Sajith studied at S. Thomas' Preparatory School and Royal College in Colombo and MillHill School in London. He graduated from the London School of Economics and Political Science (LSE) in the UK with a bachelor's degree and then pursued a master's degree in public management at University of Maryland,  USA. He also worked as an intern at the US Senate Foreign Relations Committee under Senator Larry Pressler. 

Sajith entered Parliament in 2000 contesting from the Hambantota District and winning with over 80% of the UNP's preferential votes. Thereafter, he contested the 2001, 2004, 2010 and 2015 elections from Hambantota District and returned to Parliament with a preponderant share of UNP preferential votes in the district. He served as Deputy Minister of Health in the UNP Government of 2001 to 2004. He has been the Minister of Housing and Construction from January 2015 to October 2018 in the coalition government and again in the UNF Government from December 2018 to date. Sajith Premadasa was also entrusted the Cultural Affairs Ministry portfolio from December 2018. After some friction within the green elephant kraal where Sajith Premadasa made an abortive bid to capture party leadership, he was appointed deputy leader of the UNP in 2014. 

FIRST LADY OF THE FUTURE LEADER 
As stated earlier, there is much speculation that Sajith Premadasa will be among those vying to be elected as President at the forthcoming election. He, along with several others, is spoken of as potential contenders from the UNP. In fairness to Sajith Premadasa, it must be stated that he has not explicitly declared (so far) that he would contest the forthcoming presidential election. He has however indicated on more than one occasion that he was prepared to serve the nation as his father President Premadasa did. This clearly seems to imply that Sajith does hope to follow his father's footsteps and become President of Sri Lanka. In a further twist, Sajith's spouse Jalani, while addressing a women's conference at Hatton in Sinhala, is reported to have referred to herself as the "first lady of the future leader."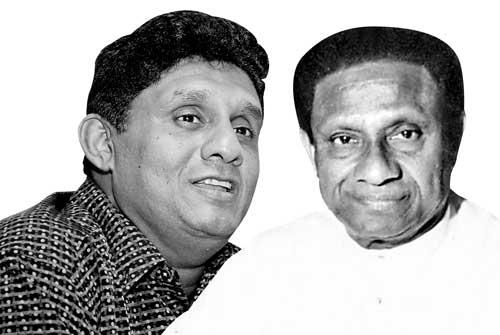 In what is seen as further proof of a burning presidential ambition, Sajith has intensified and diversified his cherished programme of constructing houses for the poorer and underprivileged sections of Sri Lankan society regardless of ethnicity or religion. Again, it may be recalled that Sajith's father Ranasinghe Premadasa too focused on building houses for the needy in rural hamlets. This project of constructing model village housing schemes was combined with the comprehensive village awakening programme titled 'Gam Udawa.' In what was perhaps a pointer to his future plans, Sajith told a gathering in Matale: "I will start the programme that enthrones the common man in December." Since the presidential poll is expected in December, this pledge appears to be rather significant. Sajith also keeps requesting the electronic media to air visuals of what is happening in the villages so that people in Colombo could realise the importance of such projects. 

Sajith Premadasa has been building many model villages and housing schemes in different parts of the country. In the process he is supposedly forming people's committees at electoral level to facilitate his electioneering work when the need arises. There are also reports that Sajith Premadasa is making a deliberate effort to mingle with the people at a personal level. For instance, when Sajith went to Kallappaadu coastal village in Mullaitivu District to open two housing projects, he shed his ministerial inhibitions and participated in a rousing game of soccer with the youths. 

More importantly, several of his purported allies or supporters within the UNP parliamentary group have been openly articulating that Sajith Premadasa should or would be the UNP's presidential election candidate. This includes quite a number of Cabinet and State Ministers. So vociferous has been this clamour that party leader and Prime Minister Ranil Wickremesinghe has issued a directive that the UNP's presidential candidate would be selected and confirmed by the parliamentary group and working committee at the appropriate time and that there need be no speculation or discussion before that. Still, voices continue to be raised promoting Sajith's candidacy within the party. Apparently, the issue caused quite a stir at the UNP parliamentary group meeting last week where a heated argument had ensued. The group meeting indicated clearly that just as a lobby was promoting Sajith there was another lobby opposing his candidacy. 

"WAR OF WORDS" BETWEEN SAJITH AND RAVI
Chief among those critical of Sajith Premadasa is Colombo District MP and Cabinet Minister of Power and Energy Ravi Karunanayake who is also the UNP assistant leader. Karunanayake has, in recent times, made several derogatory remarks about Premadasa publicly and "pooh-poohed" the idea that Sajith could contest the election and become President. Some of these remarks have been bluntly direct while others were veiled references. According to some media reports, there had been an open "war of words" between Sajith and Ravi at the UNP parliamentarian parley. 

The issue has been further complicated by rumour mills working overtime. There is a belief among many that Sajith Premadasa would split from the UNP if he were not made the party's official presidential candidate. It is said that a significant number of MPs from the UNP as well as constituents of the United National Front (UNF) would back him. Some of these MPs have been close confidantes of UNP leader Ranil Wickremesinghe. Furthermore, President Maithripala Sirisena with whom Sajith enjoys a cosy relationship will also back Premadasa – along with the SLFP – as a common candidate. It is also being said that Chandrika Bandaranaike Kumaratunga will endorse Sajith even though that seems highly unlikely. Adding further grist with a twist to the rumour mill is the "news" that a very powerful Western nation is supportive of Premadasa. One does not know who was or is behind the spread of these rumours. It could be Sajith's friends or foes. 

Sajith himself has neither denied nor confirmed whether he intends contesting as a "third" candidate if he were denied UNP nomination. One cannot expect him to do so at this point of time. However, there does appear to be a move by some circles to encourage Premadasa into rebelling against the UNP leader and contesting on his own. Although there is a convergence of interests among these circles in promoting such action there is no clear identity of interests. One faction may be truly having Sajith's welfare in mind. Another faction may not love Sajith but hates Ranil more and therefore is fomenting a revolt. The third faction seems to be partisan towards the Rajapaksas and so wants to split the UNP vote by this exercise. 

Those trying to make Sajith rebel against the party and contest the presidential poll on his own use the name of his father to convince the son to do so. They cite two instances in Ranasinghe Premadasa's political life where he was ready to break away from the UNP and strike out on his own. One was in 1972/73 when Premadasa revolted against Dudley Senanayake's leadership of the UNP and formed a separate organisation on his own named "Puravesi Peramuna" or Citizens Front. The other was in 1988 when Premadasa was preparing to break away and contest separately if he were denied presidential candidacy by Junius Richard Jayewardene. 

What is important is to note that neither of these threatened "break-ups" materialised. In 1973, the prodigal son returned to party folds after Dudley's demise and carried on as usual. In 1988, the anticipated exit did not materialise because J.R. Jayewardene nominated Premadasa as the UNP's presidential candidate. Moreover, Ranasinghe Premadasa won the election and became President. 

ASCENDANCY OF RANASINGHE PREMADASA
The political ascendancy of Ranasinghe Premadasa in Sri  Lanka through the UNP is indeed a remarkable feat. For a person of subaltern status in class and caste terms to rise to the pinnacle of power in a party like the UNP amounts to a political fairytale. It happened only because Ranasinghe Premadasa chose to remain in the UNP and battle it out within the party instead of splitting and charting an independent course. It is important that Premadasa's son Sajith should draw inspiration and learn valuable political lessons from his father's political life at a time when he is being pressured to pull out of the UNP and strike out independently. 

It is against this backdrop therefore that this two-part article examines the political ascendancy of Ranasinghe Premadasa in the UNP and his remarkable rise up the rungs of the power ladder as Municipal Councillor, Parliamentarian, Deputy Minister, Minister, Chief Whip, Leader of the House, Prime Minister and finally President. This article in two parts does not propose to dissect and analyse Ranasinghe Premadasa's performance as a Minister, Premier or President. It only seeks to focus on how this commoner became king and outline briefly the sequence of related events that gradually propelled him to the post of President. It would also compare the situation faced by the father then and the son now and contemplate whether Sajith could learn some valuable lessons from his father's political life and possibly follow in his footsteps. 

Ranasinghe Premadasa was born on June 23, 1924 at Dias Place in the area of Keselwatte or Vaazhaiththottam in Central  Colombo. His parents were Richard Ranasinghe of Hegalle, Kosgoda and Jayasinghe Arachchige Ensina Hamine of Batuwita, Horana. Premadasa was the eldest of five children. His father Ranasinghe rented out rickshaws for a living. Premadasa had his primary education at Harvard Methodist Girls' School and St. Lorenz's College. His secondary education was at St. Joseph's College, Colombo where he studied up to his Cambridge senior exam. Premadasa also received Buddhist schooling at Hewavitarana Daham Pasala at Purwarama temple in Pitakotuwa/Purakkoattai. 

Premadasa became enamoured of social service at a very young age and formed the "Sucharita" movement in 1939. He was fifteen at that time. The Sucharita movement undertook many community development and social service activities including the running of a night school offering free educational classes to needy students. Premadasa was in charge of the school which also focused on adult literacy. 

ALEXANDER EKANAYAKE GOONESINHE
He also became drawn to the trade union movement through pioneering trade unionist and founder-leader of Ceylon Labour Party, Alexander Ekanayake Goonesinhe. Premadasa as a teenager had impressed A.E. Goonesinha by his dedicated social service through the Sucharita movement so much so that when Goonesinha was functioning as the Mayor of Colombo, he had entrusted young Premadasa with supervisory responsibility of a community welfare project. 

A.E. Goonesinha, though a militant trade unionist, was not a Marxist or socialist. He was sympathetic to the underdog and fought against oppression and exploitation but did not subscribe to leftist ideology. In later years, when Lanka Sama Samaja Party was founded, the LSSP began forming trade unions too. This was resented by Goonesinha and his Labour Party. There were clashes. This led to Labour Party circles adopting a very hostile approach towards leftist circles. Since Goonesinha was like a political mentor to Premadasa, this attitude affected him too. It was A.E. Goonesinha's influence that prevented Premadasa from becoming a leftist in his youth. Premadasa joined the labour party as a full-time member in 1946. His first experience in campaigning at a parliamentary election was in 1947 when A.E. Goonesinha contested the Colombo Central multi-member constituency. A series of mass rallies and pocket meetings were conducted on behalf of Goonesinha. Ranasinghe Premadasa was a key speaker at these rallies and meetings. He impressed listeners and captivated audiences by his powerful and witty speeches in Sinhala. A.E. Goonesinha was elected as first MP for Colombo Central in 1947. He contested in 1952 too and was elected as second MP. Ranasinghe Premadasa campaigned actively for Goonesinha in this election too. Ranasinghe Premadasa was elected President of the Labour Party's youth league in 1949. The following year he contested what was then called the San  Sebastian ward of the Colombo Municipal Council. He won and became a Municipal Councillor of Colomboin 1950. The Colombo Municipal Council had many illustrious councillors and Premadasa learnt many things by interacting with them. Premadasa developed into a fiery debater in Sinhala. He was a voice for the marginalised sections of society in Colombo. He was re-elected Municipal Councillor in 1954 and in 1955 was elected Deputy Mayor of Colombo. The LSSP's Dr. N.M. Perera was the mayor. 

LSSP LEADER DR. N.M. PERERA
The United National Party (UNP) Government headed by Prime Minister Sir John Kotelawela in a surprise move called for an early election in 1956. Among the electorates where the UNP faced problems in fielding a suitable candidate was Ruwanwella in the Sabaragamuwa Province. The constituency had been won by the LSSP leader Dr. N.M. Perera in 1947 and 1952. Party stalwart P.C. Imbulana had been the UNP candidate in both elections. Imbulana was not prepared to contest the 1956 elections due to personal reasons. The UNP found it difficult to find a candidate to face N.M. Perera in Ruwanwella. Since the LSSP and the SLFP-led MEP coalition had a no contest pact, NM was expected to win with a huge majority in Ruwanwella. 
With A.E. Goonesinghe functioning as Chief Government Whip, Deputy Minister and Cabinet Minister of State in successive UNP Government, there was much interaction between the UNP and Labour Party. This led to Labour Party stalwarts like Premadasa moving closely with UNP leaders and building up personal rapport. At one stage, Premadasa decided to quit the Labour Party and join the UNP. He felt there was a brighter political future for him in the UNP. The 1956 elections were called a few weeks after Premadasa joined the UNP. Then came an unexpected offer from the party leadership. Would Premadasa be willing to contest N.M. Perera in Ruwanwella as the UNP candidate? Premadasa was born and bred in Colombo and had no links with the Ruwanwella electorate. Yet he was ready to take up the challenge. 

The 1956 elections saw the UNP tasting bitter defeat. The party won only eight seats. Premadasa too lost in Ruwanwella. He was defeated in a straight fight. N.M. Perera got 14,083 and Premadasa 7,855 votes. N.M. Perera won with a majority of 6,228 votes and went on to become opposition leader in that Parliament. Meanwhile, A.E. Goonesinghe had also lost in Colombo Central. Goonesinghe bade farewell to electoral politics, accepted a diplomatic postings and went abroad. With his political mentor retiring, Premadasa felt he could now set his sights on the Colombo Central constituency where he was born and grew up. He began carefully nursing the electorate. Colombo Central was a multi-member constituency electing three MPs. The ethnic ratio at that time was about 35% Sinhala, 32% Muslim and 28% Tamil. Although the Sinhala vote was Premadasa's main target, he assiduously cultivated the Tamil and Muslim communities too. 
When elections were held in March 1960, the UNP nominated two candidates for Colombo Central. One was Dr. M.C.M.  Kaleel. The other was Ranasinghe Premadasa. He had the approval and backing of both Dudley Senanayake and J.R. Jayewardene. The March 1960 elections saw Premadasa getting elected as the third MP for Colombo Central.  Dr.  Kaleel came first with 33,121 votes. Pieter Keuneman of the Communist Party (CP) was second with 30,574 votes. Premadasa's tally was 29,828. The UNP got 50 seats and Dudley Senanayake formed a minority government as Prime Minister. Parliament was dissolved after the government was defeated at the throne speech vote. 

MARRIED HEMA WICKREMATUNGA IN 1964
Fresh elections were held in July 1960. Premadasa increased his votes to 35,035 but came fourth. Sir Razik Fareed of the SLFP, Pieter Keuneman of the CP and Dr. Kaleel of the UNP became first, second and third MPs with 45,342, 38,663 and 37, 486 respectively. Premadasa was out of Parliament in just three months. He was disappointed but soon returned to municipal politics and was elected councillor in 1962. He began nursing the Colombo Central electorate while remaining a Municipal Councillor. On the day of his 40th birthday on June 23,  1964, Ranasinghe Premadasa married Hema Wickrematunga and lost his bachelor status. Premadasa, an avid believer in astrology, thought the marriage brought him luck. After getting married to Hema, he never suffered any major setback in politics. Thereafter, it was a steady political ascent. 

Parliamentary elections were held again in 1965. The UNP again fielded two candidates in Colombo Central. One was R.Premadasa, the other was Falil Caffoor. Premadasa re-entered Parliament by getting elected as second MP with 64,438 votes. Falil Caffoor came first with 68,372.Pieter Keuneman was third with 41,478 votes. The UNP with 66 seats formed a seven-party coalition government with Dudley Senanayake as Prime Minister. Among the constituents in the government was the Illankai Thamil Arasu Katchi (ITAK) known as the Federal Party (FP) in English. 

Former Solicitor-General M. Tiruchelvam (Dr. Neelan Tiruchelvam's father) was the FP nominee in the government. Since he was not an MP, Tiruchelvam was appointed to the senate and made Minister of Local Government. Much to the surprise of many, Ranasinghe Premadasa was appointed Parliamentary Secretary or Deputy Minister of Local Government. It was opined by many then that the appointment of Premadasa as Deputy Minister to M. Tiruchelvam was a blunder. Others suspected Premadasa was appointed to that post by Dudley to monitor the minister. Some predicted a major clash between the temperamentally incompatible Tamil minister and his Sinhala deputy minister. No such thing happened and both got on famously after evolving a solid working relationship where Tiruchelvam delegated some key functions to Premadasa. 

M. Tiruchelvam had a disagreement with Dudley Senanayake over the Trincomalee Koneswaram temple sacred zone issue and resigned on September 15, 1968. On September 16, 1968, Ranasinghe Premadasa was appointed in Tiruchelvam's place as Minister of Local Government. Immediately after being sworn in as Local Government Minister,  Ranasinghe Premadasa went to the Purwarama temple in Pettah and offered flowers. The "Keselwatte Kolla" had arrived. 

MINISTER OF LOCAL GOVERNMENT
Premadasa now began demonstrating his capacity for hard work and his administrative skills. He formulated several schemes as Minister of Local Government and began implementing them rapidly and efficiently. His former press secretary Evans Cooray later wrote a book about his experiences with Premadasa titled "In the shadow of a people's President." In that book Evans describes in detail the many plans and projects undertaken by Premadasa during his 21 month stint as Cabinet Minister from September 1968 to May 1970.  A few lines excerpted from the book provide a vivid insight into Premadasa's passion for work and sense of mission. Evans Cooray writes thus – "He (Premadasa) settled down to work almost immediately as if trying to prove that Dudley had erred in not giving him the ministry earlier than that. On some days, he worked at a stretch for over fifteen hours."   Elections were held again in May 1970. The United Front comprising the SLFP,  LSSP and CP won 116 of 157 seats in Parliament then. The UNP was reduced to 17 seats. Premadasa was elected first MP for Colombo Central with 69, 310 votes. Falil Caffoor and Pieter Keuneman came second and third with 63,623 and 58, 557 votes respectively. Dudley opted to take a back seat due to ill-health and let J.R. Jayewardene become leader of the opposition. Ranasinghe Premadasa was appointed Chief Whip of the opposition. Faced with the challenge of confronting a government with a steam-roller majority, the UNP began to wilt and crumble initially. Deep divisions began to emerge within the de-moralised party. The primary issue was the dispute between Dudley Senanayake and J.R. Jayewardene. So great were the differences that the parties concerned got embroiled in legal proceedings. The secondary issue was the disagreement between Ranasinghe Premadasa and Dudley Senanayake. The former rebelled against the latter and formed an independent organisation. The grand old party faced possible fragmentation. How these issues were resolved and what happened thereafter would be related in the second part of this article next week. 
D.B.S. Jeyaraj can be reached at [email protected]