---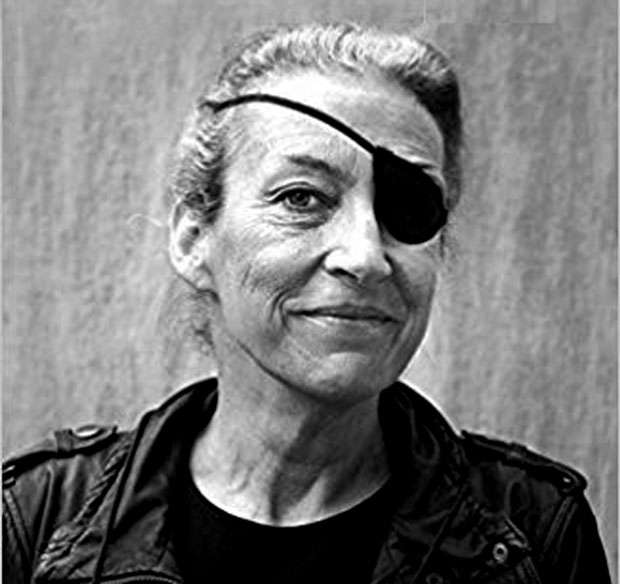 The life and work of Marie Colvin is multi-faceted and a manifestation of exemplary bravery and commitment. It was by her on the spot reporting of events contradicting the official version that she spoke truth to power
By
D.B.S. Jeyaraj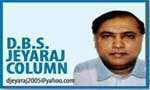 Journalists in the line of duty are required to write about different people from all walks of life but it is very rarely that they write about themselves or fellow journalists. It is accepted as part of a scribe's lot in life. As far as the fourth estate is concerned, it goes with the territory. Sadly, if at all we do write about a journalist, it is only after he or she passes away. It is against this backdrop therefore that I write this week about a woman journalist who was regarded as the greatest war correspondent of her generation. I am of course referring to Marie Colvin who paid the supreme price seven years ago while covering the fighting in Syria. Some years before that she lost an eye while reporting in Sri Lanka.

Marie Catherine Colvin, the respected war correspondent of Britain's "Sunday Times" was targeted and killed on February 22, 2012 by Syrian forces as she reported on the suffering of civilians in Homs,Syria. At the time of her death, Marie Colvin was reporting from the Baba Amr Media Centre, a makeshift broadcast studio run by Syrian media activists in a secret facility located in a residential building. The rocket attack also killed acclaimed French photographer Rémi Ochlik and injured British photographer Paul Conroy, Syrian translator Wael al-Omar and French journalist Edith Bouvier. A Syrian photo journalist was also killed in the attack.

Two weeks ago, last January, a US court found Syrian President Bashar al-Assad's government liable for the death of American war correspondent Marie Colvin in February 2012. US District Judge Amy Berman Jackson said it was an "extrajudicial killing." She also ordered Damascus to pay $ 302.5 million in damages for an "unconscionable crime." In addition, the Syrian Government was ordered to pay $ 2.5 million in compensation to Colvin's sister, Cathleen and $ 11,836 in funeral expenses. It was the first time Assad's government was held to account for a war crime thereby setting a legal precedent. The civil lawsuit was filed by Colvin's family in 2016. The Syrian Government was not involved in defending the case.
Marie Colvin was targeted and killed on February 22, 2012 by Syrian forces as she reported on the suffering of civilians in Homs,Syria. At the time of her death, Marie was reporting from the Baba Amr Media Centre, a makeshift broadcast studio run by Syrian media activists in a secret facility located in a residential building

POLICY OF VIOLENCE AGAINST THE MEDIA
The US District Court for the District of Columbia found that the Syrian military and intelligence tracked the broadcasts of the journalists covering the siege of Homs, and then targeted the media centre in a barrage of artillery fire. Judge Jackson said this was part of the regime's long-standing policy of violence against the media. Marie Colvin "was specifically targeted because of her profession, for the purpose of silencing those reporting on the growing opposition movement in the country. The murder of journalists acting in their professional capacity could have a chilling effect on reporting such events worldwide," the judge stated in her path breaking ruling.

Apart from the judicial verdict with far-reaching consequences, Marie Colvin has been in the news lately due to another reason. A film based on her life titled 'A Private War' was released in November last year. The film was based on an article titled 'Marie Colvin's Private War' written by Marie Brenner in 2012 and published in the 'Vanity Fair' magazine. The film's screenplay was written by Arash Amel and directed by Mathew Heineman. The British actress Rosamund Pike acted as Marie Colvin and received multiple plaudits and rave reviews for her performance. Yet, she was not nominated for the Oscars.

The death of Marie Colvin in 2012 diminished the world of intrepid journalism. A world where she was undoubtedly the uncrowned queen. At a personal level, her demise was distressing to me because I was mildly acquainted with her. I have communicated intermittently on the telephone and exchanged a few e-mails with her in the past, particularly during that tragic phase in 2009 when many of us engaged in a futile effort to prevent a humanitarian catastrophe from happening in Northern Sri Lanka. I have never met her in person; something which I regret very much. Through my brief interaction, I found her to be an ebullient and refreshingly-candid person with a lively sense of humour. Marie had an insatiable curiosity about many things. I admired her greatly for her courage, passion and devotion to reporting. Above all, I recognised a kindred spirit in her empathy for the perceived underdog.
In April 2001, she was in Sri Lanka and had an appointment on April 4 with the then foreign minister Lakshman Kadirgamar for an interview. In the meantime, she tried to get official permission to go to the Wanni for an interview with Suppiah Paramu Thamilselvan, the political commissar of the LTTE at that time
In April 2001, she was in Sri Lanka and had an appointment on April 4 with the then foreign minister Lakshman Kadirgamar for an interview. In the meantime, she tried to get official permission to go to the Wanni for an interview with Suppiah Paramu Thamilselvan, the political commissar of the Liberation Tigers of Tamil Eelam (LTTE) at that time. As was the norm then she was denied permission as the LTTE controlled Wanni was a "no go zone" for foreign correspondents. But Marie managed to get around that hitch by clandestinely infiltrating the Wanni through a jungle route North of Vavuniya with the help of the Tigers. She failed to turn up for the scheduled interview with Kadirgamar. She filed reports for her paper while in the Wanni. This included the Thamilselvan interview. The Colombo establishment realised that Marie Colvin had defied their restrictions and gone into forbidden territory.

At that time the Sri Lankan Government declared a five-day ceasefire to coincide with the Sinhala-Tamil New Year in mid-April. Marie Colvin utilised the ceasefire to re-enter government controlled areas. When she accompanied a group of people entering through the checkpoint at Parayanaalankulam on the Vavuniya-Mannar Road, there was an unexpected skirmish in which a rocket propelled grenade was fired at her. She was injured and lost blood. Her eyesight was impaired. Thereafter, she wore a black eye-patch that became her distinguishing mark. The British High Commission intervened and got her medically attended to at the Vavuniya Military Hospital. After surgery, she was flown out to Colombo and then out of the country. Her commitment to get the story out was such that Marie Colvin filed a dispatch of 3000 words to London from her hospital bed.

ARTICLE BY MARIE BRENNER IN 'VANITY FAIR'
Marie Colvin's Sri Lankan "adventure" features in the film 'A Private War' too. It was related in the article by Marie Brenner in the 'Vanity Fair' on which the film was based. Here are excerpts from the article pertaining to the Sri Lankan incident;

"Sent to Sri Lanka in April 2001, Colvin delivered an interview with a commander of the controversial and brutal anti-regime Tamil Tigers, in which she highlighted that there were 340,000 refugees in what she described as "an unreported humanitarian crisis —people starving, international aid agencies banned from distributing food … no fuel for cars, water pumps, or lighting."

"She could have spent the night and probably have left safely the next morning," Jon Swain said. Instead, she fled through a cashew plantation and had to dodge army patrols. Trapped as flares from a nearby base swept the ground, Colvin had to make a difficult decision: should she identify herself as a journalist? Had she not, she later said, she would have been slaughtered as a Tamil rebel. "Journalist! American!" she yelled as she felt searing heat in her head. A bursting grenade had punctured one of her lungs and destroyed her left eye. "Doctor!" she shouted when soldiers arrived and tore off her shirt, searching for weapons. "Admit that you came to kill us," an officer demanded and threw her into the back of a truck."
"I was uninjured until I yelled 'journalist' and then they fired the grenade. The nightmare for me is always that decision about yelling. My brain leaves out the pain," Colvin told the author Denise Leith. "They made me walk to them. I knew that if I fell they would shoot so I had them put a light on me before I would stand up, but I lost so much blood that I fell down, literally I replay that whole walk endlessly in the nightmare. I know that it is my brain trying to find a different resolution. 'This body didn't have to be shot.' "
Marie Colvin's Sri Lankan "adventure" features in the film 'A Private War' too. It was related in the article by Marie Brenner in the 'Vanity Fair' on which the film was based
TAMILS HAVE CALLED TO OFFER ME THEIR EYES
"On the phone, Sean Ryan could hear Marie screaming in a hospital. Ryan said he was relieved, at least, "that she sounded like Marie." Later, she told him that she had fended off a doctor who was trying to take out her eye. Flown to New York to be operated on, she filed 3,000 words from her hospital bed. "My God, what will happen if I go blind?" she asked sister Cat. "I wish I could cry," she told the TV news editor Lindsey Hilsum. "So many Tamils have called to offer me their eyes." As she was slowly recuperating, a worried Ryan told Rosemarie to get her psychological support, but Colvin resisted."

"Colvin's story recounting the river of blood that flowed out of her mouth when she was left to die in Sri Lanka in 2001 also became part of her myth, as would the quiet eloquence that set her apart from the cliché of the war correspondent as adrenaline junkie with a death wish. "Bravery is not being afraid to be afraid," she said when she accepted an award for her work in Sri Lanka."

It was the Sri Lankan incident that resulted in her losing an eye. She wore a black eye patch after that. It became her defining image and friends referred to her in lighter vein as "one-eyed Jill" as opposed to "one-eyed Jack" played by Marlon Brando in the film of the same name that was also directed by him.

MARIE INTERACTED WITH SRI LANKA AGAIN
Marie interacted with Sri Lanka again during the last days of the war in May 2009. She interviewed the new LTTE political wing head Nadesan on the phone and wrote an article about the pathetic predicament of entrapped civilians in Mullivaikkal. She also played an "extra-journalistic role" in trying to help arrange the safe surrender of some senior LTTE personalities and around 2000 civilians. She woke up the UN Chief of Staff, Vijay Nambiar at midnight and obtained an assurance from him on the matter. That characteristic humane effort by her proved unsuccessful in the end.
The life and work of Marie Colvin is multi-faceted and a manifestation of exemplary bravery and commitment. It was by her on the spot reporting of events contradicting the official version that she spoke truth to power. Her life was a remarkable saga worth recounting. Let me present therefore some excerpts from an obituary that appeared in the London "Telegraph." Here are the relevant excerpts;

"Marie Colvin did not put her life on the line to win acclaim. Instead, it was by being in the line of fire, by sharing the risks of those she was writing about, that she was able to produce her immensely powerful coverage of conflict's human toll. She was doing precisely this when she was killed, telling the world of indiscriminate government shelling of "a city of cold, starving civilians." Her eyewitness accounts were broadcast on CNN or the BBC because, though a staff reporter of more than 20 years' standing for The Sunday Times, she was – as usual – the last journalist not to have fled."

"Such dedication and proximity infused her coverage with emotion. In Syria, she said government forces were committing "murder" and she described how she had witnessed a baby die of shrapnel wounds. She was never mawkish, but nor was she minded to stand idly by and witness massacres."
Marie Colvin did not put her life on the line to win acclaim. Instead, it was by being in the line of fire, by sharing the risks of those she was writing about, that she was able to produce her immensely powerful coverage of conflict's human toll. She was doing precisely this when she was killed, telling the world of indiscriminate government shelling of "a city of cold, starving civilians"
HELPED SAVE MANY HUNDREDS OF LIVES
"In East Timor in 1999, for example, as Indonesian troops closed in on a United Nations compound in Dili where 1,500 people had taken shelter, the UN wanted to pull out and leave the refugees to their fate. Marie Colvin and two other female journalists remained in place, defying the UN, and the world, to do nothing.

Eventually, shamed by the courage of the reporters, Indonesian forces allowed the refugees to leave and the international community stepped in. Marie Colvin's presence had undoubtedly helped save many hundreds of lives."

"Marie Catherine Colvin was born on January 12, 1956 in Oyster Bay, New York to William and Rosemarie Colvin, both schoolteachers. Her father was a former US marine who had served in Korea, and he eventually gave up teaching to become a political activist for the Kennedy Democrats. Marie, who attended Oyster BayHigh School and had an idyllic childhood on the Long Island seaside, soon demonstrated a campaigning nature too. To the disgruntlement of many conservative locals, she organised an anti-Vietnam demonstration in the streets of Oyster Bay, then created minor mayhem by designating her family home's front yard an ecological recycling zone."

"She studied American Literature at Yale, where she got her first taste of journalism by working for a university newspaper. After graduating, she began her career in unorthodox fashion by taking a job on the in-house magazine of the Teamsters union. Named "acting editor," she eventually asked when the permanent incumbent would be coming back. Taken aside, she was gently informed that he would be away for five years, less with good behaviour. Moving to the press agency UPI, she was appointed to its bureau in Trenton, New Jersey. Finding it desperately drab, she based herself in the West Village of Manhattan and commuted to work, demonstrating a commitment to enjoying herself that endured as long as her compulsion to report."

URGE WAS TO BECOME A FOREIGN CORRESPONDENT
"Her urge above all, however, was to become a foreign correspondent. She swiftly convinced UPI to promote her to the Paris bureau, where her dash, good looks and dark curls soon won her a host of admirers. Her break came in 1986, when she was in the Libyan capital, Tripoli, as America launched its biggest aerial attack since Vietnam. Filing copy while scrambling to avoid the explosions, she set a pattern that would last the rest of her career."

"It was while there she was summoned to meet the Libyan dictator, Muammar Gaddafi, and over the next quarter of a century she frequently met him, as well as many other political leaders and despots. But a peculiar effect of her beguiling character and her journalistic talent was that tyrants were charmed by her, and sought her out, even as she eviscerated them in print. Last year she published an account of her encounters with the late Libyan leader over 25 years. It was entitled "Mad Dog and Me." While in Libya in 1986, she began freelancing for The Sunday Times, which soon lured her over full time to become its Middle East correspondent. Her exploits quickly attracted the attention and envy of less bold colleagues – a broad category."

"During the Iran-Iraq war, for instance, she smuggled herself in disguise into Basra, a city then completely closed off. In 1987 she reported from Bourj el Barajneh, the Palestinian refugee camp in Lebanon, which was under fire from the Syrian-backed Amal militia. There she met Pauline Cutting, a British surgeon who was a lone medical heroine amid the carnage. The story was typical of Marie Colvin – illustrating a fearsomely complex conflict by finding the most dramatic, personal, story at its heart."

"At the same time she met and married The Daily Telegraph's Middle East correspondent, Patrick Bishop, and they lived together in Jerusalem from the early 1990s. It was not a union based on typical domesticated bliss. While Marie Colvin might be reporting from Baghdad on the aftermath of the first Gulf War, Bishop might be covering the wars that erupted in the Balkans (where he was himself wounded)"
CONSTANTLY WEIGHED "BRAVERY AGAINST BRAVADO"
"Marie Colvin herself reported from Kosovo, and freely admitted that she constantly weighed "bravery against bravado." Around the turn of the century that balancing act took her closer to the edge than ever. First, in 1999, she scored her dramatic triumph in East Timor. Then, while the world was celebrating the new millennium, she appeared to have pushed things too far in Chechnya. Based with Chechen rebels as Russian troops cut off all escape, she found that the only route out was a 12,000ft mountain pass to Georgia. During an eight-day midwinter journey she waded through chest-high snow and braved altitude sickness, hunger and exposure. Bishop set off from Paris to the Georgian capital, Tbilisi, where, together with her Sunday Times colleague Jon Swain, he helped organise a helicopter from the US embassy to pluck her off the mountainside to safety. As Marie Colvin wrote: "I was never happier to have an American passport."

"She did not often require such assistance. And her time in Chechnya did not make her change her ways. Instead she was soon in Sri Lanka, as ever heading into rebel – this time Tamil Tiger – territory. As she tried to cross the front line back into government-held ground, she was hit by shrapnel in four places.

Despite specialist surgery, she lost the use of her left eye and afterwards wore a patch. She promised that she would take things easier. But that was always unlikely. And as the US-led invasion of Iraq triggered the most dramatic events in the Middle East for decades, remaining on the sidelines became impossible."

"Soon she was back in the thick of things in Baghdad. There, as ever, she frayed editors' nerves not only with her derring-do, but by filing her stories up to and far beyond deadline. Her copy was well worth waiting for, but the price to pay could be high. On one occasion in Iraq, her satellite phone link was not properly shut down and remained open overnight. It was never quite clear who was to blame, but to the amusement of other journalists, if not her paper, the bill ran to more than $ 20,000."

WELCOMED THE OPTIMISM OF ARAB SPRING
"Like many journalists who covered the Middle East, Marie Colvin welcomed the optimism of the Arab Spring. Though she knew that it would not effect an overnight transformation, she was compelled to see it through; where cynicism had blunted the determination of so many of her contemporaries, she remained unwearied. Agonizingly, for those who knew and loved her, however, that meant the nature of her death had a certain inevitability about it. Marie Colvin, of course, did not see it that way. She loved life, and brought an American exuberance to the countless parties she graced over many years. From the Gandamak Lodge in Kabul to Harry's Bar in Paris, she could be found at the heart of the conversation, cigarette and brimming vodka martini in hand. Sitting under the date palm in the garden of the American Colony in East Jerusalem, she would preside over the chatter and laughter as the balmy nights stretched on."

"Apart from reporting, she loved sailing. As a young woman, she had worked at the local yacht club to save enough to buy her first boat and in recent years had revived her passion for the sport, buying a new craft and gaining a skipper's licence between assignments. Those assignments no doubt contributed to her eventual separation from Bishop, and from Juan Carlos Gumucio, her second husband, who predeceased her. But all who knew her remained devoted to her. She is survived by Patrick Bishop and by her partner of recent years, Richard Flaye, whom she met while sailing."

The "Telegraph" obituary excerpts sum up the essence of Marie Colvin's life and times. Marie Colvin made her mark as a journalist in Britain but was by birth an American. She was a frontline warrior for truth in journalism. Infused with a sense of daring and a zest for adventure, Marie ventured into the troubled hotspots of the globe. She defied authoritarian regimes by circumventing controls and barriers and infiltrating war zones. Some compare Marie Colvin with Martha Gellhorn, the legendary woman war correspondent who covered many wars and battles for several decades always keeping the plight of the affected civilians as her focus. Martha and Marie were friends. Martha incidentally was married for a few years to Ernest Hemingway.

"GET IN, GET IT AND GET OUT"
It is said of war correspondents that they have to "Get in, Get it and Get out." Marie did just that in many conflict zones from Chechnya to Bosnia, from Sri Lanka to Syria. In Sri Lanka, she lost an eye, but in Syria, she lost her life. She got in, got it but couldn't get out. To her credit, it must be said that she had the option of leaving like many other scribes, but opted to stay on and report the travails of ordinary civilians in war situations. One of her final reports was a first person account of seeing a baby die.

I don't know whether it is in my blood or in my stars, but I have been fascinated by writers, poets and journalists since childhood. One of my earliest heroes or heroines was Dickey Chappelle born as Georgette Louise Meyer. I first became aware of her when I read the condensed version of her book 'What's a woman doing here?' in the Readers Digest. Later on, I read the whole book.

Dickey covered the battles of Iwo Jima and Okinawa during World War II. Later, she was jailed in Budapest when she covered the Hungarian uprising of 1956. She gained fame by covering the Cuban revolution led by Fidel Castro which overthrew Batista. She died in 1965 in Vietnam while trekking with a military patrol when shrapnel from an exploding booby trap struck her neck inflicting fatal injury.

I think Dickey Chappelle and Marie Colvin were of the same ilk and met their deaths while engaged in the pursuit of news. They died with their boots on.

Unlike Dickey Chappelle, Marie Colvin however played a role in Sri Lankan affairs. Her life and work is an inspiration to journalists in particular and humanity in general.

I would like to conclude on a sentimental note by posing some questions – "Why do journalists risk danger and even lives by doing what they do." Why do war correspondents undergo such hazards to get the "story" or picture?

WHY DO SOME JOURNALISTS SPEAK TRUTH TO POWER?
There are wider questions also pertaining to those members of the fourth estate who regard their profession as a sacred vocation and willingly risk danger in pursuance of it. These questions are applicable to those dedicated and courageous journalists in all spheres who report the truth and by doing so "speak truth to power." Why do some journalists dare to offend powerful entities and personalities thereby risking and facing danger, death, assault, intimidation, imprisonment, disappearance, vilification, character assassination, threats and insults? Why do they "do what they do" in the line of duty?

These are questions to which there are many answers depending upon the mindsets of each person. There is no single, definitive, uniform answer. They vary and are many. Together they comprise an answer that is discernible to the discerning. In the immortal lines of Bob Dylan, "The answer, my friend, is blowin' in the wind. The answer is blowin' in the wind."

D.B.S. Jeyaraj can be reached at dbsjeyaraj@yahoo.com