---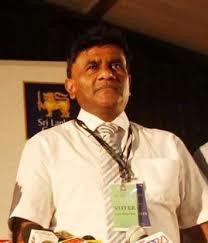 Sri Lanka Cricket vice-president K Mathivanan has resigned after months of discontent with the board. Mathivanan was serving in this capacity since 2016. He tendered his resignation this morning. Few hours after his resignation SLC Executive Committee replaced him with businessman Jayantha Dharmadasa.
"I am reluctantly compelled to resign from my post," he said in a media statement. "Even from the outside, he will continue to hope for the betterment of the game of cricket in Sri Lanka which has fallen into its lowest depths in recent times and hopes their fortunes will be revived in near future".
At a time when the cricket administration is riddled with corruption, lack of transparency and nepotism, Mathivanan's departure comes as a massive loss to the game, as he was considered one of the few honest officials in cricket administration. Mathivanan was elected as one of SLC's Vice-Presidents at the last board election from the opposing camp last year. But he was completely sidelined by the present administrators forcing him to resign.
Sri Lanka Cricket said the resignation of Mathivanan comes in the wake of the recent unanimous decision of the Executive Committee to hold an inquiry against Mathivanan for indulging in unethical practices in his capacity as an Office Bearer.
"The current administration carries out their duties without transparency and integrity," Mathivanan said in his resi