---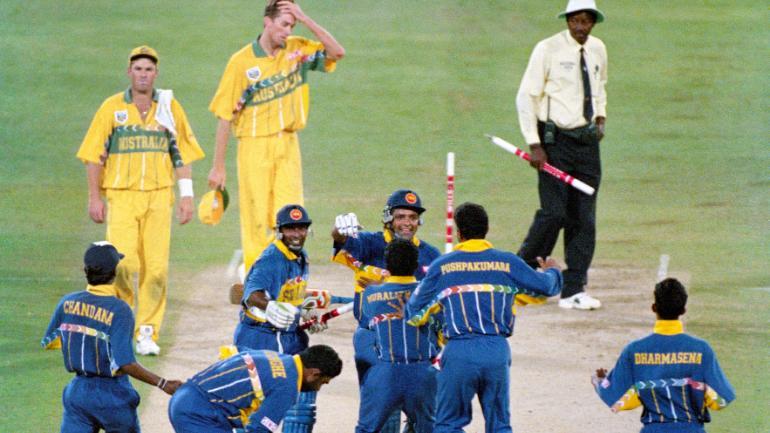 By Ana Punchihewa
Golf is my first love, and it remains the same. Cricket was an accident, yet it was the best experience for me personally. I was Vice President of Board of Control for Cricket in Sri Lanka (BCCSL) under Mr. Gamini Dissanayake, who was unfortunately assassinated. Later in 1995 I was elected the President of BCCSL.
I was never a cricketer, but a keen golfer. I proudly represented Sri Lanka for 10 years in the 1980s. Yet I knew how to run an establishment, being the Managing Director of Pure Beverages, who were involved with Premier and School cricket as sponsors back in the days.
After I won the BCCSL election in 1995, I gave a vision statement. Which was 'Sri Lanka to be the best cricketing nation by the year 2000' (it includes both Tests and ODIs). It was more of a corporate plan.
Of course, most of them laughed at me, questioning as to why a man who had played a little bit of cricket is saying that. They questioned as to why I didn't say to be the best in Asia. The reason why I said that was at that time we were last in the ICC ODI rankings, at number 8. Zimbabwe and Bangladesh had not got Test status then.
The reason why I made this statement was that our players were more talented than players from the other Test playing nations. I wanted them to have the confidence that they can be world beaters and thus become the best team in the world.
In early 1995 we toured New Zealand for three Tests and three ODIs. We won the first Test (which was our first win abroad) and then went on to win the series 2-1. We also won the ODIs 2-1.
Myself and the committee decided to have a foreign coach. And we wrote to all the Test playing countries to recommend two coaches from their countries, suitable for this post. After going through all the recommendations, we found that Dav Whatmore was the best person to be our coach. There were two reasons for this decision. Dav was born in Sri Lanka and as a result his heart was always in the country. And Dav knew all the scientific coaching methods used in Australia, as he was the coach of the Victoria State side.
Then we appointed Duleep Mendis as manager and chairman of selection committee. After Dav arrived in Sri Lanka, I had a meeting with Anura Tennakoon (then secretary of BCCSL), Arjuna, Duleep and Dav. I explained my vision to them and said that 'you ll must achieve this vision. You all must tell me what you all need to do this and I'll make sure you all will get it'. And also I assured them that the Executive Committee or myself will not interfere with the team.
Couple of weeks later Dav told me that he needed a good physio, and he recommended that we get Alex Kontouri. I told Dav to find out how much Alex will want. Then he came back and told me Alex wanted US$ 80,000 per annum. I had to pay US$ 100,000 per annum to Dav.
There was only Rs 300,000 in the BCCSL bank account when I became president. I had to first find money to pay Dav. The Australian Cricket Board agreed to give us this money. The US$ 80,000 was given to us by the Sri Lanka-Victoria Cricket Association.
Alex did an excellent job in fitness and made sure there were minimal injuries. Alex also made sure every player had their own fitness schedule. This, in turn, made us the best fielding unit, where the team saved up to 30 to 40 runs every time in the 50 overs. That absolutely made up for our lack in bowling strength. We must admit that we had a weak bowling attack, relative to other teams. We had a lot of all-rounders and three genuine bowlers.
Then we toured Pakistan and won the Test and the ODI series 2-1. This was followed by winning the tournament in Sharjah. Last but not least we toured Australia in December 1995. The tour became famous for many controversies. But we managed to reach the finals of the Tri-Nations beating West Indies. The rest is history.
In between the Pakistan and Sharjah, we drafted a five-year plan after a strategic four-day workshop at the Bentota Beach Hotel. It was in August, 1995 as I could recall. Aravinda de Silva, Arjuna Ranatunga, Dav Whatmore, Ranjit Fernando, Anura Tennakoon, Michael Tissera, Sidath Wettimuny, Daham Gunasena, Manilal Fernando and K.T. Francis were among the 20 odd people who were involved in the process.
The next step was implementing this plan. There were some very good suggestions, based on short-term and long-term plans from Anura Tennakoon, who said that we should install five centres of excellence around the country. We created one in Colombo, Galle, Kandy, Kurunegala and Trincomalee or Hambantota, if my memory serves right, which would become cricket academies. Sidath (Wettimuny) also talked about it when he became the Interim Committee Chairman later. We standardised the whole gamut of it, from junior cricket to coaching, grounds and umpiring to name a few.
At that time Duleep (Mendis) also told me that we have the best batting lineup up to number seven in the world. The batsmen were more experienced, and they had the most number of ODIs behind them.
I never got involved in team meetings. But there were few occasions when I met the cricketers outside the venue whenever possible and I always made sure to have a chat with the boys before the team meeting started.
The final result of a well-planned vision. Skipper Arjuna Ranatunga (R) presenting the then BCCSL President Ana Punchihewa the hard-earned world title
The whole world knows what happened afterwards and on March 17, 1996 Sri Lanka was crowned the ICC Wills World Cup champions. When Arjuna received the trophy from the then Prime Minister of Pakistan, the late Benazir Bhutto, I was overjoyed. Our efforts had finally paid off.
There were other challenges we had to conquer as co-hosts of the 1996 World Cup, mainly due to Sri Lanka's war on terror spread. Weeks before the opening ceremony, the Colombo Central Bank bomb blast came in as a shocker.
At that time, the ICC did not get involved with organising these activities directly. It was done through an ICC sub-committee of the organising committee headed by India's then cricket chief Jagmohan Dalmiya, while I and the Pakistan's chief of cricket were the other members. The final phase of this programme began after I took over BCCSL. We were to host four matches — Australia, the West Indies, Zimbabwe and Kenya.
Soon as the bomb went off, the Australians did not want to come, and the West Indies joined them. Zimbabwe and Kenya did not say that they were not coming. I had to act fast, the late Foreign Minister Lakshman Kadirgamar and I met the Australian High Commissioner almost every day. Then President Chandrika Kumaranatunga also got involved. We assured all teams the fullest security possible. We even said that we would fly the teams to Katunayake and from there airlift them into the venue by helicopter, play the match without spectators and fly out as soon as the match is over. Still, we could not convince both the Australians and the West Indies.
We were forced to campaign to keep the remaining two games against Zimbabwe and Kenya on and to keep the points from the two teams who refused to play against us.
Australia and West Indies demanded two points each for the matches they refused to play but made clear it's similar to a walkover. It was not us who refused to play.
The ICC head at the time, Sir Clyde Walcott, suggested that it should be considered a tie and that both teams should get a point each. But we refused, saying that we have won the match. The matter was sorted with a vote. We lost the vote by one, but, in a second vote the following day, we won by a single vote. To make that happen we had to go from room to room to convince the presidents of other countries, leaving Australia and West Indies out.
However, it did not end there. Kenya raised the same concerns as the two teams that refused because with the refusal of the two sides, they would become the first team to visit Sri Lanka. If that happened, then Zimbabwe would also take a step back.
I met with Jagmohan Dalmiya of India and Pakistan's Ariff Abbasi and related the new development. I asked if there was any possible way to come out of it during the discussion. If I'm correct it was me who came up with the idea of playing a match with a combined team of players from India and Pakistan against Sri Lanka, and both countries agreed to support us. The combined team of India-Pakistan XI flew in the same day, played the match at R. Premadasa Stadium, and took off soon after the match was over as agreed. That match is the only occasion when India and Pakistan joined forces as a single team despite their rivalry in cricket and other areas.
Personally, for me, the glory was short-lived unfortunately. Two weeks exactly after we won the World Cup, I was voted out at the BCCSL AGM. Initially I was very distressed, but then slowly managed to get over it, after I thought about it more philosophically.
When I look back, I can easily say that was the best thing that could have happened to me, personally, because I will never be able to have a year like that again. It's a dream year overall.
Most think if I come back, I would perform a miracle again, but no one has asked me to come back up until today, except the general public.
I sincerely hope that we wouldn't have to wait 25 or 50 more years for another World Cup win. We were on par with other countries back then. We initiated so many things, like appointing a CEO, a foreign coach, and so on. Other countries took a leaf from us and they took over, while we remain the same. Others did the basics right, they made sure plans were followed accordingly and professionally.
On the other hand, our elected cricket boards kept saying 'why tinkle with the good formula, we won the same thing in the World Cup'. It has been five, 10, 15, 20 years and now 25 years on, we are still saying the same thing. Why change it, we did win a World Cup, they ask. I say yes, we have talented players, but we must have a pathway, also a basic way. We almost got it right in 2007 and 2011.
Coming back to the 1996 structure, I have lost contact with most of the committee members. One of the persons in the committee who helped me a lot was Irvin Jayawardena, who is no more with us. I even spoke to Harendra Dinuwila, one of my Vice Presidents back in 1995/96, few days ago only after 25 years.
If I sum it up, I could proudly claim that it was a team effort. Arjuna and the cricket team and their support staff including Duleep, Dav and Alex. Also the whole committee. They all played their part to win the World Cup. I'm very happy we won it in 1996 and I hope carrying this monkey on my shoulder would not drag on for the next 25 years or longer.