---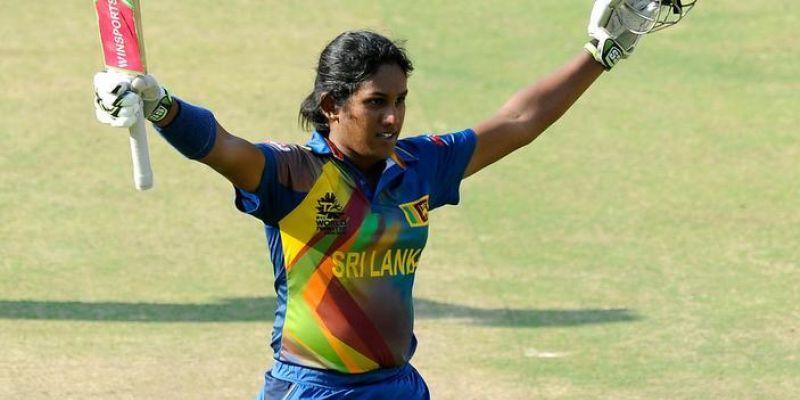 by Ishan Samaraweera

Cricket is known as the Gentlemen's game, as it's played, predominantly, by men, but, the women's game has also grown in importance over the last few years.
Cricketers such as Charlotte Edwards of England and Suzie Bates of New Zealand are 2 prominent personalities who were role models that took the Women's game forward.
Similarly, Sri Lanka's Chamari Atapattu is one of the finest cricketers in Lankan women's cricket history who has taken the game here, to another level. As a result of which, she has been able to empower the next generation of women cricketers in the country
Speaking to the Sunday Times, she expresses her views on her career and her life after cricket
Chamari's road to glory, an incredible journey.
She fell in love with the game when she was 5. Her uncle was her first cricket coach. She was also encouraged by her parents to become a professional cricketer.
Chamari is known to be an aggressive batsman. Sanath Jayasuriya is her idol.
"I admired him a lot. In fact, I changed my batting stance because I wanted be a cricketer like him," she said.
She started her school cricket career at Gokarella Central College, where she learned the basics of the sport. After her success in the Grade 5 Scholarship exam, she entered Ibbagamuwa Central College, where she played hardball cricket.
Chamari represented the Under-16 team and, in the same year, she was promoted to play in the 1st XI cricket team.
After a successful school cricket career, she turned out for Colts Cricket Club women's.
Atapattu recalling her struggles when she started her career, said, "When I started to play cricket, it was not a sport popular among girls. My parents encouraged me and my father accompanied me to practices. In 2008 I lost my father. Since then my mother had to take care of me. It was an overwhelming task for both of us. Those days, my mother had to rise early morning, to help me come to Colombo for practices and it was a challenge for me. Sometimes, it was nightfall when I reached home after practices."
She said those sacrifices made her mentally strong and, as a result, she was able to become a successful cricketer.
She made her international debut in 2009 in England, in the Women's World T20.
"It was a dream come true. I got my first opportunity to play for the National Women's team in 2009 in England against India. I was very nervous but it was a memorable moment for me, " she noted.
In 2010, she made her ODI debut against West Indies in St. Kits. Her first captain was Chamani Seneviratne.
Since then, Chamari has been a permanent fixture in the Women's National team. In 2013, she was appointed captain for the 2013 Women's World Cup in India.
Atapattu scored a quick 50 against Englandand Sri Lanka won the match. Under her captaincy, Sri Lanka won the T20 series against Pakistan.
"It was an honour to captain my country. Captaincy is a challenging job. As captain, you need to take the responsibility of controlling the team. Your team's success becomes your main priority. Captaincy gives you a different experience to your career," Chamari emphasised.
She opined that, every team member should look at themselves as leaders. Each and every individual has to take their responsibility seriously. At the same time, they should enjoy the sport.
Shashikala Siriwardene and Chamari Atapattu are known to be the guiding lights in Lankan Women's cricket. The duo has done a tremendous job to take Sri Lanka Women's cricket to be a force to reckoned with.
Shashikala is the current Women's ODI captain and a source of strength for Chamari.
"Shashikala and I are very good friends, on and off the field. We always have serious conversations on improving our game, which is important, when it comes to a team sport such as cricket," she recalled with a sense of gratitude to her captain.
Chamari is the first Sri Lanka Woman cricketer to score an ODI century, and holds the record for the most number of ODI centuries and fifties for Sri Lanka, which also includes the highest Lankan ODI score, 178 against Australia, in the 2017 Women's World Cup.
In November 2017, she was named Sri Lanka's 2016-2017 Woman Cricketer of the Year.
After her successful World Cup campaign, she had the opportunity to play League cricket in England, and soon after that, she represented the Melbourne Renegades in the Women's Big Bash League and the Supernovas at the exhibition Women's IPL.
According to her, it was a great opportunity to improve her cricketing skills.
She wanted more Lankan Women cricketers to play League cricket in England, to improve their cricketing skills and, at the same time, she wants more overseas tours for the National Women's team, so that, they get the required exposure at international level.
In Women's T20 Internationals she is the 1st Sri Lankan player to score a century. She is also the 1st Sri Lankan player to cross the 1000 run mark in Women's T20 Internationals.
Chamari has scored 3 centuries against Australia. According to her, she loves to play in Australia and England.
" Australia and England are my favourite opponents in cricket. I enjoy playing against tough teams. In 2016, when Australia toured Sri Lanka, I did not score a lot of runs, so I was determined to score against them. I love smashing them to all parts," Charmari said, laughing.
The elegant left-hand batsman has set her sights on retirement, with the Women's World T20 her final T20 assignment, and after the 2023 Women's World Cup, she will hang up her boots.
After her retirement, Chamari intends to migrate to Australia for higher studies.
It has been a roller coaster ride for me. I am happy with what I have achieved in cricket. I hope I have done justice to all the sacrifices my parents and my uncle--Chandra Dissanayake made for me. I would like to thank my coaches Jeewantha Kulatunga and Harsha de Silva for their contribution. Finally, I hope my life story will inspire future generations to take up this wonderful sport called cricket," Chamari concluded wistfully.