---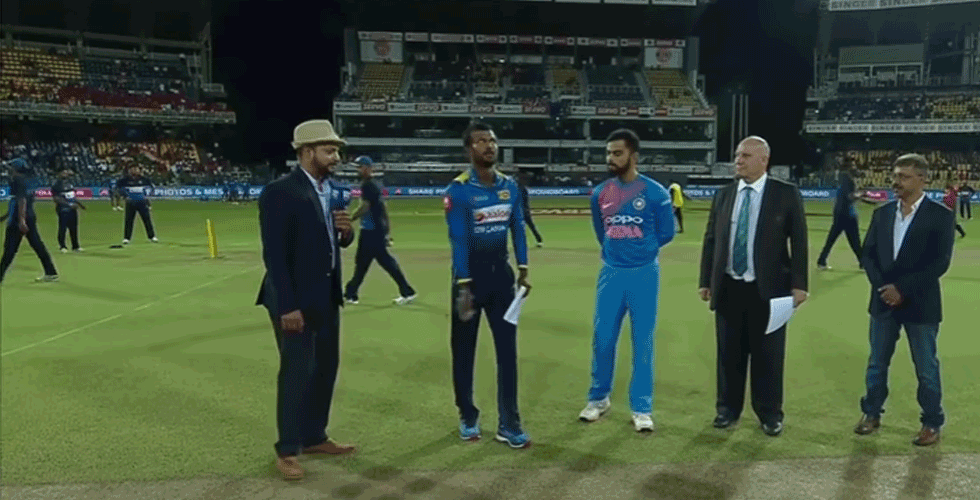 The focus of the lone T20I was whether India would be able to complete a 9-0 thrashing of Sri Lanka across formats. And led by their captain Virat Kohli, the touring part did win the match by seven wickets in Colombo and thus became the first team to complete a whitewash of a home team across the three formats.

But if one rolls back the match footage to the very start i.e. at the time of toss, it would be clear that a big mistake went unnoticed that could have had a far-reaching effect on the final result of the match.

Watch the Video

As is the practice, the official presenter Murali Kartik introduced the two captains, the match referee Andy Pycroft and toss representative Gautam at the coin toss. Upul Tharange then tossed the coin and Kohli made the call - heads.

The coin rolled away, Pycroft confirmed it was tails and pointed his finger towards the Sri Lankan skipper. And inexplicably, Kartik claimed - heads it is and proceeded to have a chat with Kohli, asking his decision.
Kohli opted to field and even though Sri Lankan team batted well, posting a competitive 170/7, India easily chased down the target in 19.2 overs with seven wickets remaining.
Now, it's anybody's guess what would have happened - did Kartik misheard the referee? And if it was indeed the case, what stopped Pycroft from correcting the Indian? What would have been the result if the blunder was avoided and Sri Lankan team was given the chance to make the call on whether to bat first or field? Would the result have been different if India were asked to bat first? .
Times of India