---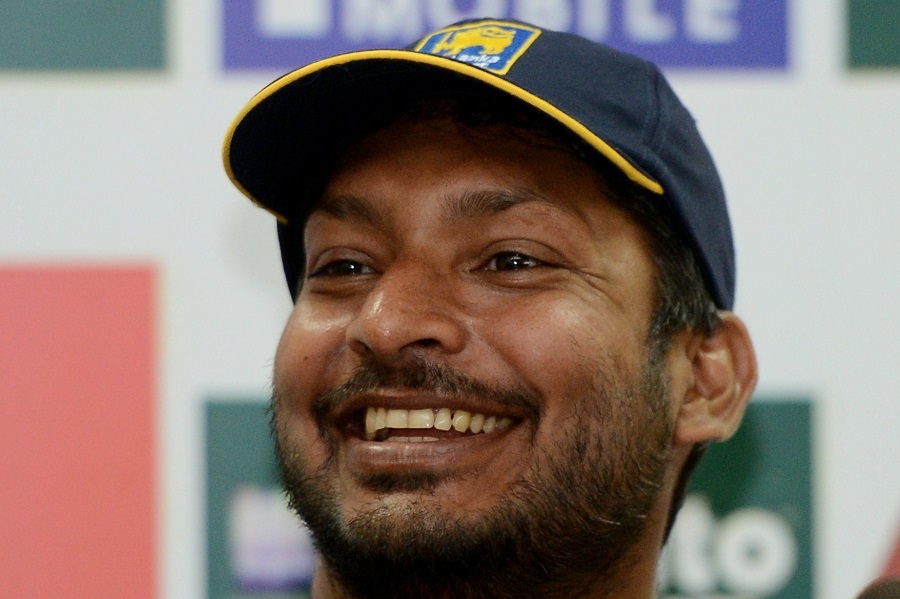 Within the last ten years, Sri Lanka have reached five World Cups, something no other international cricket team—despite having better infrastructure, support systems and environment for players—has achieved.

Since then, however, losing has become the norm rather than the exception. This was after the retirement of some of the biggest names in cricket: Mahela Jayawardene, Kumar Sangakkara and TM Dilshan.
Former Sri Lankan skipper Sangakkara doesn't fault the players for the current slide. He says the substandard cricket system is to blame. "A lot of people will think we succeeded because of the system. I think we succeeded in spite of the system," Sangakkara told the Sunday Times from Jamaica, where he's playing franchise cricket.
"From time to time, we throw up a Lasith Malinga, we throw up an Aravinda de Silva, we throw up a Sanath Jayasuriya, we throw up a Muttaih Muralidaran, we throw up an Ajantha Mendis," he said. "And with them we had batsmen with experience who somehow, despite the shortcomings of the first-class system, despite a chaotic support structure, managed to insulate themselves from it."
Sangakkara admitted the team back then was blessed with a stronger support staff and an independent group of selectors which helped players succeed. The current team does not have that.
"We had a strong coaching staff," Sangakkara explained. The selectors were independent with a support structure that insulated them from the chaos around. That, he said, was "a very, very important thing". Without these, the younger players are now graduating through a first-class system which is not the highest quality.
"So, now we find ourselves in a spot of bother," he reflected. "That is why our players take a lot longer to bridge that gap between first-class cricket and international cricket."
During the last 18 months, cricket administrators changed coaches, managers and captains, among other things, in a bid to arrest the slide. It only destabilized a team which, not long ago, beat Australia 3-0 in a Test series.
Sangakkara reiterated that Sri Lanka's failure to change the domestic cricket structure was a major contributor towards the decline.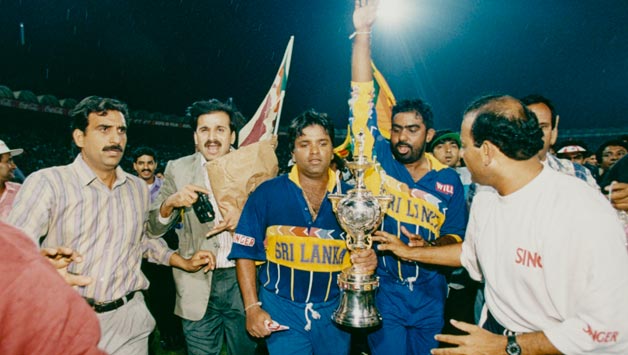 The greatest moment in our cricket history-- Arjuna Ranatunga with the World Cup in 1996.
"Why don't we look at the other countries that have progressed beyond us?" he asked. "Won more Test matches, won more World Cups than us and understand that, with time, you have to change to keep ahead of the pack."
"If you don't change, and you are stuck in the past in a system that we know is broken, then we are being unfair by the cricketers," he stressed. "Because we're not providing them with the right support, the right structure and, at the end of the day, we point fingers only at the cricketers. I think this responsibility is shared."
The structure must change; the players must receive support, be allowed to focus on the game and be given the right facilities. If they do not do well within such an environment, we can say, 'Ok, we have to look for another player or different players'.
"Right now, we are in a state where it is very hard to pick one reason or two reasons or three reasons," Sangakkara pointed out. "There are so many reasons. You have to separate out the roles and allow the experts to do their job in their fields without having any crossing over or any confusion."
Sangakkara joined the squad as an ordinary cricketer before retiring in 2015 as the highest Test run-scorer for Sri Lanka, achieved through hard work. He reemphasized that administrators should consider reviving the domestic structure, providing independent selectors, good support staff and better training facilities.
"I remember Trevor Bayliss telling us it's difficult to spend one year of a player's international career teaching them first-class cricket," he said. "We need to understand that past successes have been despite the system, not because of the system."
The time to change has actually passed, he continued: "Even now it's too late, but we need to do it quickly. We need to ensure that the team itself is insulated from all the other things that go on around them. I mean the administration."
Support and stability in the form of consistent selection will "make a huge difference". The onus is then on the players to take advantage of the facilities and the coaching, and to work hard on better results. "When players are sometimes put into a chaotic environment, it does them a lot of harm, especially when they are young," Sangakkara said. "And we see a lot of young players in this side."
Sangakkara said he "feels" for the players as they, too, would like a stable environment that allows them to move ahead. While they had a responsibility to improve, perform and win, they cannot always be blamed. They needed good quality, consistent support. "Then I see them progressing very quickly," he said, adding that the first-class system must be altered simultaneously.
The reason the Sri Lankan team was not emerging quicker from its transition was also because administrators had failed to provide stability. Other countries did this faster because of the quality of their first-class cricket; and the stability of their cricket. They did not face a huge generation of players and chaos around the team.
"Whatever happens in their boards is with the administration," Sangakkara pointed out. And they insulated the team. They had their practice facilities and best coaching staff and were asked to go out and improve their game, get through the tough period and become the team they were expected to be. And they did it quickly because of the above reasons.
"In Sri Lanka now, what I am seeing is a young team that is not in a stable environment that is conducive for them to just focus and play their cricket," he said. They needed facilities, support and right coaching staff, right quality of cricket, selection consistency, the time and a structure within which they could develop. What they had, instead, was chaos.
"It hurts their confidence," Sangakkara warned. "It makes them very insecure. They need to challenge themselves within the team in a culture that calls for improvement but, at the same time, provides them with facilities."
This is where India succeeded. "They revamped their entire cricketing structure," he said. "The way they select, the way they train, their attitude, all of that was changed. Australia was the same, England was the same. Why are we lagging behind? If we are following examples, then follow good examples."
Sri Lanka need not parrot all that Australia, England, India or South Africa do. But she could borrow what was good in keeping with the brand of cricket she played, to fit the players she had. These should improve, not just the cricketer, but the grassroots and the structure.
Easily Sri Lanka's best number three batsman, Sangakkara believes players, once identified, should get a consistent run in a consistent position.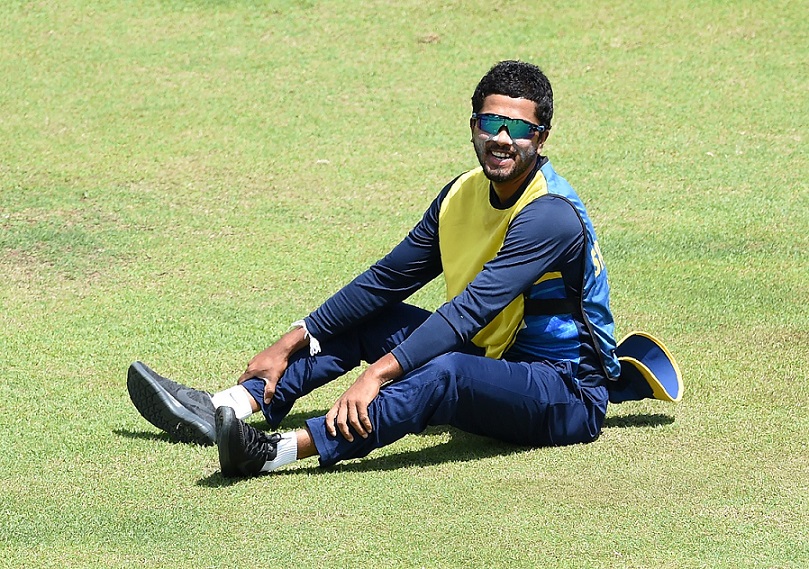 Dinesh Chandimal an excellent cricketer yet to cement a permanent place in all three-formats
"I think (Dinesh) Chandimal is an excellent cricketer," he explained. "I would have loved to have him in the one-day squad right now. He is our Test captain. With his ability to play one-day cricket, it is not too difficult."
"Maybe he hasn't had the best performances in the past, but when you have identified players like these you need to give them a consistent run in a consistent environment in a consistent position," he advised. "(Lahiru) Thirimanne is the same. When you look at these cricketers, they are of quality. But let's give them a consistent run in a consistent position and then we can make up our mind."
"Right now, when you look at where they have played, it's very difficult to make a judgment to see whether the player is not good enough, or whether we have given them the opportunity at the wrong time, and whether he has played in the wrong position," he continued.
When you are faced with over 150 players in first-class cricket, it is not easy even for selectors to make informed decisions, Sangakkara also said.
"Selection is a matter of informed opinion," he asserted. "You try to pick talent. At the same time, you try to pick ability alongside that talent. When you pick talented players, like Mendis in the past, or Lasith Malinga, they had ability around them where they could also grow and become better players. And until they became mature, it will still balance the side off because we had the Atapattus, the Jayasuriyas, the Jayawardenes, the Samaraweeras, the Dilshans and all of them."
"We didn't have a side that was suddenly only wild cards," he said. "We had only one or two. They were supported by structured cricketers. At the same time, the pool that we have to pick from is also too vast. The selectors, instead of concentrating on 75 cricketers, now have to think about around 150."
Even the players think that, if they score runs and take wickets within the first-class system, they have to be picked. "And that is a fair expectation at some point but the selectors themselves might be thinking, 'Ok, I have this many players. Can I pick only on stats? Can I pick only on performances here? Because what is the quality of their performance?'"
"So when you have all these questions, it's very hard for even a selector to do a proper job," Sangakkara analysed. To get rid of the confusion and have a proper selection policy, a change of structure in first-class cricket was vital because its impact will be far-reaching.
"It will have an impact on the isolation of the administration from the playing squads," he explained. "It will separate and give them defined roles. It will then allow (to have) a proper selection policy and for proper selection to be made. There will be more information--more accurate, relevant information--for the selectors to select from."
It will ensure that the best players competed against each other and that the environment in which they did so was of the highest quality so their graduation to international cricket wouldn't take long. It will ensure the coaching staff, too, will be of the highest quality and that the national coaching staff's expectations are mirrored right down to first-class cricket to under-19 levels. Then, of course, it will transform beyond that to challenging the players every time they played to become better, to improve.
"That is why this first-class structure change is not something only to do with having a cricket competition," Sangakkara said. "The impact of that change and having a proper, high quality first-class condensed competition of five teams or, maybe, four teams, is going to have far-reaching consequences for our entire structure of cricket, the entire way we handle this game."
This is why everyone from Aravinda de Silva to Sidath Wettamuny has been pressing for this. The current board has also said they will have a super provincial tournament.
"Everyone understands the need for it," Sangakkara averred. "But someone has to do it. Without doing it and without talking about it, we will be in this position where the same questions you are asking me will be asked time after time, every six months, every year, and we go through some period where, suddenly, the side comes together in spite of the system and everyone suddenly is performing really when like when we beat Australia 3-0."
"But the performances will be inconsistent," he predicted. "Even when we were playing, and we had the strongest sides, we weren't the most consistent Test side, especially away from home. Even for us, winning away from home was not easy because of these reasons. When you don't have a Murali, or a Jayasuriya or a Dilshan, you know, or a fully-fit Malinga, or an Ajantha Mendis anymore, then it gets tougher for sides to win. So, that is why one of the main things we must do and do very quickly is a revamping of our first-class system."
He also insisted that administrators should draw up clear roles for everyone so they work with more freedom, confidence and focus. The appointment of Asanka Gurusinha as cricket manager saw head coach Graham Ford parting ways with Sri Lanka Cricket citing that the latter had interfered with his work.
"When there's an identification of roles and there are no crossovers or confusion, you will find that insulation will take place. The players will have lot more confidence and focus," he concluded.
-This article originally appeared in the Sunday Times