---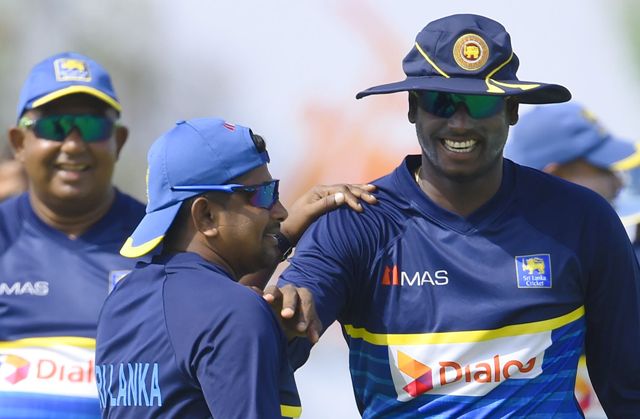 By Ranga Jayasuriya
Simmering fan dissatisfaction exploded in the Pallekele cricket grounds on Sunday night -- certainly it was not a pleasant thing to see. The India-Sri Lanka third ODI was disrupted by bottle-tossing cricket fans for more than 30 minutes and riot police were called in, when India was just eight runs needed to win in 40 balls. The match resumed later and India won by six wickets.
Sunday's incident was a low point which does no good to the players, who have already hit the nadir of their confidence, the fans, the country and cricket at large. And despite all Sri Lankan antics in public life, the incident such as the one which happened on Sunday night is not a Sri Lankan forte. It rarely, perhaps never, happened in the past, except in those school big matches, where old boy nostalgia and free-flow of alcohol at times run wild.
Like any other good team, Sri Lanka is currently going through a lean patch. However that phase has been prolonged and there appears to be no end in sight. In fact since first round exit at the 2015 World Cup, performances have progressively degenerated, finally losing to an ODI series to untested Zimbabwe, earlier a rout in South Africa, and now to India on the home grounds. Sri Lanka is now one of the lowest ranked teams among ICC full members in all three formats (Test: 7, ODI: 8, T20: 8).
Former Sri Lankan Captain Kumar Sangakkara in an interview with Champika Fernando had blamed the sub-standard cricket system for the slump in local cricket. "A lot of people will think we succeeded because of the system. I think we succeeded in spite of the system," he was quoted as saying.
Some others have blamed Messrs. Sangakkara and Mahela Jayawardene among others for suddenly leaving the team and clinging to coveted front line batting positions until their retirement, thus depriving the young players to be groomed in those crucial batting positions.
Surely, there is more to Sri Lanka's current cricket woes than meets the eye: Its fast bowling coach Anusha Samaranayake remains suspended. The head coach Graham Ford has resigned. The team is suffering from an injury rate that could rival a combat platoon.
Nevertheless, what Mr. Sangakkara pointed out seems to be right. He says the Sri Lanka's cricket administrators have failed to develop First Class Cricket and to keep up with the fast changing environment of international cricket. In the past, that looming inefficiency was offset by a drove of unorthodox players who came out of nowhere and the coaches' ability to improvise those raw talents into that of world class players. However, everything can be stretched only to a limit and we have reached the limit of our reliance on miracles.
Former cricket administrators headed by Rajapaksa crony Nishantha Ranatunga instead of developing grassroots cricket lavished billions of rupees on cricket stadiums built in the jungles and named after the former President. Such investments in a country which already had too many international stadiums, but not a single provincial cricket academy were a bane than a boon to the Sri Lankan cricket. Building turf wickets in schools and assigning professional coaches to good cricket playing schools would have offered a better return on investment. (My alma matter, Richmond which was on a losing streak in the past has since won back-to-back all island championships after they got a turf wicket and a former Sri Lankan player as the coach.)
Sri Lankan cricket risks becoming a reflection of Sri Lanka's historical misfortune. This country has lost its inherited competitive advantage in many things -- our economy beginning from the 1950s, our universities since 60s, and our school education, which is currently losing out to international peers – due to the failure of those who rule the roost to take note of the wider changes happening in the system beyond our shores and to make adjustments accordingly, so that we can sustain our competitive advantage. When we try to fix the problems in those fields, the downfall had already been completed, forcing the country to start again from scratch.
The International Cricket Council (ICC) rules and regulations make a clear demarcation between the national politics and cricket administration. However, Sri Lankan cricket is too big to allow it to fall; after all it is the only thing Sri Lanka has made a name in and the only game Sri Lankans can play convincingly. The government should take note and try to intervene and uplift the team and create an overall structure that would make sure we remain abreast with the wider development in the international cricket.
Kumar Sangakkara has suggested a very commonsense formula: he proposes to appoint competent people to each department, assign them with clearly defined roles, provide stability for the players so that they can focus on their job -- that is in addition to revamping First Class Cricket into condensed and competitive teams of four or five teams, he says.
Perhaps the first part of his proposition could well fit into many dysfunctionalities that fraught many aspects of Sri Lankan life, from the public transport to education. Ruin of the nations and things often take similar pathways. Perhaps resurrecting them need more or less the same remedies.