---
Sri Lankan opener Dimuth Karunaratne was in "no danger" after being stretchered off in a neck brace following a nasty hit from a bouncer by Pat Cummins in the second cricket Test in Canberra on Saturday.
Playing in his 58th Test, Karunaratne was 46 not out when the rising ball glanced off his shoulder and onto his helmet, close to the neck area.
He slumped to the ground, dropping his bat as Australian players ran to assist.
A doctor and physio sprinted onto the ground and called for more medics and after some 10 minutes he was put onto a stretcher and taken off the field on a golf buggy before being sent to hospital for checks.
Coach Chandika Hathurusingha said he was "in good spirits" and in "no danger".
"It was a bit scary at the start the way he fell back, but he was okay throughout, he was talking to the umpires and the physio," he said after play ended for the day.
"It hit on the back of the neck so he is being assesse
Sri Lanka's Karunaratne hit by bouncer and stretchered off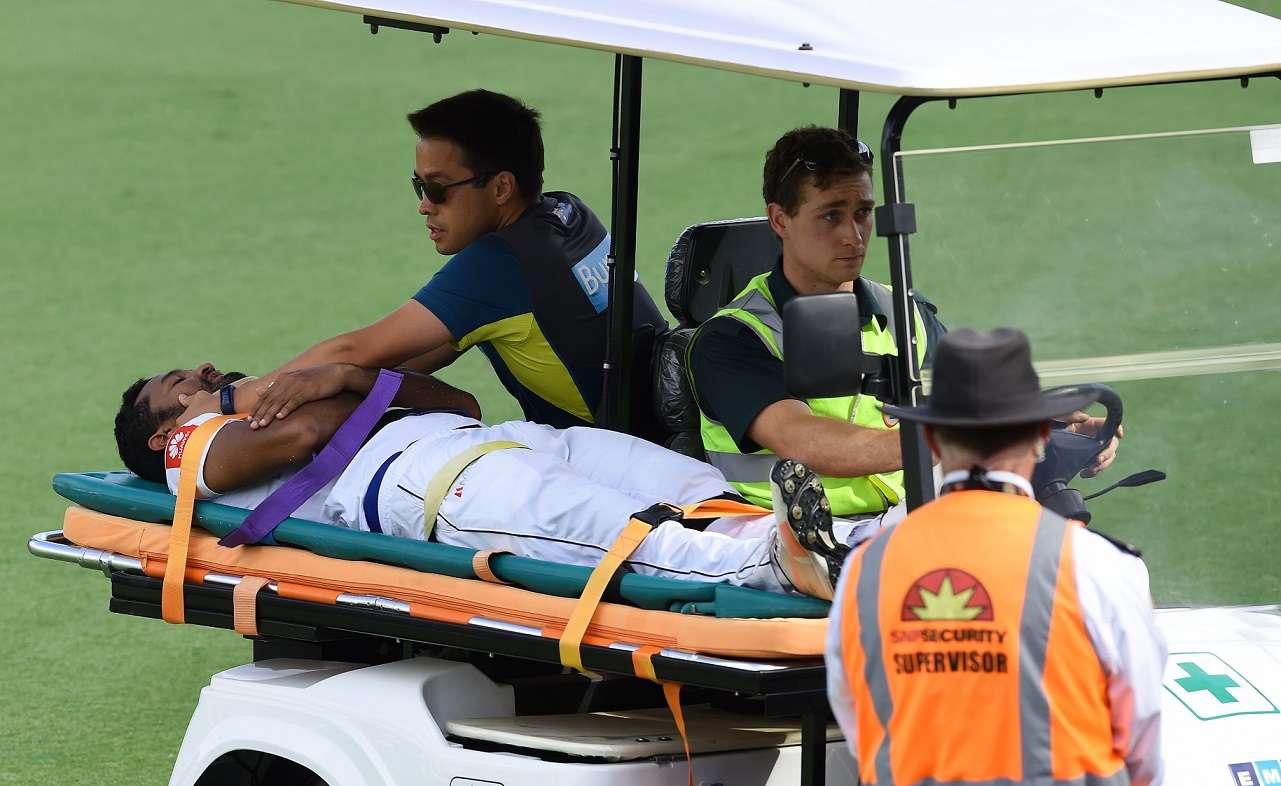 Sri Lanka's Dimuth Karunaratne is moved from the ground on a stretcher after being hit by a delivery from Australia's Pat Cummins during day two of the second Test cricket match between Australia and Sri Lanka at Manuka Oval Cricket Ground in Canberra on February 2, 2019.
Sri Lanka opener Dimuth Karunaratne has been stretchered off Manuka Oval after being struck by a bouncer from Australia quick Pat Cummins.
Karunaratne was struck in the back of the neck by a 142kph ball from Cummins, who was operating from around the wicket in the 31st over of Sri Lanka's first innings.
The left-hander immediately dropped to the ground and was quickly attended to by both Sri Lanka and Australia medical staff.
Karunaratne was shown speaking and moving his hands while the medi-cab was called to the field.
It is understood he complained of pain in the neck and tingling to his hands after suffering the blow.
Local medical support then helped the 30-year-old on to the stretcher before being carted off to the applause of crowd.
Australia team doctor Richard Saw held the batsman's neck as he left the playing arena.
Karunaratne was then transported from the medi-cab to an ambulance standing by. It was soon confirmed that he had not lost consciousness but would be taken to hospital for further assessment.
His father and sister were present as Karunaratne left in the ambulance before heading to the hospital.
Sri Lanka skipper Dinesh Chandimal replaced the retired hurt batsman with the score at 0-82.
Karunaratne had played solidly for 46 from 84 balls with five boundaries before he was struck. He was earlier hit on the hand by paceman Jhye Richardson on 28 but batted on after a brief visit from the Sri Lanka medico.