---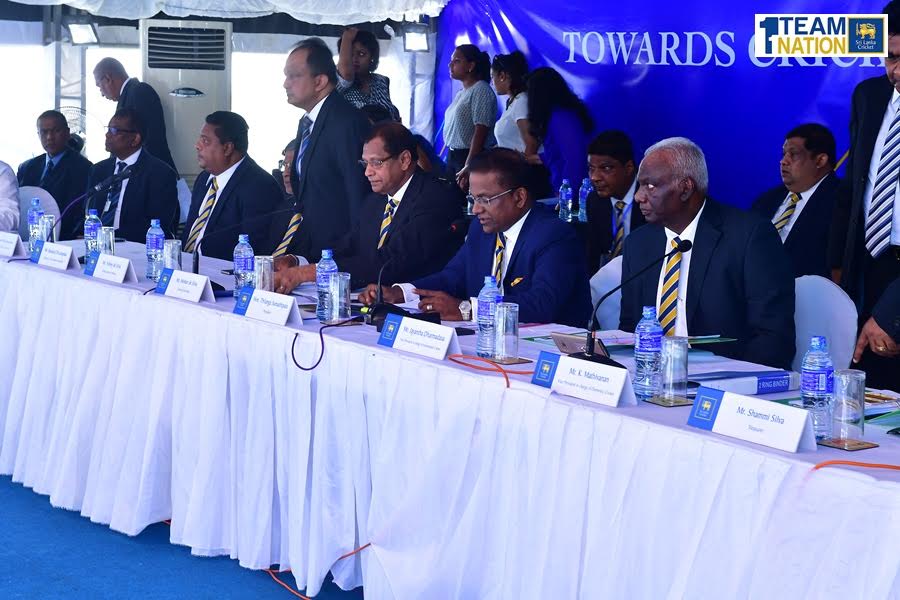 See no evil! Hear no evil!! Speak no evil
By Champika Fernando
Also a massive increase in liabilities
Sri Lanka Cricket posted a profit of Rs 63 million for the year ending December 31, 2016, but their liabilities have increased by a staggering 91 per cent when compared with the previous year.
The audited accounts of SLC, which were tabled and passed at its annual general meeting on May 28, reveal the board's liabilities to be at Rs 1.39 billion. This is a massive increase when compared with the 2015 financial year when liabilities stood at Rs 728 million.
The Sunday Times obtained a copy of the audited accounts. Current liabilities include a payment of Rs 770 million to State Engineering Corporation (SEC) for upgrading facilities at R Premadasa, Pallekelle and Hambantota cricket stadiums. The board earlier owed only Rs 125 million. So this is an increase of 516 per cent.
SLC has recently managed to reduce payments for stadium work to about Rs 350 million, despite the statement of accounts reflecting them as Rs 770 million, Treasurer Shammi Silva said.
Interestingly, the board's recorded profit of Rs 63 million is Rs 137 million less than what the SLC claimed it had made during the period in question. In March, after presenting a copy of unaudited accounts to Sports Minister Dayasiri Jayasekera, SLC issued a press release claiming it earned a surplus of Rs 200 million in 2016.
"I am pleased to note that we concluded 2016 with a surplus of Rs. 200 million," the press release quoted SLC President Thilanga Sumathipala as saying. "This however did not happen overnight. It took team effort, collective strength and was steered by the faith people placed in us."
That figure was a mistake on their part, Board Secretary Mohan de Silva this week admitted. The figure reflected in the audited statements is the correct one, he said.
According to the statement of accounts, SLC has recorded an annual income of Rs 3.246 billion in 2016–compared with the Rs 4.270 billion earned during the 2015 financial year. This is a 33 percent drop. But a major factor in the increased revenue the previous year is that the Board received Rs 2.36 billion as International Cricket Council (ICC) payments for the 2015 Cricket World Cup.
Despite allegations of corruption and malpractice at various levels since the incumbent committee took over in January 2016, SLC has managed to reduce its total expenditure by 18 per cent. It was Rs 3.645 billion in 2015 and Rs 3.170 billion in 2016.
Out of total expenditure, Rs. 1.378 billion was spent on international cricket while administration, human resources and legal fees cost SLC Rs. 627 million. Just Rs 464 million was invested on domestic cricket.
The national cricket team generates a bulk of SLC's income and brought in Rs 2.782 billion last year. This includes income from international tours such as tournaments organised by ICC, Asian Cricket Council, income from inbound tours, annual distributions from ICC and ACC, Indian Premier League player release fees and instalments from television rights.
The earnings are about 33 percent less than what was made in the 2015 financial cycle when the Board made a hefty Rs. 3,705 million.
The biggest earners for the 2016 period were the Asia Cup and Australia's tour of Sri Lanka. The former brought in an income of Rs. 209.87 million which is about Rs. 2 million more than what was generated through the home series against Australia in July 2016.
Apart from huge success in the Test series which Sri Lanka won 3-0 (their first-ever whitewash against the men from Down Under), Sri Lanka has recorded a profit of Rs 208 million during the tour after deduction of total expense (Rs 387.5 million) from the generated income (Rs 596 million).
The report also shows a huge outlay on marketing and corporate communication, with SLC spending lavishly in 2016 to boost its public image. It includes a generous send-off for the national team for the 2016 World T20 tournament in India and a rebranding of Sri Lanka Cricket under the banner of 'One Team, One Nation'.
The Board has incurred a cost of Rs 85,417,742 as payments for foreigners who have been employed by SLC in various capacities–a notable 65 percent increase when compared with the Rs. 30,776,360 spent in 2015 financial cycle. The heavy investment on foreign experts is aimed at changing the fortunes of the game which has suffered a huge setback in recent years.
SLC has spent only Rs 10 million on school cricket development, the cradle of the game. This is a nearly 65 percent cut from the previous year when it expended Rs. 34 million for the same purpose.
-The Sunday Times