---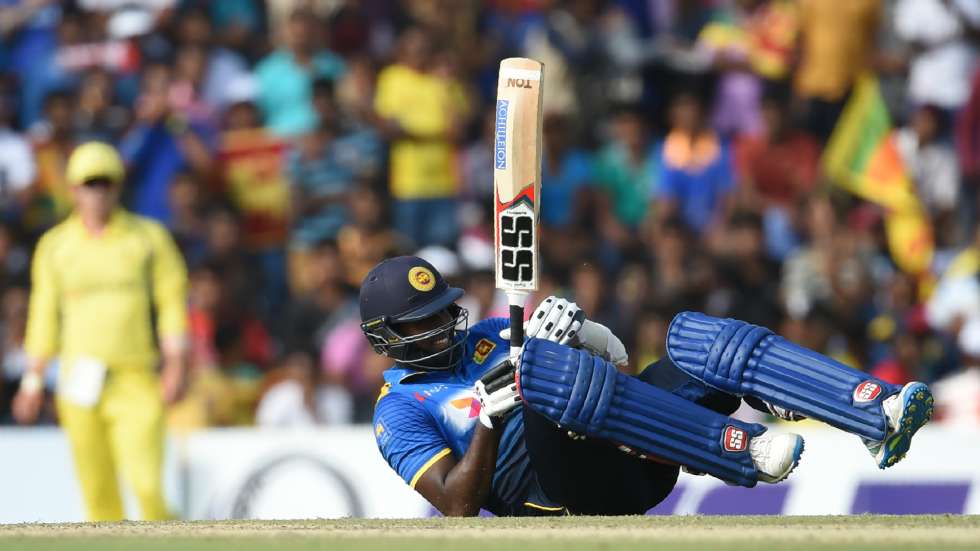 Angelo Mathews is a victim of a nagging hamstring injury
By Champika Fernando
Poor overall fitness levels among Sri Lankan cricketers--particularly in comparison with team members of other countries--could be one reason for frequent injuries, a leading sports medicine doctor said this week.
Another major factor is overuse, explained Prof Arjuna de Silva, former Head of the Sports Ministry's Sports Medicine Unit and also a member of the current Sri Lanka Cricket-appointed medical team. He suggested resting Sri Lanka's key players during the upcoming Zimbabwe tour, something the team coach did not support.
"When compared with cricketers of Western nations like Australia, our cricketers are not that professional," Prof de Silva said. "So they tend to take fitness training for granted. Fitness training is not only about building your muscles. It's about working those core muscles."
Research has shown that the core muscles of the upper body get support and assistance from the hip muscles. These include the hip flexors; abductors, along the outside of the things; abductors, along the inside of the thighs; hamstrings, extending down the backs of the thighs; and the glutes.
Kusal Janith Perera was ruled out from the Champions Trophy with a torn hamstring. Chamara Kapugedara was sidelined with a recurring knee injury. The injuries keep surfacing despite an army of support staff (including physios and masseurs) forming an integral part of the national cricket team.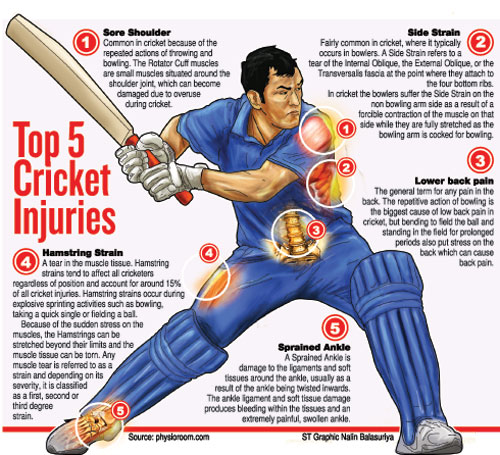 Cricketers today have dedicated staff to look into all aspects of their coaching. They train for hours and warm down under strict supervision.
Perera underwent numerous conditioning sessions to achieve peak performance levels but injured his hamstring during his brief stay at the wicket. Kapugedara's knee injury resurfaced during practice sessions.
"I think they must focus on cricket-centric fitness training," Prof de Silva said. "There's no point building your upper body if your lower part is weak. This is one of the major problems I see with our cricketers. They concentrate so much on building the upper body. They easily forget the importance of having a strong lower body."
During Sri Lanka's 2016 summer visit of England, seamers Dhammika Prasad and Dushmantha Chameera suffered shoulder injury and stress back fracture respectively. Since then, they have struggled to find their feet in international cricket. Prasad was the country's leading bowler in 2016 before the injury forced him out. Lasith Malinga has had to give up Test cricket with a bone-bruise and a regenerative knee injury. He has been a diminished force in limited-over cricket since the knee injury in 2014, hugely weakening Sri Lanka's bowling attack."Since Alex Kontori left Sri Lanka years ago, we have not had a good physiotherapist in the team to help players in the rehabilitation process," Prof de Silva said. "But SLC has got a good physio now."
Angelo Mathews is a perfect example of overuse, he pointed out: "He is the most professional cricketer we have at the moment but we are not managing him properly."
Mathews' career has been haunted by a nagging hamstring affliction. The latest bout of injury forced him out of play for nearly four months.
"Cricketers today play huge amount of cricket, something their bodies can't take on," the doctor continued. "So we need to manage their workload."
The Zimbabwe tour is on the horizon but it was best to rest Sri Lanka's key players for use in the Indian series which follows that, he said. This would give them sufficient time to recover.
But can Sri Lanka afford to rest some of its key players in the game against Zimbabwe? Coach Graham Ford did not support the idea, saying the team was in a process of rebuilding.
"We need to understand the physical condition of certain players well and may be look at some opportunities," Ford said, when the Sunday Times contacted him. "At the same time, we need a winning team. It's very important make winning a habit. We are talking about building a team and we need to keep these guys playing together and try and give them as much opportunities as possible."
Prof de Silva said SLC should include a clause in player contracts making it mandatory to pass a physical fitness test before each tour in order to be selected. Those coming back after injury must be assessed by a professional medical practitioner.
"Umar Akmal is one of the brightest prospects from Pakistan but they recalled him from England after he failed a fitness test before the Champions Trophy," he said. "I think we should act similar. There can't be half-fit cricketers in the national team."
Skipper Angelo Mathews said injuries are part and parcel of the game. "It can happen to anyone, no matter how fit you may be," he said at a press conference. "It may be due to the workload and any other reason. But we cannot prevent it.
Dayasiri slams 'overweight' cricketers
Meanwhile Sports Minister Dayasiri Jayasekera on Friday slammed country's national cricketers as 'overweight' and said the team should be sent for military training to improve their fitness.
"It was very ugly to see your national cricketers with pot bellies," Minister said. "There's only few with the necessary physique in the team.Look at the Bangladesh team; they are in perfect physical shape as they are being properly trained. But our players have been pampered like babies. I think we should send them to a military camp and train them for six months. Otherwise it's not going to work.
Minister made these comments at a function held at the Ministry of Sports to award diplomas to 600 individuals who had completed the Sports Science Diploma.