---
(Reuters) - Off-spinner Ravichandran Ashwin polished off Sri Lanka's tail in the second test to help India equal their biggest victory and go 1-0 up in the three-match series in Nagpur on Monday.
The hosts bundled out Sri Lanka for 166 shortly after fourth day's lunch to prevail by an innings and 239 runs, the margin equalling their 2007 triumph against Bangladesh in Dhaka.
Ashwin finished with 4-63 in the second innings, overtaking former Australian paceman Dennis Lillee as the fastest to 300 test wickets in the process.
Lillee took 56 matches to reach the mark while the 31-year-old Ashwin achieved the feat in his 54th.
"I really hope I can go on to double these 300 wickets, I've only played 50 tests," said Ashwin, who has been working on his variations with India slated to play a number of away series next year.
"It's not easy bowling spin, it looks like you're just ambling up. But there's a lot behind it."
The tourists lost seven wickets in an extended morning session and India returned after lunch to complete the formalities.
Sri Lanka captain Dinesh Chandimal hit a defiant 61 and added 58 with Suranga Lakmal, who remained unbeaten on 31, to stretch the contest to the second session.
Paceman Umesh Yadav ended the partnership after the interval when Chandimal pulled one straight to Ashwin at fine leg.
"Before we came here, we had a gameplan," Chandimal said at the post-match presentation. "We said to the guys 'if you get a start, you have to bat long'. But they scored only 50-60 runs and got out. It's unfortunate but I'm sure they will learn."
India defeated the islanders by a 9-0 margin across formats earlier this year and after the draw in the rain-affected opening test in Kolkata, things were back to normal for the world's top-ranked test side.
After resuming on 21-1, Sri Lanka kept India's bowlers at bay for six overs before Dimuth Karunaratne was out on 18 to a freakish dismissal off left-arm spinner Ravindra Jadeja.
Lahiru Thirimanne played an irresponsible shot to a wide delivery from paceman Umesh Yadav to be caught at point for 23 in a further blow to Sri Lanka's chances of resisting India.
Ashwin dismissed Dasun Shanaka, Dilruwan Perera and Rangana Herath before lunch and then bowled Lahiru Gamage to enter the record books.
India captain Virat Kohli, who was named player of the match for his 213 in the first innings, said the comprehensive win will boost his side's confidence ahead of the tough tour of South Africa early next year.
Sri Lanka 1st innings 205 (D. Chandimal 57, D. Karunaratne 51; R. Ashwin 4-67)
India 1st innings 610 for 6 decl (V. Kohli 213, C. Pujara 143, M. Vijay 128, R. Sharma 102no)
Sri Lanka 2nd innings (Overnight: 21-1)
Sadeera Samarawickrama b I. Sharma 0
Dimuth Karunaratne c Vijay b Jadeja 18
Lahiru Thirimanne c Jadeja b U. Yadav 23
Angelo Mathews c Ro. Sharma b Jadeja 10
Dinesh Chandimal c R. Ashwin b U. Yadav 61
Niroshan Dickwella c Kohli b I. Sharma 4
Dasun Shanaka c Rahul b R. Ashwin 17
Dilruwan Perera lbw b R. Ashwin 0
Rangana Herath c Rahane b R. Ashwin 0
Suranga Lakmal not out 31
Lahiru Gamage b R. Ashwin 0
Extras (lb-2) 2
Total (all out, 49.3 overs) 166
Fall of wickets: 1-0 S. Samarawickrama,2-34 D. Karunaratne,3-48 L. Thirimanne,4-68 A. Mathews,5-75 N. Dickwella,6-102 D. Shanaka,7-107 D. Perera,8-107 R. Herath,9-165 D. Chandimal,10-166 L. Gamage
Bowling
I. Sharma 12 - 4 - 43 - 2
R. Ashwin 17.3 - 4 - 63 - 4
R. Jadeja 11 - 5 - 28 - 2
U. Yadav 9 - 2 - 30 - 2
Referees
Umpire: Richard Kettleborough
Umpire: Joel Wilson
TV umpire: Nigel Llong
Match referee: David Boon
Result: India won by an innings and 239 runs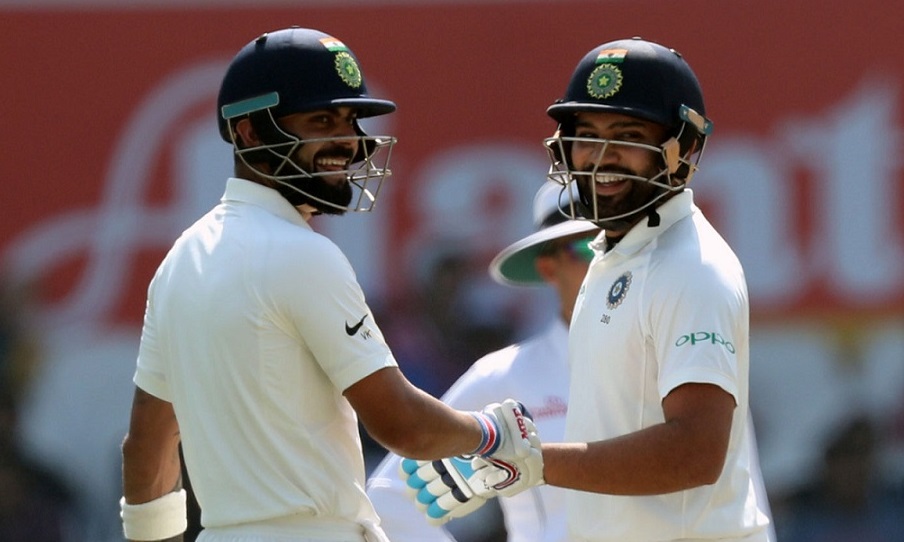 Virat Kohli coasted to his fifth double century as India's frontline batsmen crushed Sri Lanka's toothless attack to stay on course for an innings victory in the second test in Nagpur on Sunday.
Kohli smashed 213 while Rohit Sharma celebrated his return to the side after more than a year with an unbeaten 102 before the hosts declared their second innings closed on 610 for six on the third day for a commanding lead of 405.
Sri Lanka's misery did not end there as they lost Sadeera Samarawickrama without scoring on the second ball from Ishant Sharma to reach 21-1 in their second innings at stumps, still needing 384 to make India bat again.
Dimuth Karunaratne was unbeaten on 11 with Lahiru Thirimanne nine not out and the touring side will need a Herculean effort from their batsmen to avoid an innings defeat after the first of the three-test series was drawn in Kolkata.
The world's top-ranked test side had not lost a wicket in the first two sessions on Saturday with Murali Vijay and Cheteshwar Pujara both getting hundreds to put the bowlers to the sword.
Kohli and Pujara extended Sri Lanka's misery on the third morning with their third-wicket stand of 183.
Sri Lanka barely managed to trouble Kohli and Pujara as the duo picked up singles and twos at will, mixing them with occasional boundaries after resuming the day on 312-2.
India lost Pujara for 143 shortly before lunch when all-rounder Dasun Shanaka breached the right-hander's defence to rattle the stumps.
Sri Lanka would have hoped for a better second session after Perera dismissed Ajinkya Rahane for two shortly after lunch but Kohli and Rohit denied them with another partnership of 173.
Kohli flicked Suranga Lakmal for a single to get back-to-back hundreds in the series after his unbeaten century in the second innings of the drawn first test in Kolkata.
It was the 10th hundred in 2017 across formats for India's batting mainstay who hit a six over the long-on fielder against off-spinner Dilruwan Perera to get past 150 and then got a single off the same bowler to reach his double hundred.
The 29-year-old hit 17 fours and two sixes in his knock before holing out in the deep while trying to attempt another six off Perera.
Rohit, whose previous test was in October last year against New Zealand, used his opportunity well to compile his third test hundred and Kohli declared India's innings closed immediately after the right-hander got past three figures.
Perera took three wickets for the touring side but also conceded 202 runs.
Sri Lanka 1st innings 205 (D. Chandimal 57, D. Karunaratne 51; R. Ashwin 4-67)
India 1st innings (Overnight: 312-2)
L. Rahul b Gamage 7
M. Vijay c D. Perera b Herath 128
C. Pujara b Shanaka 143
V. Kohli c Karunaratne b D. Perera 213
A. Rahane c Karunaratne b D. Perera 2
Ro. Sharma not out 102
R. Ashwin b D. Perera 5
W. Saha not out 1
Extras (b-4 lb-4 w-1) 9
Total (for 6 wickets declared, 176.1 overs) 610
Fall of wickets: 1-7 L. Rahul,2-216 M. Vijay,3-399 C. Pujara,4-410 A. Rahane,5-583 V. Kohli,6-597 R. Ashwin
Did not bat: R. Jadeja, U. Yadav, I. Sharma
Bowling
Suranga Lakmal 29 - 2 - 111 - 0
Lahiru Gamage 35 - 8 - 97 - 1
Rangana Herath 39 - 11 - 81 - 1
Dasun Shanaka 26.1 - 4 - 103 - 1(w-1)
Dilruwan Perera 45 - 2 - 202 - 3
Dimuth Karunaratne 2 - 0 - 8 - 0
Sri Lanka 2nd innings
Sadeera Samarawickrama b I. Sharma 0
Dimuth Karunaratne not out 11
Lahiru Thirimanne not out 9
Extras (lb-1) 1
Total (for 1 wickets, 9 overs) 21
Fall of wickets: 1-0 S. Samarawickrama
To bat: A. Mathews, D. Chandimal, N. Dickwella, D. Shanaka, D. Perera, R. Herath, S. Lakmal, L. Gamage
Bowling
I. Sharma 4 - 1 - 15 - 1
R. Ashwin 4 - 3 - 5 - 0
R. Jadeja 1 - 1 - 0 - 0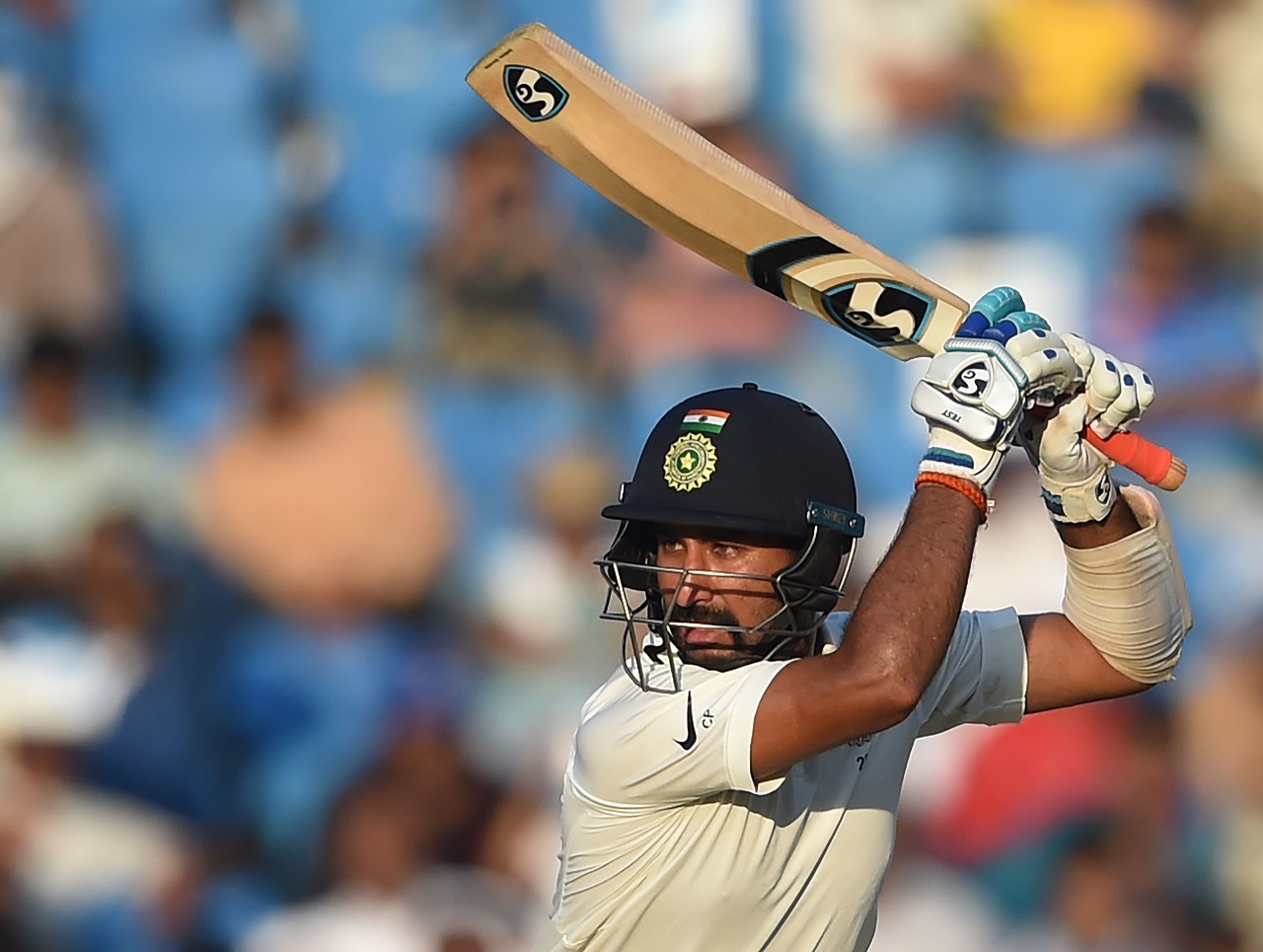 NAGPUR, India, Nov 25, 2017 (AFP) - Opener Murali Vijay and Cheteshwar Pujara hit sublime centuries to put India in command of the second Test against Sri Lanka, as the hosts took a 107-run lead on Saturday's day two.
The overnight batsmen put together a 209-run partnership to pulverise the opposition attack after the hosts started the day on 11-1 in response to Sri Lanka's 205.
India were 312 for two at stumps in their first innings with Pujara, on 121, and skipper Virat Kohli, on 54, batting to push the visitors out of the game.

Vijay, who made an impressive return to the team after a long injury lay-off, registered his 10th Test ton before falling to Rangana Herath in the final session of play.
The right-handed opener gifted his wicket to the veteran left-arm spinner after mistiming his sweep on a full toss to short fine leg where Dilruwan Perera made no mistake.

Perera had dropped Vijay on 61 at short mid-on off paceman Lahiru Gamage and the spill proved costly for the visitors who managed only one wicket in the day.
Vijay and Pujara made sure India ram home the advantage from day one as they recorded their fifth century stand in their last seven Test innings together.
Vijay, who replaced Shikhar Dhawan in the starting lineup after the left-handed opener pulled out due to personal reasons, hit 11 fours and a six during his 221-ball knock.

Pujara played the sheet anchor's role to perfection and took control after the fall of his overnight partner to record his 14th Test century.
Pujara, a classical batsman who passed 1,000 Test runs this year, played a sedate knock to frustrate the bowlers on a gruelling day for Sri Lanka on the field.

He also combined with Kohli for an unbeaten 96-run stand, forcing skipper Dinesh Chandimal to continue juggling his bowling options till the end of day.
Kohli hit a 66-ball half-century and had smashed six boundaries so far.
The top-ranked India are looking to go one-up in the three-Test series after the first match ended in a draw in Kolkata.

Scoreboard at stumps on day two
Sri Lanka 1st innings 205 (D. Chandimal 57, D. Karunaratne 51; Ashwin 4-67)
India 1st innings (overnight 11-1)
L. Rahul b Gamage 7
M. Vijay c Perera b Herath 128
C. Pujara not out 121
V. Kohli not out 54
Extras (b1, lb1) 2
Total (2 wickets, 98 overs) 312
Fall of wickets: 1-7 (Rahul), 2-216 (Vijay)
Still to bat: R. Sharma, A. Rahane, R. Ashwin, W. Saha, R. Jadeja, U. Yadav, I. Sharma
Bowling: Lakmal 18-2-58-0, Gamage 22-7-47-1, Herath 24-8-45-1, Shanaka 13-3-43-0 Perera 21-0-117-0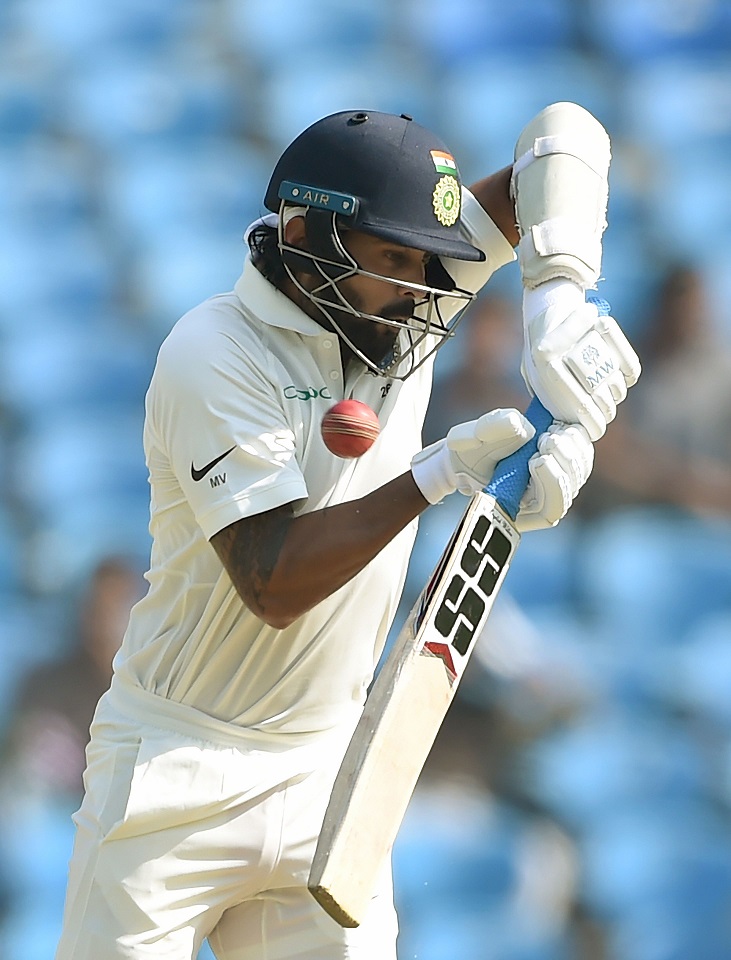 Opener Murali Vijay hit a half-century to lead India's solid first innings reply on day two of the second Test against Sri Lanka on Saturday.
The hosts were 97 for one at lunch, still trailing Sri Lanka by 108 runs. Overnight batsmen Vijay, on 56, and Cheteshwar Pujara, on 33, were at the crease in Nagpur.
The duo put on an unbeaten 90-run stand for the second wicket after resuming the day on 11-1 in response to Sri Lanka'a modest 205.
Vijay, who scored his 16th Test fifty on his return to the Indian Test side, led the batting charge along with Pujara after a quiet first hour of play.
He has hit six boundaries in his 129-ball stay so far with a composed Pujara playing the ideal sheet anchor's role at the other end.
Sri Lankan spinners Rangana Herath and Dilruwan Perera bowled in tandem after the paceman failed to breakthrough, but were left wicketless in the 13 overs between them.
Fast bowler Lahiru Gamage -- the only wicket-taker in the innings so far -- dismissed opener Lokesh Rahul for seven when India started their reply on the first day.
Off-spinner Ravichandran Ashwin, who claimed four wickets, led the Indian bowlers as they turned the tables on Sri Lanka after the visitors won the toss and elected to bat first.
Both teams are looking to go one up in the three-Test series after the first Test ended in a draw in Kolkata.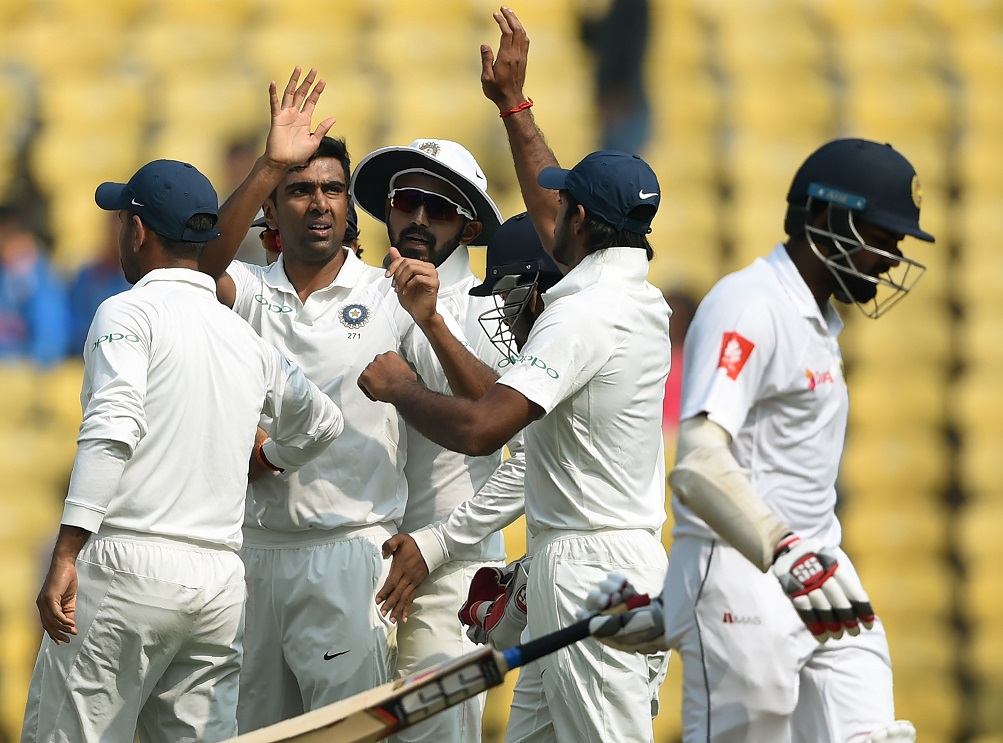 Cricket's Ashwin, Sharma make India shine against Sri Lanka
NAGPUR AFP Nov24, 2017
Ravichandra Ashwin and Ishant Sharma formed a fearsome partnership for India to skittle out Sri Lanka for 205 on the opening day of the second Test.
But the hosts were 11 for one at the close after opener Lokesh Rahul fell for seven, bowled by Sri Lankan paceman Lahiru Gamage.
Murali Vijay, on two, and Cheteshwar Pujara, on two, were batting at the close of play in Nagpur with India trailing by 194 runs in the first innings.
The day belonged to the bowlers with Ashwin taking four wickets and fellow spinner Ravindra Jadeja and Sharma picking three each. The tourists lost six wickets in the final session.
Skipper Dinesh Chandimal top-scored with 57 while opener Dimuth Karunaratne made 51 on a green pitch that helped India's fast bowlers.
Sharma, who got Karunaratne after lunch, made the most of the favourable conditions to claim his three wickets for just 37 runs.
The spinners then took centre stage. Ashwin trapped Chandimal lbw to make the visitors slip further.
Chandimal, who hit a six in his 122-ball knock, was given not out by the on-field umpire but skipper Virat Kohli called for a review which went in India's favour.
Chandimal and Karunaratne put on a crucial 62-run stand for the fourth wicket before the Indian bowlers struck back.
Wicketkeeper Niroshan Dickwella also tried to resist before falling to Jadeja's left-arm spin.
The two teams are fighting to get ahead in the three-Test series after the opening game ended in a draw at Kolkata's Eden Gardens.
Sri Lanka 1st innings
S. Samarawickrama c Pujara b Sharma13
D. Karunaratne lbw b Sharma51
L. Thirimanne b Ashwin9
A. Mathews lbw b Jadeja10
D. Chandimal lbw b Ashwin57
N. Dickwella c Sharma b Jadeja24
D. Shanaka b Ashwin2
D. Perera lbw b Jadeja15
R. Herath c Rahane b Ashwin4
S. Lakmal c Saha b Sharma17
L. Gamage not out0
Extras (lb2, nb1)3
Total (all out, 79.1)205
Fall of wickets: 1-20 (Samarawickrama), 2-44 (Thirimanne), 3-60 (Mathews), 4-122 (Karunaratne), 5-160 (Dickwella), 6-165 (Shanaka), 7-184 (Perera), 8-184 (Chandimal), 9-205 (Lakmal), 10-205 (Herath)
Bowling: Sharma 14-3-37-3, Yadav 16-4-43-0, Ashwin 28.1-7-67-4, Jadeja 21-4-56-3 (nb1)
India 1st innings
L. Rahul b Gamage7
M. Vijay not out2
C. Pujara not out2
Extras0
Total (1 wicket, 8 overs)11
Fall of wicket: 1-7 (Rahul) Still to bat: V. Kohli, R. Sharma, A. Rahane, R. Ashwin, W. Saha, R. Jadeja, U. Yadav, I. Sharma Bowling: Lakmal 4-1-7-0, Gamage 4-2-4-1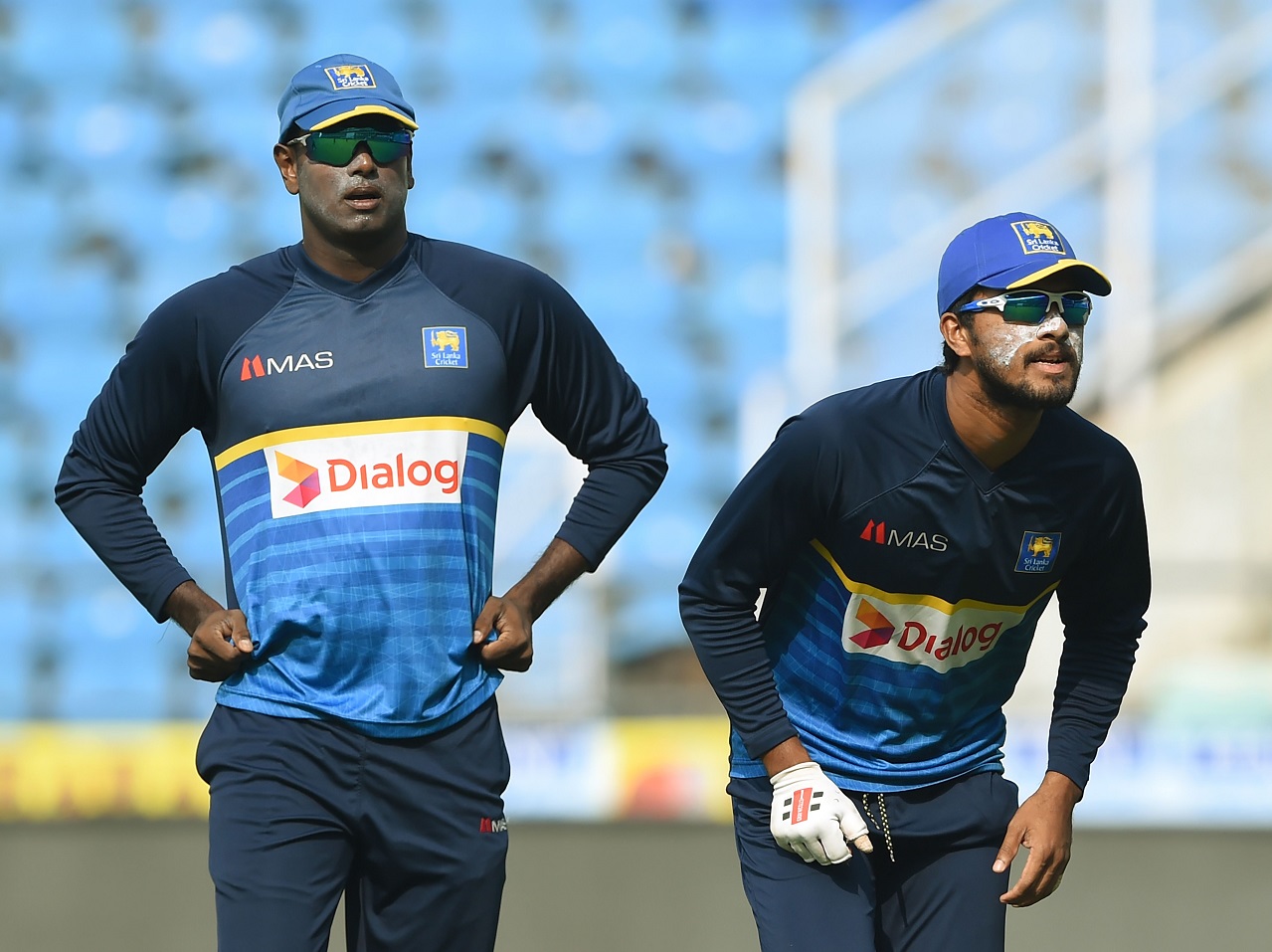 NAGPUR AFP Nov23, 2017: Captain Virat Kohli Thursday said India had demanded fast, green-topped wickets for the Test series against Sri Lanka to prepare for their tour of South Africa.
The hosts laid out a green pitch in the opening Test in Kolkata, and Nagpur is also expected to favour the fast bowlers in the second Test starting Friday.
The three Sri Lanka Tests come before India, the world's top-ranked team, embark on a three-Test tour starting January in South Africa, where they have never won a Test series.
Kohli confirmed reports that team management had ordered fast pitches, instead of the traditional spin-friendly tracks, to get used to South Africa-style conditions.
"Yes, because unfortunately we get only two days before we fly to South Africa after this series is over," Kohli told reporters.
"So we have no choice but to be in game situations and think of what's coming ahead for us... As usual cramped for time, which I think we needed to assess in future as well." Bhuvneshwar Kumar led an inspired Indian pace attack that took all of the 17 Sri Lankan wickets that fell during the rain-hit first Test, which ended in a draw.
Kohli said he wanted his players to get used to the fast and bouncy tracks that await in venues like Johannesburg and Cape Town, which will host the opening Test.
"We thought this is an ample opportunity for us to challenge ourselves, put us in a situation... As I said, we want to embrace being in difficult conditions," said Kohli.
"I am not saying everyone will go out and perform immediately but if we can feel comfortable about it after one, two or three innings everybody will come good and once you come good we will get that confidence," he said.
Wily old fox
Sri Lanka captain Dinesh Chandimal called it a "good Test wicket" and backed his top spinner Rangana Herath to come good in Nagpur, after he went wicketless in Kolkata.
"We saw so much grass at Eden Gardens, this is much less. This looks a good Test pitch. It's a challenge for us as a team," Chandimal said.
"Of course Rangana Herath is a wily old fox. On these wickets he can be handy. We have Dilruwan (Perera) as well in our ranks." Kohli said India spinners Ravichandran Ashwin and Ravindra Jadeja would also be invaluable with their all-round abilities.
The spin duo have delivered 19 five-wicket hauls between them in Asia since the 2015 South Africa series, as well as valuable contributions with the bat.