---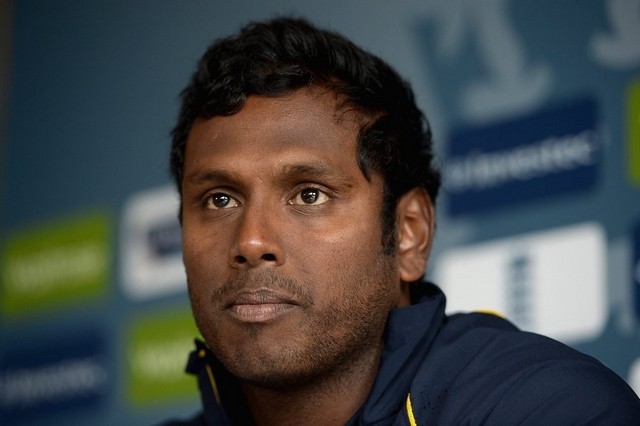 by Champika Fernando
Angelo Mathews was today appointed Sri Lanka's long-term captain of the limited over side ending months of ad-hoc appointments. He will be in charge of the ODI and T20 sides until the 2019 World Cup and beyond, if he stays fit.

VIDEO

Sri Lanka have had at least five different skippers since July last year, when Mathews stepped down due to various reasons including injuries and lack of strategic planning.
Mathews, who was Sri Lanka's skipper across all three formats when he resigned (after a surprise ODI series loss to Zimbabwe team at home) made a reentry following a request by the coach, selectors and the Board.
On Monday, Angelo had passed a fitness Test following his latest bout of injury during the Indian series. But the selectors announced that Mathews will not bowl during the forthcoming series in Bangladesh.
The selectors had also considered Dinesh Chandimal for the captaincy but opted for Mathews given Chandimal's recent struggle in the limited-overs format.
Sri Lanka play tri-series involving hosts Bangladesh and Zimbabwe from January 15 and their scheduled bilateral series which includes two Tests and two T20 Internationals.
"It's a national call," Mathews, said responding to question as to why he decided to return as skipper. "When I stepped down, I never thought of returning. But there are a couple reasons which changed my mind."
"First it's a national call," he elaborated. "Cricket has given me so much and if I am turning my back on it at this point in time, I don't think I am doing any justice to what I have received from the game. Secondly, as a team we need stability running into the World Cup. When I gave up, I wanted the new captain to have enough time to build the team for the World Cup. But due to various reasons, we've had several captains. Also the appointment of Hathu aiya (Chandika Hathurusingha) influenced my decision".
Mathews confirmed that, on his return to the island from India, the coach, selectors and Board requested him to reconsider returning to lead the side.
"We will do our best for the team," he said. "Some may like it, some may not. We cannot help that as our interest is in the team. I know for a fact that Hathu aiya is not here for survival."
The challenge, however, is for Mathews to stay injury-free. During the last 18-months, he missed a number of tours and stayed away from cricket for months due to multiple-leg injuries--hamstring and calf.
Mathews said he is presently managing his workload to stay injury free.
"I played the most number of international matches from 2013 to 2016 which medical experts think is now taking a toll on my body.," he explained. "We've had plenty of discussions with coaches, physios and medical experts on this and are now trying to manage my workload. I am not bowling in Tests any longer but want to bowl at least a few overs in limited-overs cricket."
Coach Hathurusingha said he influenced Mathews' appointment given his credentials as a player.
"He was the best player to lead the side," he said. "He is a player who can warrant his place in all three formats on his own."
The selectors have not named a vice-captain for the sides and have left it in the hands of on-tour selectors (the manager, coach and captain) to make the call, depending on the requirement.