---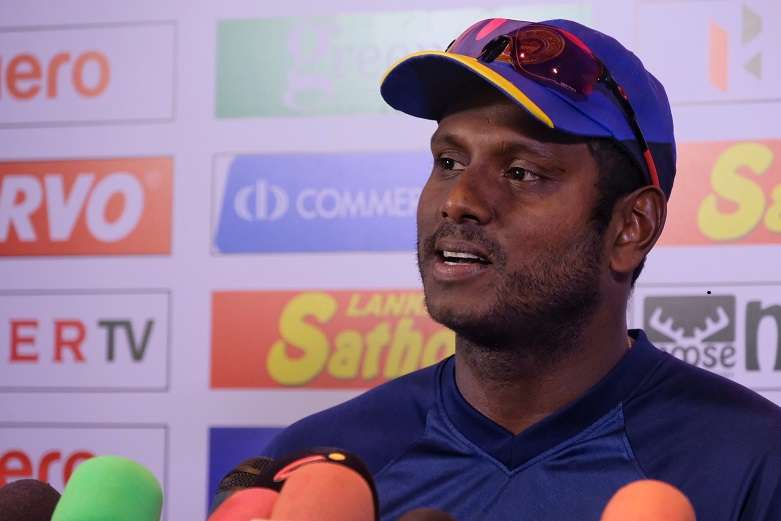 Angelo Mathews defied New Zealand XI's bowling attack and overcame tough conditions at the McLean Park in Napier with a masterful century on the opening day of the tour match on Saturday.
Sri Lanka were in danger of being bowled out cheaply after hosts bowlers ran through the Sri Lanka's batting order reducing them for 104 for nine by the 36th over but Mathews--possibly best batsman in the Sri Lankan side, scored an unbeaten 128 as Sri Lanka declared on 210 for nine. At stumps, Sri Lankan bowlers did well to restrict New Zealand XI for 67 for 4. Lahiru Kumara, Suranga Lakmal, Dushmantha Chameera and Dilruwan Perera picked one wicket each.
The 31-year-old former Sri Lanka skipper shared an unbeaten 106 runs for the last wicket with Lahiru Kumara who remained unbeaten on 12 facing 48 deliveries. It was a brilliant effort from Mathews who shouldered the burden of the innings after Sri Lanka's top and middle order collapsed in familiar fashion. Only skipper Dinesh Chandimal managed to score more than 20 runs in the innings--a major worry for the depleted Sri Lankans who will take on the high-ridding New Zealand in a two-match Test series starting next Saturday (15).
Out of Mathews 128, 94 runs came off through boundaries (19) and sixes (3)--such has been his dominance in the 177 run ball innings.
Sri Lanka who were given a 3-0 thrashing by England at home few days back, were expecting their batsmen to put runs on the board, but what transpired in the middle was a total calamity. Sri Lanka had a worst possible start to the match, after electing to bat first, when they were reduced for 10 for 3 by the 6th over with Danushka Gunathilaka (0), Lahiru Thirimanne (6) and Kusal Mendis (0) backed in the pavilion in quick succession. There was brief resistance from skipper Chandimal who scored 26 runs adding 49 for the fourth wicket with Mathews but rest of the batting collapsed around Mathews like nine pins before Lahiru Kumara braved the threat with a magnificent effort with the bat. Out of the 11 batters five of them failed to get off the mark.
For the New Zealand XI chinaman Blake Coburn was the pick of the bowler claiming 3 for 44 while W Snedden and RF Younghusband claimed two wickets each.
SRI LANKA first Innings
D Gunathilaka c MW Chu b LR Dudding
0
L Thirimanne c WT O'Donnell b MW Snedden
6
D Chandimal c DN Phillips b LI Georgeson
26
BKG Mendis c MW Chu b MW Snedden
0
D de Silva c MW Snedden b PF Younghusband
14
N Dickwella c WT O'Donnell b PF Younghusband
0
R Silva c DN Phillips b BP Coburn
0
D Perera lbw b BP Coburn
0
S Lakmal c KD Clarke b BP Coburn
10
Extras (B 0, Lb 4, Wd 8, Nb 2)

14
TOTAL (for 9 wickets declared in 59 overs)

210
1-1 (MD Gunathilaka, 0.4), 2-10 (HDRL Thirimanne, 5.1), 3-10 (BKG Mendis, 5.3), 4-59 (LD Chandimal, 15.4), 5-87 (DM de Silva, 24.3), 6-87 (DPDN Dickwella, 24.4), 7-88 (ARS Silva, 25.6), 8-88 (MDK Perera, 27.3), 9-104 (RAS Lakmal, 35.2)
Bowling: LR Dudding 9-1-38-1,MW Snedden 7-0-29-2, BR Hampton11-1-38-0, LI Georgeson 5-2-13-1, RF Younghusband 10-6-25-2, BP Coburn 13-4-44-3, WT O'Donnell 4-0-19-0
NEW ZEALAND XI first Innings
LI Georgeson c BKG Mendis b RAS Lakmal
8
DS Robinson lbw b CBRLS Kumara
4
WT O'Donnell c LD Chandimal b PVD Chameera
22
DN Phillips b MDK Perera
17
Extras (B 0, Lb 0, Wd 0, Nb 2)

2
TOTAL (for 4 wickets in 31 overs)

67

188

146

8

1
1-4 (DS Robinson, 3.6), 2-35 (LI Georgeson, 16.6), 3-35 (WT O'Donnell, 17.6), 4-63 (DN Phillips, 26.2)
Bowling

;
Kasun Rajith 6-3-10-0,Lahiru Kumara 5-2-10-1, Dushmantha Chameera 5-1-28-1, Suranga Lakmal 4-2-6-1, Dilruwan Perera 6-2-6-1, Lakshan Sandakan 5-0-7-0