---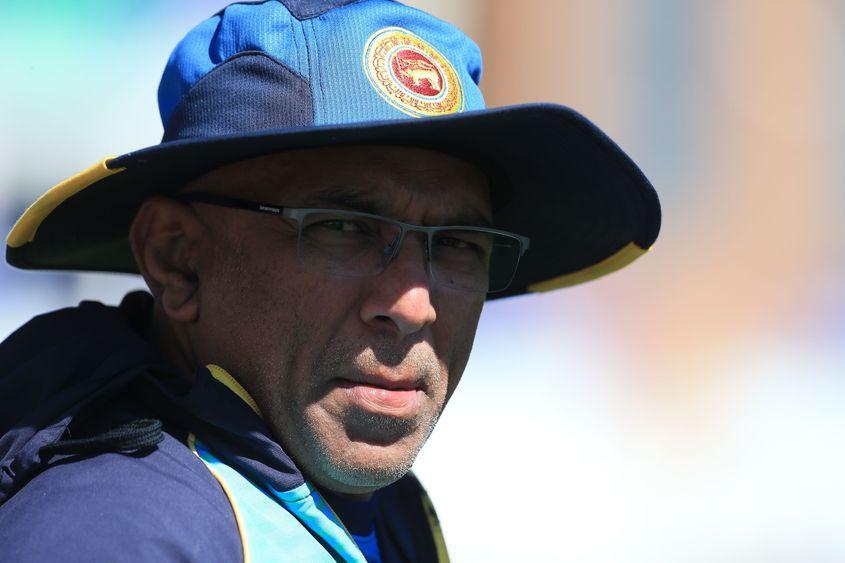 By Champika Fernando in Durham
After Sri Lanka registered a 1-wicket win over South Africa to savour their first series victory (2-0) in the land of Big Fives, a dressing room video was leaked. It showed players lavishing praise on the head coach, even dedicating the win to Chandika Hathurusingha.
Hathurusingha had long been under scrutiny over the team's slide in international cricket. It wasn't that Sri Lanka had done better without him. It was that his arrival had not heralded the expected turnaround of fortunes.
It was not entirely his fault. The absence of a coherent and consistent policy in cricket administration saw players being picked and dropped more often than you change your underwear. Selectors were shuffled too often. There was just no continuity and consistency. And there were more captains and coaches than any other team has seen since the last World Cup.
But, as is often the case, this coach might be in the firing line at the end of the World Cup. Hathurusingha had been entrusted with ushering them into the last four at the very start of his stint which now seems all but a dream.
The 50-year-old former Sri Lankan cricketer, who is now domiciled in Australia, admits it was a challenging 18 months in office.
"When I came, I thought I will get what I was promised," Hathurusingha told the Sunday Times. "They provided everything for the first six to seven months, but things changed after elected committee left. Since then, all plans we had were disturbed. What I did after that was to adapt myself to what was in front of me."
In January, when the Board was administered by a politically appointed Competent Authority, Hathurusingha was removed as selector-on-tour. It was the first sign of discontentment over his work. It was done at the behest of the new selectors who wanted the selector-on-tour, along with team manager and captain, to decide the playing XI.
Before this, Hathurusingha had enjoyed a level control over team affairs hitherto unseen for a SLC national coach. During that period, under Hathurusingha, Sri Lanka has won 14 out of 42 international matches across all formats. They lost 24.
"When I took over the side, we were eighth in the ODI rankings and there's a reason why we were eighth," he pointed out.
"So, it's not realistic for someone to expect me to bring the team among the top three in just eight months."
Hathurusingha came with an excellent reputation. Before he joined the Bangladesh national team in 2014, he was with New South Wales as senior assistant and the coach of Sydney Thunders in the Big Bash League.
"But we had a plan," he explained.
"The plan was not only results. Our focus was the World Cup. We knew we were not going to win every game in between. It was to prepare a team for the World Cup. In that sense, we had only three tours until December. We had the Bangladesh Tri-series, which we won, South Africa and then England. So, during these tours, we tried different combinations. We also had some challenges like injuries. I thought we were moving towards how we wanted to play."
His main challenge was to take the team to World Cup semi-finals. Various combinations were tried to finalise the best combination.
"We had to identify what sort of players we needed and what sort of roles they could play," he explained.
"We identified the roles and, then, the players who could fit into them. When I started, we didn't have four, fit fast bowlers to select from. So we did a long-term plan to build a pool of seven to eight fast bowlers and to prepare them to peak at the right time. We had a plan for our batting combinations and the roles they were going to play. Then, we had some injuries to Angelo Mathews, Asela Gunaratne and Danushka Gunatilake, followed by some suspensions. These disturbed our plans."
Things changed dramatically after December 2018 when politicians with little or no understanding of the game took control after a court order stopped cricket elections due in May 2018. Sri Lanka's failed Asia Cup campaign added fuel to fire. The team lost their first round games to Afghanistan and Bangladesh, making an early exit.
After Sri Lanka conceded the Test and ODI series to England at home, the Sports Ministry started gunning for Hathurusingha. They exposed his remuneration package to media and sought the Attorney General's advice on terminating his contract. He was removed as a selector and summoned to Colombo in the middle of the South Africa series.
Despite all this, Hathursingha bats on.
"I was asked to come down from South Africa by my immediate boss, the CEO, to discuss our preparations for the World Cup and I came," he said, refusing to elaborate.
The Board at times wanted to remove him due to pressure from all quarters as Sri Lanka faltered in the limited-over format. But it feared it would have to pay hefty compensation under contractual obligations.
"You can't just win matches," Hathurusingha said.
"You can't win matches by chopping and changing players regularly. When did England start planning for the World cup? It was after the 2015 World Cup. If you take stats, India have used only 31 players since last World Cup but we have used 57. In the last two tours, leading up to World Cup, we have used 27."
"How can you expect results when you make changes like that?" he asked.
"How can you expect the players to be comfortable in their roles? In international cricket, there's so much pressure for players to perform. When you add more pressure, it will be really hard for them to perform."
Despite all these Hathurusingha has "no regrets" come back to a place from which he had been sacked before. He was the national team's assistant coach when he was let go in August 2010 for returning home from Zimbabwe before the tour's end in defiance of SLC orders to stay on.
"I have another year or so to go," he reflected.
"When I came, I asked for certain things to deliver. I am still hoping they will provide these. There's a lot of room to improvement. The Test Championships start straight after this. It is a big challenge for us to compete in that. Then, we have the T20 World Cup in Australia next year. We don't have much in ODI cricket."
Admitting that off-field distractions have had a major impact on the team's performances over the last 18 months (given the turbulence in the game's governing body), Hathurusingha insists on the continuity of players, coaches and leadership to be successful in world cricket.
"We need to identify talent and then make the environment to nurture those talents by giving them a fair run in terms of playing in the national team," he said.
"The players in the A team must apply pressure from below to the national team. When we were playing, we had a lot of back-up players coming through. We need to create that environment rather than making constant changes, allowing players to breathe and be competitive. It will take time. We are fairly low in terms of one-day cricket."
The World Cup has given some sort of hope for Sri Lanka. Having started off poorly, Sri Lanka has managed two wins so far. If they can earn a place in the last four, it will be also be a personal achievement for Hathurusingha who will otherwise face the axe.