---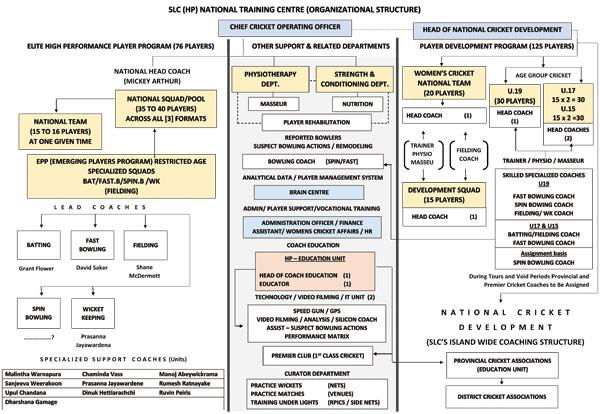 By Champika Fernando
As calls for overhauling of a 'weak' domestic cricket structure continue to go unheeded by the men running the multibillion rupee business at Maitland place, Sri Lanka Cricket's (SLC) new Chief Cricket Operating Officer Jerome Jayaratne finds comfort in a more structured training programme to help national cricketers attain excellence at international level.
Jayaratne will not depend on the domestic structure that produces half-baked cricketers who contribute towards Sri Lanka's dwindling fortunes abroad. He wants instead to pick the best and put them under the best coaches to hone their skills so they are on par with international cricketers.

Batting Coach Grant Flower at work - Pic by Amila Gamage
"If you think a certain player is ready for international cricket, we will have to challenge the selectors and coaching management to get him into the side," he said, in an interview with the Sunday Times.
"We cannot base our judgment on one's performances in domestic tournaments."
For this, Jayarartne–who is no stranger to the coaching department having overlooked it before being shuttled into an office in 2016 as SLC's Chief Operating Officer–has introduced a more structured system that assigns coaches specific roles.
One of his biggest challenges was to hire men with proven track record to push his programme through. A coaching team comprising mostly Sri Lankans hadn't helped Sri Lanka's cause for improved performance during the last couple of years and Jayaratne having realized the limitations of the local coaches, brought in foreign experts with proven track records to look into the immediate requirements–the national men's team.
Jayaratne prioritises helping elite cricketers up-skill their game and preparing a strong second string ready for national duty as and when required. Mickey Arthur was, therefore, appointed National Head Coach, while former Zimbabwean cricketer Grant Flower, Australians David Saker and Shane McDermott were hired as batting, bowling and fielding coaches. He also got Prasanna Jayawardena, arguably one of the best wicket-keepers world has seen, as wicket-keeping coach–the only Sri Lanka among the lead coaching staff. A spin bowling coach is yet to be hired. They want someone with knowledge of the art of spin bowling rather than just playing experience.
"One thing I realized was that we do not have the human resources locally to handle elite cricketers playing at international level," Jayaratne observed.
"We are at a very crucial juncture. So, I wanted at least three to four foreign coaches to look after the elite cricketers representing the country at the moment. There were a couple of names floated around for Head Coach position but we settled on Arthur after researching his background."
"He is a very tough character and has the experience, having coached South Africa, Australia and Pakistan," he continued.
"He made a 'dark horse' team win the Champions Trophy. It's not easy to coach a team like Pakistan and he did it really well, guiding them to the Champions Trophy title and to staying as the top ranked T20 team for more than a year. He also knows the sub-continent mentality. We need someone tough to bring in professionalism and instill discipline."
Jayaratne's next challenge was to recruit the lead coaches–bowling (spin and fast), batting, fielding and wicket-keeping.
"Locally, we had big names, but they lacked the required cricketing intelligence to help players to up-skill their game," he said.
"So, this why we settled for David Saker as fast bowling coach. He coached Australia for a couple of years and he was with England when they won the Ashes and also coached IPL and BBL teams. He comes with a lot of experience. Same with the other two foreigners, Flower and McDermott, that we have hired so far. They had proven records to support their applications."
Sri Lanka has produced some of the best spinners in the world. The likes of Muttiah Muralidaran and Rangana Herath are part of cricketing history. So why not hire one of them to handle the spin department? Herath has openly expressed his willingness to join the national ranks as a spin coach. But Jayaratne prefers a foreigner at this point in time.
"It's a science and an art," he said.
"We know we have lot of spinners in this country. When foreigners come here, they are impressed with the young spin talent but they hardly go the distance to become world beaters. For instance, take Graeme Swann. He was one of the best spinners in the world. Nathan Lyon is the same. Shane Warne and Stuart MacGill have been brilliant. Murali (Muttiah Muralidaran) was a freak who can turn the ball even on cement. Rangana Herath was not a big turner but has the variation in his speed and most of his wickets are leg-before-wickets. Also, 70 percent of his wickets are in Sri Lanka. When I studied this, I found that there are things like off spin, lateral spins, top spins, side spins and barrel spins. We don't know these. We have the product but not the art. What we are trying is to impart this on our players."
While Arthur and other lead coaches will handle the 30 to 35 players representing Sri Lanka at all three formats internationally, there are ten other local coaches specialised in batting, bowling (fast and spin) and fielding with the responsibility of guiding the Emerging Player Programme (EPP) which includes cricketers who are knocking at the door of the national team. This includes around 50 to 55 players.
Malinda Warnapura, Prasanna Jayawardena and Ruvin Peiris are specialised support coaches in batting while Chaminda Vaas, Rumesh Ratnayake and Darshana Gamage will train the next generation of fast-bowlers. Manoj Abeywickrema and Upul Chandana will be in charge of fielding while Sajeewa Weerakoon and Dinuka Hettiarachchi will look after the spin aspect.
"Players like Charith Asalanka, Kamindu Mendis are in the EPP which will have about 50 to 55 players divided into specialised squads of batting, fast bowling, spin bowling, wicket-keeping and fielding," the former Thomian cricketer said.
"The total onus for these players will be given to the local coaches. But I overlook this area. I will bring them in, consult and construct the programme to ensure it does what I want it to do."
In his new high performance structure, Paul Khoury will wield a key role in keeping the players injury-free as he heads the physiotherapy, strength and conditioning departments while Tim McKaskill leads national cricket development-an area that has been neglected over the years. This is an important department with McKaskill embracing women's cricket, all age groups from U-15 and 17 to 19, and district and provincial cricket.
"Tim comes from a proven structure and knows what he's talking about," Jayaratne said.
"He is currently studying the systems here and we are getting Tom Moody to help us put the national development cricket structure in place."
The coach education section also a vital component of the High Performance Center. Headed by Heshan de Mel–a ACC/ICC Level III qualified coach and assisted by Tharaka Samaratunga–a Level II qualified coach as coach educator, they have done a number of programmes including, conducting coaching seminars to licensing of school cricket coaches to improve the skills of coaches at grass-root level.
The High Performance Unit which was set up in 2016 with Simon Willis as its head was replaced by Asanka Gurusinha after Willis stepped down from the role due to personal reasons but the unit has failed to arrest the current slide of the national team. But only time will tell if Jayaratne and his team can succeed with this new strategy.