---
By Champika Fernando
Upul Tharanga and Sanath Jayasuriya piled up 286 runs in 32 overs in a record opening stand to hand England their worst-ever (5-0) defeat in a bilateral series back in 2006. Jayasuriya plundered 152 off 99 balls but it was the then 21-year-old Tharanga who stole the limelight.
The boy from Balapitiya smashed 109 off 102 balls as he and Jayasuriya took the hapless English bowlers to the sword in a fierce batting display. Thirty-two now, Tharanga still holds this record breaking stand with Jayasuriya as his best performance and says had he got a continuous opportunity to play cricket, he would have reached greater heights. In an interview with mirrorcricket, the Sri Lankan vice-captain talks of his career and Sri Lanka's chances at the Champions Trophy.

Watch the Video :
Excerpt of the interview:

After a long wait, you seem to have impressed selectors to earn an extended run on the national team. How do you view this?
True. It's being a long wait, probably three to four years. I'm very happy to get an extended run once again. I've got a chance to play three to four series at a stretch. As a cricketer, you need that kind of security, to know that your place in the team is secure. This will not only help the player perform better in the middle but also the team to reach greater heights.
---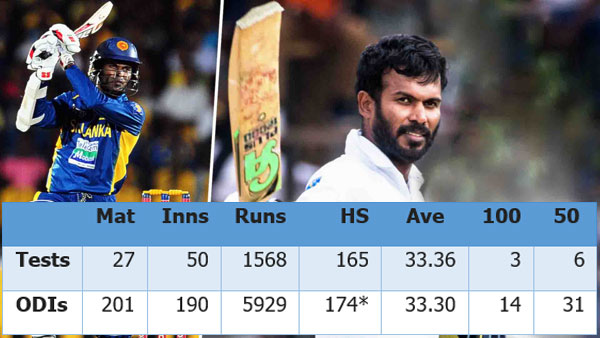 There was uncertainty surrounding your career since 2013. You were ignored by selectors despite scoring. How did you feel when you were dropped from the side?
There's a greater possibility of getting dropped when a player is consistently not performing well. This is acceptable. When you know you've done enough to warrant selection and are still dropped, it's harder to stomach. But this isn't within our control. All we can do as players is to perform and force a comeback. I was dropped at a time, as you said. But I've done enough to warrant a place in the side. For an instance, I scored 93 in the first innings and 42 in the second innings against Pakistan. Still, I wasn't even among the 15-man squad named for the New Zealand series which followed.
What baffles me most was no explanation was given for the omission. I would have accepted if selectors, team management or coach explained the reasons for my omission. Sadly, this was not the case. I was really disappointed but I knew it was beyond my control and kept performing until the next opportunity.

Current Chairman of Selectors Sanath Jayasuriya held the same position at the time. Didn't he speak to you about his reasons for your omission?
No. There was no intimation from anyone, not even the Chairman of Selectors.
We've seen a number of young players being considered for national selection since 2015. However, the selectors seem to have taken a different approach when it comes to the Champions Trophy as they've brought in a number of seniors. Is it a good move?
A team should be a mix of youth and experience. Since the 2015 World Cup, we have focused on youth a lot. There's nothing wrong in this. The selectors wanted to build a strong team, especially to find replacements for several high-profile retirements. I believe this was why they tried out lots of young players, leaving some of the seniors out. This paid off well, to an extent. You can see there are some very good young players who came up the ranks. But I think at international level experience is more important than talent. You may be the most talented cricketer. If you don't know how to handle a situation in the middle, it is no use. There has to be a balance in the team, a mix of both: youth and experience. In that context, we have the best team possible for the Champions Trophy.

We have tried out some players for too long without success. Do you think it's time to move on and invest in fresh talent?
I think this was part of a long-term strategy of the board and selectors. They identify players at a young age and invest on them to prepare them for grueling international cricket. So they consistently provide opportunities to them to cement their places in the side. Unfortunately for us, this didn't happen. When Mahela (Jayawardena), Kumar (Sangakkara) and Tillakaratne Dilshan retired, the selectors hoped their investment on certain cricketers would pay off. It did not happen. Cricketers go through these phases. The important thing is not to lose faith because there will be another chance.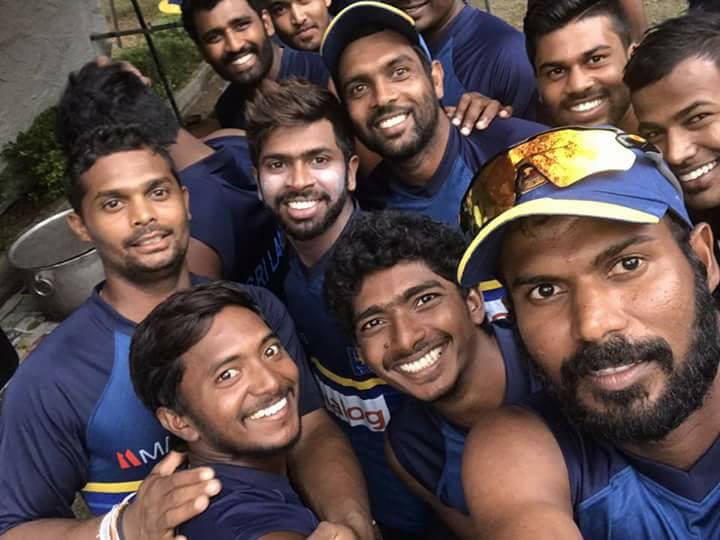 ---
How was it to open batting with Sanath Jayasuriya, the man who helped Sri Lanka win the 1996 World Cup?
I grew up a cricket fanatic. I watched it on television and played a lot of cricket. But I never thought I would get a chance to play with Sanath. I was lucky to get into the team at 21. When I made my debut, Sanath, Murali, Vaas and Marvan, who were part of the 1996 World Cup, were in the team. It was a great blessing for me to play alongside those greats.
What's you biggest achievement in cricket?
It is undoubtedly the 2006 series against England, in England. We won it 5-0 and I scored two centuries. I also had a very good series at the 2011 World Cup. I scored a century in the semi-finals to help us through to the finals. On my return to the side after a long lay-off, I scored a century in South Africa. This was another career milestone.
What do you think of players being shuffled across the batting order?
I think players need confidence. When you rotate them too often, it gives little time for a player to settle in. On the other hand, I think selectors were trying out various combinations in the middle and were, therefore, rotating. But we are now a bit settled. We have a balanced team. With the 2019 World Cup not too far away, we need to settle in our combinations and give them as much opportunities as possible to establish themselves. I don't think it is wise to rotate them now.
Fielding has been very poor in the recent past and you are one of the main culprits.
I do admit we made lots of mistakes in fielding in recent tours. No one purposely dropped catches but we made far too many drops in few tours. We had many discussions about this and are working to improve it. I don't think there is a lack of commitment from the players. Even before a match, they put in 100 percent effort in fielding drills and they do during games. But sometimes you make mistakes. And, yes, we have made far too many mistakes within a short space of time. I'm sure we will display better skills during the Champions Trophy.
How have preparations for the Champions Trophy been?
Soon after the Bangladesh series, we played the inter-provincial cricket tournament. It was a high quality tournament with all top players in action. It was great for us. Since May 2, we have been in training. As a team, they are all geared up for the challenge and committed for a better showing in England.
Where do you think Sri Lanka will end up in the tournament?
If you look at the three countries--India, Pakistan and South Africa--they are playing top cricket at the moment. But we have been inconsistent. When we went to Australia, no one expected us to win. This was after a huge thrashing in South Africa. I think we have a better chance in English conditions. As I said, we have a very good team. If they can give it their 100 percent, we are in a position to win.
Lasith Malinga's return to the side is welcomed by the team and fans. But he still seems to struggle with returning to his menacing form since returning from injury? Do you think it was wise to include him in the side without having played an ODI in two years?
We all know what he's capable of doing and what he has done for the country over the years. I am not sure of Malinga's level of fitness yet. He has not played a 50-over game for a while but he has been playing in T20 tournaments. We still have a few weeks before the Champions Trophy. I am sure he can gain full fitness by then. I know personally how committed a player he is.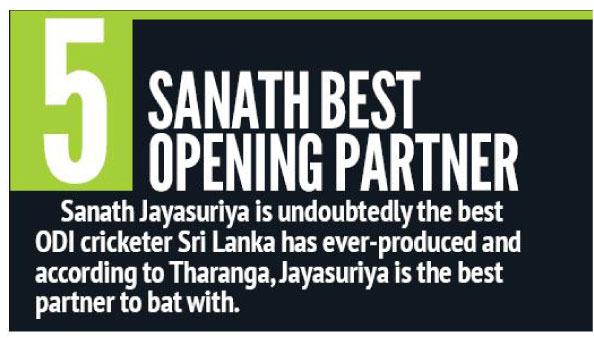 You have played with several opening partners. Whom do you consider to be the best?
It was very easy to bat with Sanath. He takes the pressure off you with his attacking style of play. I had the good fortune of opening wicket with him as a young player and shaped up my career.
What are your memories of the record opening stand you set with Sanath?
We had a target of 322 to win. Sanath was at his brutal best and we scored over 40 runs off the first three overs. So it was easy for me to settle in. He always took the risk and when he found that I was struggling against a particular bowler, he quickly changed ends. He always told me not to give away my wicket and even to date it was the most memorable innings of my career.
Are you happy with what you have achieved?
When I started playing, my target was to score 10,000 runs in Test and ODI. Unfortunately, I didn't get much opportunity in Test cricket 10,000 runs there is a wild dream. Even in ODI cricket, I don't think I will get to 10,000 runs. I have around 6,000 ODI runs in over 200 games. I am a bit disappointed in not reaching my goals, something for which I am party responsible. On the other hand, I am happy to represent my country and will do my best for the team. I debuted in 2005--not an easy period to get into the team, with all the high-profile players in the side.
At that time, we had a very set team. There was only a maximum of three or four opportunities per years for new players to get into the side as oppose compared with today. Apart from my talent, I think I had an element of luck, too, to get into the team at 21. I'm happy with where I have come but I personally think I could have done more had I got the opportunity. I lost a good three to four years of cricket when I was excluded from the team in 2013.
When you were consistently ignored for selection, did you ever feel that your time in the national team was up?
No, because I knew I would get a chance if I performed well. There were also assurances from the selectors. So I did not lose hope. I have played my cricket with great enthusiasm, be it at national or domestic level. My passion is cricket, so it doesn't really matter whether you represent your country or the club. I enjoy the game. This is my philosophy in cricket. If you get a chance to play for your country, it's a great achievement and that's our dream as players.
---