---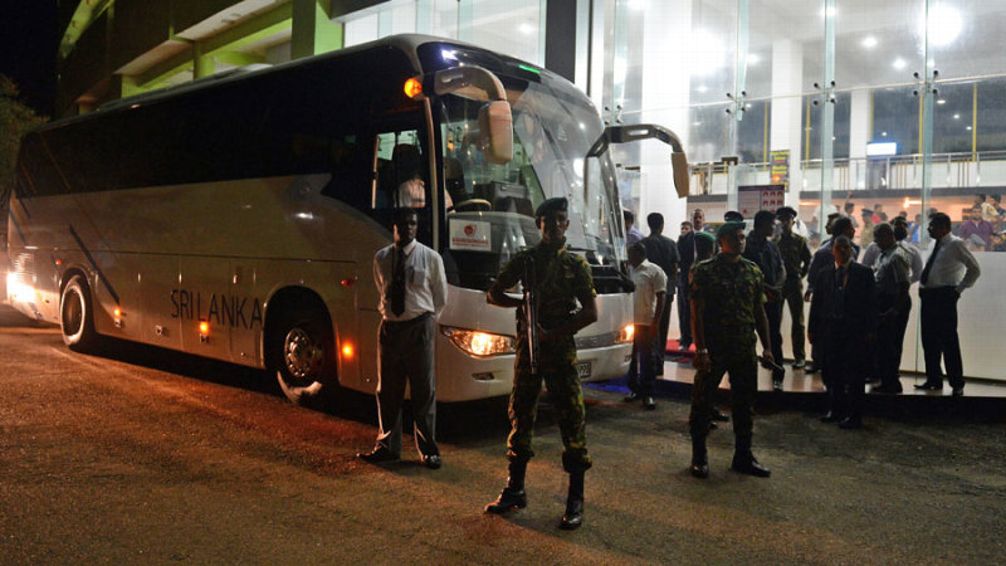 Special Task Forces guarding the team bus.
Disappointed fans in Dambulla held up the Sri Lankan cricket team's bus on Sunday evening after hosts suffered a humiliating nine wicket defeat in the five-match ODI series.
Fans have been losing their patience with the national team, especially after the team lost the Test series 3-0 and showed little signs of improvement in the limited-overs contest. Around 50 fans shouted slogans and booed the local players forcing security personnel to step in. The players were held up for about 30 minutes, according to reports.
The Sri Lankan cricket team seems to be in complete disarray what with coach Nic Pothas unhappy with external interference in team matters.
Pothas said "too many cooks" were spoiling his efforts to revive the national team and has called for greater autonomy in the wake of yet another confidence-sapping loss against India on Sunday.
If the home fans had hoped the change in format would bring a change in fortunes, they were left bitterly disappointed as India breezed to a nine-wicket win in the first one-day international in Dambulla, chasing down a 217-run target in under 29 overs.
"You do get angry - to say 'too many cooks' is probably accurate," Pothas told reporters after Sunday's loss, voicing his concerns at the role played by Sri Lanka's administrators and selectors in running the team. "You get frustrated," he added.
"Am I angry with the players? Absolutely not. The players work as hard as anyone can ask of them. They've been superb. Support staff have been out of this world. Brilliant.
"They work endless hours with planning and helping the boys. You can't fault anyone within that changing room," said Pothas.
Former skipper Kumar Sangakkara, currently playing in the Caribbean Premier League, asked for calm and patience from the frustrated Sri Lankan fans.
"When the team was struggling - when we were most in need - your love and support was our strength. Now, what our cricketers need is that same, love, support, patience and effort. Let's hope for the team's victory, and support them as one," Sangakkara said in a video messages posted in social media.
The second India vs Sri Lanka ODI will be played on August 24 in Pallekele.