---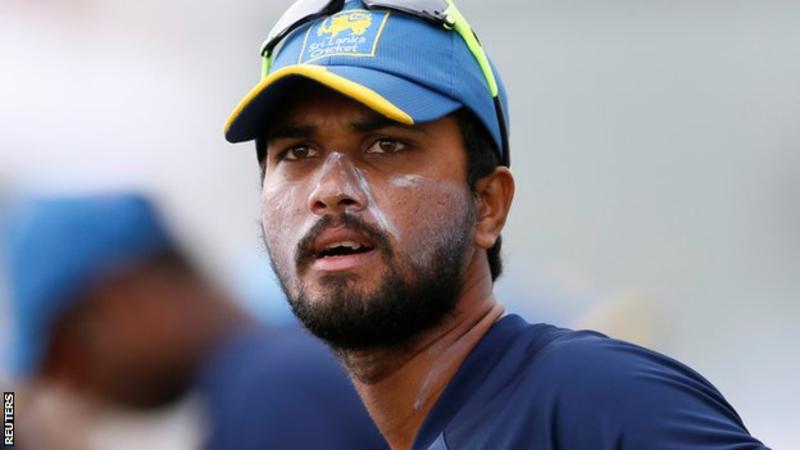 By Champika Fernando
In 2018, Dinesh Chandimal scored 298 runs at 42.52 in One-Day Internationals (ODI). Only Angelo Mathews, at 52.50, had a better average in the same period.
However, the 29-year-old wicket-keeper batsman is compelled to watch the proceedings in Britain on TV, as the Selectors felt the former skipper wasn't even good enough to be a standby, leave alone a member of the 15-man squad for the World Cup (WC).
This was a bitter pill to swallow. From Captain-designate 6 months ago, to losing, not only the leadership, but a place in the team, has shattered the former Ananda College cricketer.
"Frankly, I was devastated," said Chandimal, who has had a roller coaster ride since his international debut in 2010.
"I was almost in tears for a couple of days, trying to understand what befell me."
In 2013, Chandimal, at 23, became Sri Lanka's youngest Captain, when he led the side in an ODI. A few months later, he was appointed Sri Lanka's T20 Captain, because he was considered a natural leader by many. But the ride was tough. In 2014, he took the Sri Lanka side to the T20 WC in Bangladesh. Halfway through the tournament, he was dropped over poor form. Sri Lanka won the title under Lasith Malinga, and the captaincy changed hands.
"I don't buy into the argument that I was out of form," he said.
"In 2018, my averages in Tests and ODIs were over 40, and I played just 2 ODI matches this year. Yes, I did have 2 bad innings this year- the only innings I played in 2019- but, apart from that, I have done well," said the veteran of 146 ODIs. In his 2 innings at the Super 4 Provincial Tournament, which is considered the final frontier that players must conquer to earn a WC spot, he had scores of 30 and 40. He couldn't bat in the last 2 games, as they were affected by rain.
The disappointment has hit him hard. At times, he has wanted to throw in the towel and move on. But he is mature enough to accept that failures and disappointments are a part of life.
"I am human too," Chandimal explained.
"This incident really hit me hard. But I decided to fight on, because Cricket is everything to me. As a cricketer, I have given my best to the country. There were times I turned down franchise offers, so that, I can play for my country. That's the kind of commitment I have showed. All I can do now is to train even harder and let my bat do the talking, when the next opportunity comes."
In 2012, Chandimal secured a lucrative deal to play in the Indian Premier League (IPL), something international cricketers covet, but turned it down to train for the Test series in England.
"Country comes first for me," he reiterated.
"I could have taken it up and played in the IPL. But I decided to train for the Test series in England. Those are the sacrifices I have made and I am happy about it. There were times I moved myself in the batting order, depending on the team's requirement. I sometimes gave up wicket-keeping to allow someone who is less agile in the field, to do the glove work. That was my commitment to the team."
Chandimal took over the captaincy when Angelo Mathews was sacked, following a disastrous outing at the Asia Cup last September. He was among the runs against England last year, but when the Selectors were changed in November, the Captain was on the firing line. He was replaced by Lasith Malinga as ODI skipper, while his Test captaincy was handed over to Dimuth Karunaratne, when the Selectors decided to rest Chandimal for the South African series.
"The Selectors are there to make those calls and I respect that, but I wish there had been some communication between the Captain and the Selectors, before making those calls. I was really surprised by their decision in the middle of a tour. I am not saying they should respect me, because I am Dinesh Chandimal, but they should respect that position- Captain of the National team," he opined.
This chopping and changing of players, he believes, has had a detrimental effect on Sri Lanka's Cricket. Since 2015, Sri Lanka has tried out 57 players in ODI cricket. The highest by any international team during the same period, and has had 7 Captains leading the side at various intervals, before settling for Dimuth Karunaratne for the WC.
"This, I think, is the biggest issue for the current predicament of the National team. Because we have not given players the confidence and backing needed to be successful in the international arena. Unlike other sports, Cricket needs lots of mental strength, and I don't think we were able to build that up during the last couple of years. I believe this is why are in the current predicament. Players are immensely talented, but lack self-confidence," he concluded.