---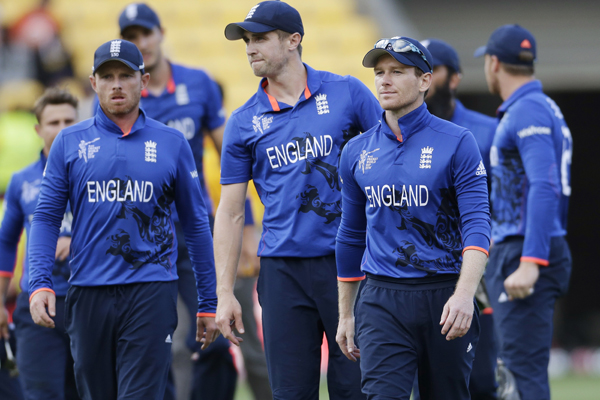 By Kumar Sangakkara
Bilateral One-Day International cricket has a place in world cricket and, at its best both well-scheduled and evenly-contested, can be captivating. However, there is always something extra special about a multi-nation tournament. Indeed, for me, the multilateral environment brings out the very best of the format.
It's a very different experience playing one team for a three or five match series and participating in a major ICC event. Some players relish the environment, rising to the occasion, as do certain teams, most obviously Australia in modern times.
And then there are teams with a history of underperformance in major tournaments, the reason for which might be hard to explain given the calibre and character of its players. South Africa is, unfortunately for them, the most obvious example of a team apparently uncomfortable in such environments, although happily for them they performed extremely well in the ICC Cricket World Cup 2015.
This ICC Champions Trophy – the first since the 2013 edition in England and Wales, a tournament where India triumphed, justifying their world champion status after their ICC Cricket World Cup 2011 success, is particularly intriguing because there are so many realistic contenders.
There was a time, not so long ago, when one or two countries dominated the format, but in the past few years we have seen several teams develop tremendously and now we have four to five teams who are very evenly matched, all with realistic ambitions of winning major tournaments.
Perhaps the most obvious example of this is the current England ODI team. Its progress in the past two years has been a revelation. It used to trail behind other teams in terms of its strategy and approach, but now it is one of the most progressive teams. It used to be one of the team's that traditionally struggle in big tournaments, but under this set-up – shrewdly overseen by coaches Trevor Bayliss and Paul Farbrace with Andrew Strauss a strong Director of Cricket – its past record is perhaps not relevant.
England is playing an aggressive and exciting brand of cricket and it has some world-class players driving that. Ben Stokes is an outstanding all-rounder, and both he and Chris Woakes will have benefited from their time in the IPL. Joe Root and Jos Butler will drive the batting.
South Africa will be thrilled to have AB de Villiers back and also Quinton de Kock, who brushed away some cobwebs with a powerful century last week South Africa will be thrilled to have AB de Villiers back and also Quinton de Kock, who brushed away some cobwebs with a powerful century last week
Australia is one of the strongest contenders. It have been playing some great ODI cricket of late and it is probably the best-balanced team in the competition. Its batsmen are also in-form and its bowling attack is potent.
South Africa don't have a great record in ICC events as already mentioned, but it certainly has a strong-looking team and will be desperate to throw-off the chokers tag once and for all. It will be thrilled to have AB de Villiers back and also Quinton de Kock, who brushed away some cobwebs with a powerful century last week. Their presence bolsters an already-strong batting line-up. The one disappointment for South Africa will be that Dale Steyn is not available. It has some quality bowlers, but Dale's skill and experience in the conditions given two white balls would have been invaluable.
New Zealand is a team which seems to thrive in tournaments. It is very professional and play a very clinical and basic style of cricket with a really positive mind-set. That has really helped it punch above its weight over the years, carrying it deep into tournaments.
This time I would expect it to be similarly well-organised and well-disciplined, but it also has some world-class players. Its bowling with Trent Boult, Mitchell McClenaghan and Tim Southee is looking pretty potent and the batting is dangerous too with Kane Williamson and Martin Guptill.
This year we also have four Asian teams in the tournament and clearly India is current the pack-leaders in the region. It won in 2013 and it has a team capable of winning this year too. In fact, the team is arguably stronger, better balanced with real firepower in its fast bowling.
Its spinners Ravi Ashwin and Ravindra Jadeja are exceptional in ODI cricket and I am sure Virat Kohli is going to be desperate to bounce-back after a disappointing IPL. The only slight concern I have for India is that its selection was perhaps a little conservative, but it is still very strong.
Bangladesh is real dark horse. It comes into the tournament with a lot of hope and promise. Under head coach Chandika Hathurasingha, it has made rapid progress in the past two years. He is fortunate to have a very hungry and talented bunch of players.
What you see in Bangladesh right now is a growing confidence and enhanced game-awareness. It is learning how to win matches and that makes it very dangerous opponents. I am not sure it will go all the way, but I am confident it will cause problems.
Bangladesh is learning how to win matches and that makes it very dangerous opponents Bangladesh is learning how to win matches and that makes it very dangerous opponents
Sri Lanka is one of the teams which has a proud tradition of performing well in major tournaments and it will be hoping this year to also punch above its weight. The team remains young and inexperienced, and this lowers expectations. This I think will help the side, reducing the pressure and tension, which will allow it to go out there and express themselves.
The return of Lasith Malinga for the first time in an ODI since 2015 is going to be a huge boost. He looked like he was getting better and better as the IPL progressed. His partnership with Nuwan Kulasekara, who is skillful and experienced in English conditions, will provide confidence.
The batting unit has settled down a little in recent months and that has been good to see. With Angelo (Mathews) slotting back into the top order after injury, they definitely have the capability to win against anyone if they play an exciting brand of cricket.
Finally, Pakistan. Like Bangladesh and Sri Lanka, its perhaps not expected to be a contender, but it's also true that it appears to be making positive progress under Micky Arthur. He is developing the game-awareness of players and that makes strong and prodigiously talented players very dangerous.
Pakistan's strength is its bowling. The pace attack is very threatening and its also has great spin options. The big question will be whether its batting unit is able to consistently fire and be able to chase down big totals.
So, there are eight strong teams in this ICC Champions Trophy and that makes it very difficult to make predictions. I think picking finalists is too tough, but my favourites for the semi-finals would be Australia, England, India and South Africa.
www.icc-cricket.com
---