---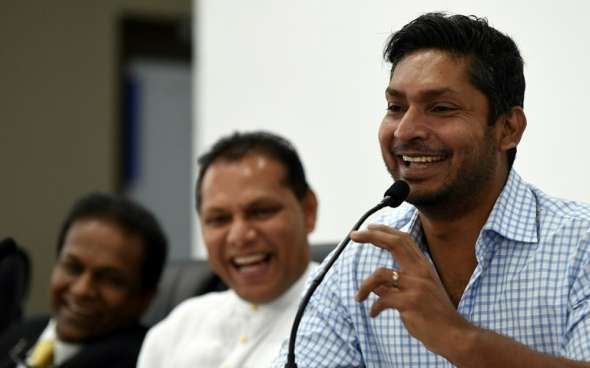 by Champika Fernando
Not anymore! Mahela Jayawardene, Kumar Sangakkara and Aravinda de Silva recommended sweeping changes to the administrative and cricket structure during their previous stint in a government appointed advisory panel. But their pleas fell on deaf ears.
As Sri Lanka's woes in international cricketer exacerbate, several former player have banded together to press for a complete overhaul of the administrative and cricketing structure.
It comes after Sports Minister Faizser Mushthapa reached out to five former cricketers to join in an advisory capacity after the country's recent defeat in the West Indies.
Aravinda de Silva, Roshan Mahanama, Mahela Jayawardene and Kumar Sangakkara were invited to come on board as consultants and Muttiah Muralitharan to help Sri Lanka Cricket's (SLC) spin bowling department. All but de Silva, however, have flatly rejected the proposal saying they didn't trust the system.
This is a huge slap in the faces of the Sports Ministry and SLC which have failed to resolve some burning issues in administration and cricket affairs for many years. In the past, Jayawardene, Sangakkara and Mahanama have particularly highlighted the importance of changing the SLC constitution to stop election manipulation and of restructuring the domestic cricket system to help players transition smoothly into international cricket.
SLC confirmed the appointments were meant to be short-term. The requests were made at the behest of cricket selectors and team management following Sri Lanka's 226-run defeat against West Indies in the opening Test and followed Thursday's Appeal Court decision to vacate an interim injunction holding up cricket elections.
SLC, now under Government control, will schedule a fresh date for the elections of office bearers once a roadmap prepared by Attorney General's (AG) Department is cleared by relevant parties. On the Court's instruction, the AG's department undertook to present such a plan at the next hearing on July 4, paving the way for SLC to hold polls according to procedures outlined in the Sports Law and regulations made there-under. This includes the appointment of an Election Committee, calling for fresh nominations, submission of objections, hearing and appeal process to the Minister of Sports.
Shortly after the Minister's invitation was conveyed, Jayawardene rejected the offer saying: "If anyone wants to buy time pleases don't use us."
He tweeted: "With all due respect to the selectors and Sports Minister, I have spent one year in the Cricket Committee and six months in a special advisory committee and no recommendations were implemented. I don't have any trust in the system."
Spin great Muralitharan shared the same sentiments. He said he will only contribute within a professional environment that he could trust. "I am of the view that it is an insincere, cunning move, more to use us when the cricket administration is in such a deplorable state," he said in a statement. "I stand by the sentiments that Mahela has expressed, not being able to trust the system as per with his own experience of attempting to resolve pressing issues which was never implemented."
"It is sad that national cricketers are not consulted until it hits the rock bottom!" he continued. "I would not hesitate to give of my time if I do realise the genuineness and credibility of the administration despite my own professional coaching engagements world wide."
Mahanama, the former ICC match referee, said there are a number of key issues that need urgent attention before forming a committee. "It is my strong belief that we need to properly address and resolve some of the burning issues that the SLC is currently faced with prior to the formation of this committee," he reiterated. "Absolute honesty, transparency and strict adherence to accepted norms and practices in all dealings connected with SLC are of paramount importance. Further, in the interest of the game that I so passionately love, a new Refreshing Plan of Action to resurrect Sri Lanka Cricket should receive the highest priority. I have a list of points that I have noted, some of which was discuss with you during our brief meeting few days ago".
Mahanama is among several other cricketers the Government has repeatedly consulted to get expertise on a way forward but nothing has so far been implemented.
"I must emphasize in conclusion that my stance on this matter must never be misconstrued as lack of concern on my part to assist Sri Lanka Cricket," he said. "I would do my very best to assist Sri Lanka Cricket at any time but I detest political interference, dishonesty and lack of transparency at any level and until someone makes a positive effort to eliminate them, I consider it prudent to stick to my principles and play the selective role I have chosen."
In a letter addressed to the Minister of sports Sangakkara has highlighted the need to change the SLC constitution and Sports law to find a long lasting solution.
"There are many cricketers and administrators with genuine intentions that will not come forward with their time, efforts and ideas as time and time again they feel they have been taken advantage of and used as pawns to buy time for political maneuvering," Sangakkara has said.
Sangakkara has found his previous stint as an adviser was "an abject waste of time as none of our recommendations were implemented or heeded".
"If you, Sir, are able to establish genuine bona fides and harness the support and commitment of H.E. The President of Sri Lanka, the Hon. Prime Minister and all other relevant public officials to make the required revisions, changes and amendments to the constitution of SLC and to the Sports Law. I am sure that you will receive the full co-operation of myself, the large cricketing fraternity, and the public".