---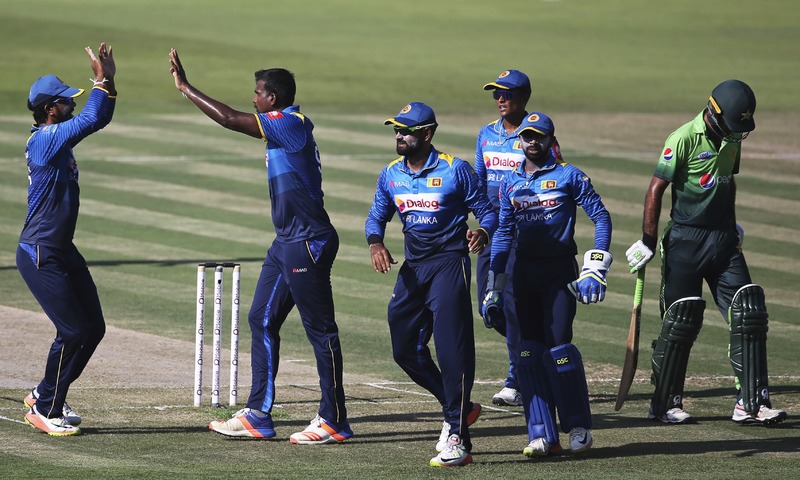 Babar Azam scored a successive hundred while Shadab Khan gave his career best bowling and batting performance to help Pakistan thump Sri Lanka by 32 runs in the second day-night international in Abu Dhabi on Monday.
One-drop batsman Babar knocked a fighting 133-ball 103 while Shadab scored a career-best 52 not out to lift Pakistan from a struggling 79-5 before Shadab the bowler returned with his best figures of 3-47 to dismiss Sri Lanka for 187 all out in 48 overs.
The 23-year-old Babar and Shadab, who turned 19 earlier this month, were engaged in a match-turning 109-run seventh wicket stand which helped Pakistan reach 291-9 at Shaikh Zayed Stadium.
The victory gives Pakistan a 2-0 lead in the five-match series while this becomes Sri Lanka's ninth defeat in a row.
Skipper Upul Tharanga became the first Sri Lankan and 11th batsmen in the one-day history to carry his bat through a complete innings with a fighting 144-ball 112 not out with 14 boundaries — his 15th ODI century.
It was bowlers who helped Pakistan defend a low total despite Tharanga and Jeffrey Vandarsay (22) put up a fighting 76-run eighth wicket stand, but it wasn't enough.
Dropped twice on 13 and then on 20, Tharana stood alone as Sri Lanka needed 51 off the last five overs but the last two batsmen were run out and he was left stranded.
Once paceman Junaid Khan removed Niroshan Dickwella for three in the third over, spinners Shadab, Shoaib Malik (1-17) and Mohammad Hafeez (1-24) rocked the Sri Lankan batting with regular wickets.
Earlier, Azam followed up his 103 which anchored Pakistan's 83-run win in the first game in Dubai on Friday, once again anchoring the innings.
Pakistan, who won the toss and batted, found the going tough as they lost half the side at the end of 20 overs for just 79, but Azam and Shadab led the fightback.
Azam brought up his seventh one-day hundred off 130 balls — his fourth this year — with a sharp double in the 49th over.
Shadab, who scored 14 not out in his only previous innings, played a support role during which he hit just one boundary off 68 balls.
Sri Lankan new-ball bowlers Lahiru Gamage (4-57) and Suranga Lakmal (1-42) made early inroads with three wickets inside first power-play of ten overs.
Gamage had Fakhar Zaman dismissed for 11 and Mohammad Hafeez for eight while Lakmal dismissed out-of-form Ahmad Shehzad for eight.
Medium pacer Thisara Perera (2-34) then struck twice, removing Shoaib Malik (11) and Sarfraz Ahmad (five) to leave Pakistan in a spot of bother.
Azam added 22 for the sixth wicket with Imad Wasim (ten) before his stand with Shadab gave Pakistan's total some respectability.
The remaining matches will be played in Abu Dhabi (October 18) and Sharjah (October 20 and 23). The two teams will also play three Twenty20 internationals, the first two in Abu Dhabi (October 26 and 27) and the last in Lahore (October 29).
Pakistan Innings
Fakhar Zaman c K. Mendis b Gamage 11
Ahmed Shehzad c Siriwardana b Lakmal 8
Babar Azam c K. Mendis b Gamage 101
Mohammad Hafeez c Dickwella b Gamage 8
Shoaib Malik c Dickwella b T. Perera 11
Sarfraz Ahmed b T. Perera 5
Imad Wasim lbw b Vandersay 10
Shadab Khan not out 52
Hasan Ali run out (Dananjaya) 7
Rumman Raees c Dananjaya b Gamage 0
Junaid Khan not out 0
Extras (lb-3 w-3) 6
Total (for 9 wickets, 50 overs) 219
Fall of wickets: 1-17 F. Zaman,2-27 A. Shehzad,3-40 M. Hafeez,4-71 S. Malik,5-79 S. Ahmed,6-101 I. Wasim,7-210 B. Azam,8-218 H. Ali,9-218 R. Raees
Bowling
Suranga Lakmal 10 - 0 - 42 - 1(w-2)
Lahiru Gamage 10 - 0 - 57 - 4(w-1)
Jeffrey Vandersay 9 - 0 - 44 - 1
Thisara Perera 10 - 0 - 34 - 2
Akila Dananjaya 9 - 0 - 30 - 0
Milinda Siriwardana 2 - 0 - 9 - 0
Sri Lanka Innings
Niroshan Dickwella lbw b J. Khan 3
Upul Tharanga not out 112
Kusal Mendis c Shehzad b H. Ali 10
Lahiru Thirimanne lbw b Malik 12
Dinesh Chandimal b S. Khan 2
Milinda Siriwardana c B. Azam b S. Khan 3
Thisara Perera c B. Azam b Hafeez 7
Akila Dananjaya b S. Khan 1
Jeffrey Vandersay c Shehzad b Raees 22
Suranga Lakmal run out (Shehzad, S. Ahmed) 1
Lahiru Gamage run out (, Raees) 3
Extras (lb-6 w-5) 11
Total (all out, 48 overs) 187
Fall of wickets: 1-10 N. Dickwella,2-30 K. Mendis,3-70 L. Thirimanne,4-79 D. Chandimal,5-83 M. Siriwardana,6-92 T. Perera,7-93 A. Dananjaya,8-169 J. Vandersay,9-172 S. Lakmal,10-187 L. Gamage
Bowling
Junaid Khan 6 - 0 - 21 - 1
Rumman Raees 8 - 1 - 37 - 1
Hasan Ali 10 - 2 - 32 - 1(w-2)
Imad Wasim 1 - 0 - 3 - 0
Mohammad Hafeez 10 - 0 - 24 - 1(w-2)
Shoaib Malik 4 - 0 - 17 - 1
Shadab Khan 9 - 1 - 47 - 3(w-1)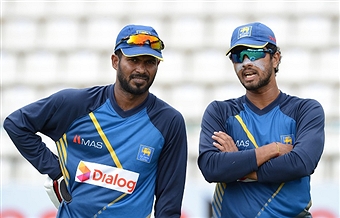 Sri Lanka skipper Upul Tharanga ahead of their second ODI against Pakistan in the capital accepted that batting collapses was a major worry for this side and are one batsman short for the ODI series.
"This series when it started we spoke about batting because batting has let us down over the last few series. We tried to tell the players what is their role. All the players are aware of their roles. I hope from tomorrow onwards we will come up with good batting efforts," said Tharanga, who went on to add that they had a feeling that they will need one more batsman in the side.
"Prior to the series what we wanted to do was to stick to six batters. We retained four seamers and we wanted (Suranga) Lakmal and (Nuwan) Pradeep. We knew that they will struggle to play all five games as both played Test matches as well. That is the reason that we retained four fast bowlers in the squad and ended up having only five batsmen," revealed Tharanga adding that it has been a struggle for them to post good total since 2016.
"We have not been consistent. Lot of things changed. Players were changed and we had injuries. But still I don't think we played to our potential. We were not consistent. We play one game well and then we fail to live up expectations. We beat India in England in June but since then we have struggled due to lack of consistency," said Tharanga, who took over the captaincy in July this year.
Pakistan skipper Sarfraz Ahmad ahead of the match was of the view that his role in the current ODI setup would serve perfectly if he comes lower down the order.
The skipper was of the view that the inclusion on Mohammad Hafeez and Shoaib Malek has added tremendous depth to the middle order.
"Last year we had a different combination because Hafeez was not there. Here Hafeez played well and Shoaib Malek is also there so team comes first and I want to keep that same combination going," said Ahmad, who was pleased with the way his boys performed in the first ODI and was hoping that they carry the same form into the second ODI.
"Thanks God we did well in the first ODI, we played well and the team gave an overall performance, so the expectations are high for an important second game. We have done good preparation so it's important match. We will do our best and take it one by one and win the next," said Ahmad, who felt that one grey areas where the team needs to improve is taking more singles in the first 10 overs.
Ahmad went on to add that the focus of the team from now on was to build the team for the 2019 World Cup in England.
"It's important to build a strong side for the World Cup and we are giving consistent chances to youngsters and that will be the key. It's close to one year now so we have to keep building towards that with small things and it will be the key to give consistent opportunities."
Pakistan: Ahmad Shehzad, Fakhar Zaman, Mohammad Hafeez, Babar Azam, Shoaib Malek, Sarfraz Ahmad (c), Imad Wasim, Shadab Khan, Fahim Ashraf , Hasan Ali, Rumman Raees, Junaid Khan, Haris Sohail, Imam-ul-Haq, Usman Khan.

Sri Lanka: Upul Tharanga(c), Dinesh Chandimal, Niroshan Dickwella, Lahiru Thirimanne, Kusal Mendis, Milinda Siriwardana, Chamara Kapugedera, Thisara Perera, Seekkuge Prasanna, Suranga Lakmal, Dushmantha Chameera, Vishwa Fernando, Akila Dananjaya, Jeffrey Vandersay, Lahiru Gamage.