---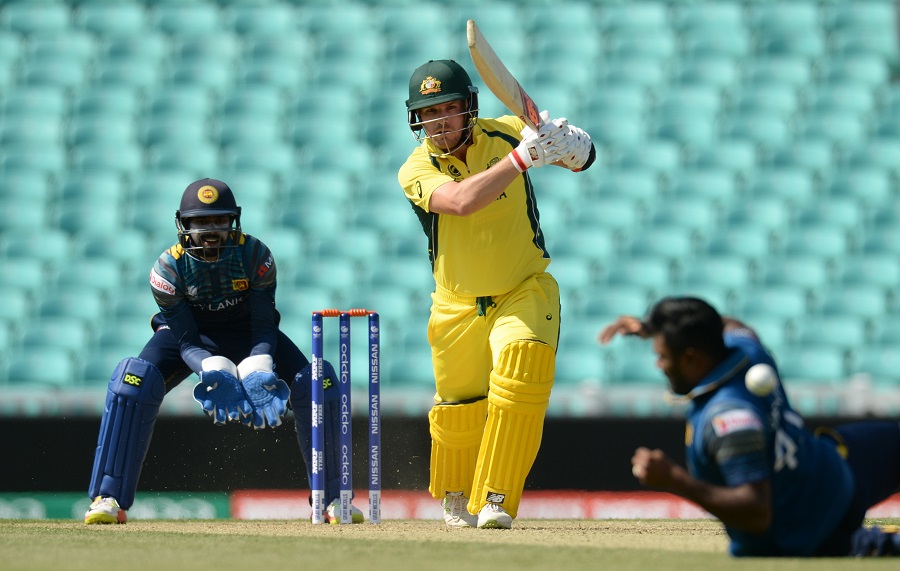 Australia pulled off a thrilling two-wicket win against Sri Lanka in the ICC Champions Trophy 2017 warm-up game played at the Kennington Oval, London today.
Chasing a target of 319, Australia got there with two balls to spare with Aaron Finch top scoring with 137 off 109 balls. His innings included 11 boundaries and 6 sixes. While Finch's century put Australia in a good position in their chase, it was Travis Head's unbeaten half-ton that ensured Australia reached the target.
Nuwan Pradeep picked up three wickets in nine overs but also conceded 57 runs, with Lakshan Sandakan taking two wickets for 69 runs in his 10 overs.
A 106-ball 95 from Angelo Mathews and 70 off 56 by Asela Gunaratne helped Sri Lanka to 318 in their 50 overs for the loss of seven wickets.
Niroshan Dickwella had earlier given Sri Lanka a good start with 41 off 30 balls, including eight boundaries, as they reached 60 for the loss of one in the tenth over of the innings, before he was the first of Moises Henriques' three wickets.
Sri Lanka were then reduced to 92 for four before Mathews helped resurrect the innings with two fifty-run stands -- for the fifth wicket with Chamara Kapugedera and sixth wicket with Gunaratne -- before Seekkuge Prasanna scored some quick runs (31 off 19) taking Sri Lanka past 300.
Scorecard
Sri Lanka
N Dickwella† c Cummins b Henriques 41
WU Tharanga c Henriques b Hazlewood 13
KG Mendis c Warner b Henriques 5
LD Chandimal b Pattinson 17
AD Mathews* c Zampa b Henriques 95
CK Kapugedera c & b Head 30
DAS Gunaratne not out 70
S Prasanna c Pattinson b Cummins 31
NLTC Perera not out 1
Extras (lb 3, w 12) 15
Total (7 wickets; 50 overs) 318
Did not bat: KMDN Kulasekara, PADLR Sandakan, MDKJ Perera, RAS Lakmal, SL Malinga, N Pradeep
Fall of wickets 1-49 (Tharanga, 6.4 ov), 2-60 (Dickwella, 9.1 ov), 3-71 (Mendis, 11.3 ov), 4-92 (Chandimal, 16.4 ov), 5-152 (Kapugedera, 27.6 ov), 6-243 (Mathews, 43.2 ov), 7-313 (Prasanna, 49.3 ov)
Bowling: Hazelwood 10-0-69-1, Pattinson 10-0-80-1, Cummins 10-0-47-1, Henriques 8-0-46-3, Zampa 9-0-60-0, Head 3-0-13-1
Australia
D Warner c Dickwella b Pradeep 19
A Finch b Pradeep 137
A Lynn c Mendis b Sandakan 19
M Henriques run out (Pradeep) 10
Travis Head not out 85
Gleen Maxwell lbw b Pradeep 0
Matthew Wade b Malinga 13
M Stonis c Chandimal b Sandakan 15
J Pattinson b Gunaratne 9
Pat Cummins not out 4
Extras (lb2, w3, nb 3) 8
Total (for 8 in 49.4 overs) 319
To bat: A Zampa, JR Hazlewood, JW Hastings, SPD Smith, MA Starc
Fall of wickets: 1-64 (Warner, 11.2 ov), 2-105 (Lynn, 19.1 ov), 3-143 (Henriques, 23.3 ov), 4-218 (Finch, 35.1 ov), 5-218 (Maxwell, 35.2 ov), 6-242 (Wade, 39.3 ov), 7-274 (Stoinis, 44.5 ov), 8-313 (Pattinson, 48.5 ov)
Bowling: Malinga 8-0-32-1, Kulasekara 5.4-0-47-0, N Pradeep 9-1-57-3, Prasanna 5-0-35-0, Sandakan 10-0-69-2, Mathews 2-0-18-0, Perera 5-0-23-0, Gunaratne 5-0-36-1