---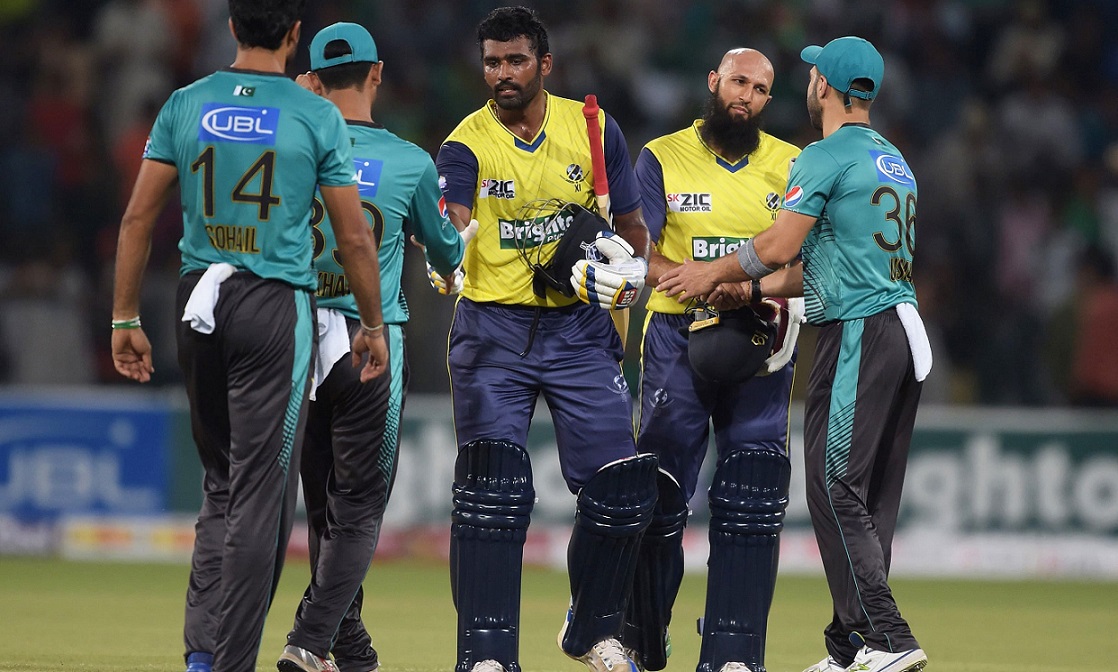 Thisara Perera smashed the winning six for a resurgent World XI side as they conquered the 175-run target with seven wickets to spare in the nail-biting second match of the Twenty20 International (T20I) Independence Cup series at Lahore's Gaddafi Stadium on Wednesday.
Opener Hashim Amla set the stage for a World XI win with a 72-run-strong performance studded by five 4s and two 6s, remaining not out at the end of the innings.
However, it was Perera's (47) aggressive five 6s that led the side to victory with one ball left in the game. He was awarded Player of the Match.
The star-studded international side fought tooth-and-nail to keep the series alive following their defeat to the green shirts last night. Both will be facing off for the Independence Cup in the final match of the series on Sept 15 at Gaddafi Stadium.
Skipper Faf du Plessis was the last man out, off Mohammad Nawaz's bowling, right after he hit a six. He scored 20 runs off 14 balls with two 6s under his belt. Tamim Iqbal was caught by Shoaib Malik off Sohail Khan, leaving the pitch with 23 runs, whereas wicket-keeper Tim Paine was bowled by Imad Wasim for 10.
The World XI restricted Pakistan to a target of 174 runs for the loss of six wickets in the first innings, which was bolstered by two partnerships featuring Ahmed Shehzad paired up with Fakhar Zaman and then Babar Azam.
Babar, who was awarded man of the match in the opening game, scored 45 runs in the first innings. He and Shehzad held it steady in the middle, racking up 59 runs between the two of them before Shehzad fell for 43.
Babar was caught out at 45 off Samuel Badree as his stand with Malik looked to threaten the World XI.
Shoaib Malik became Pakistan's top T20I run-scorer with 1,702 runs in the format.
The green shirts lost four wickets in the last five overs of the innings as Shoaib, Babar, Imad Wasim, and Sarfraz Ahmed were all caught out.
Imad gave Imran Tahir a simple catch while trying to get a boundary off Thisara Perera. Skipper Sarfraz got out on his first ball, also caught by Tahir.
Sarfraz won the toss today and opted to bat first. Former Zimbabwe cricketer Pommie Mbangwa predicted that the pitch, which looked less dry today, was one "most teams won't mind batting second on".
Scorecard
Pakistan
Fakhar Zaman lbw b Badree 21
Ahmed Shehzad c Miller b Tahir 43
Babar Azam c Miller b Badree 45
Shoaib Malik c Collingwood b Cutting 39
Imad Wasim c Tahir b Perera 15
Sarfraz Ahmed c Tahir b Perera 0
Sohail Khan not out 1
Extras: (lb1, nb1, w8) 10
Total: (for six wickets; 20 overs) 174
Did not bat: Mohammad Nawaz, Shadab Khan, Usman Shinwari, Rumman Raees
Fall of wickets: 1-41 (Zaman), 2-100 (Shehzad), 3-135 (Azam), 4-156 (Wasim), 5-157 (Ahmed), 6-174 (Malik)
Bowling: Morkel 4-0-20-0 (3w), Cutting 4-0-52-1 (2w), Badree 4-0-31-2 (1w), Collingwood 2-0-18-0 (1w), Perera 3-0-23-2 (1nb), Tahir 3-0-29-1 (1w)
World XI
Tamim Iqbal c Malik b Khan 23
Hashim Amla not out 72
T. Paine b Wasim 10
Faf du Plessis c Shadab b Nawaz 20
T. Perera not out 47 Extras: (lb1, w2) 3
Total: (for three wickets; 19.5 overs) 175
Fall of wickets: 1-47 (Iqbal), 2-71 (Paine), 3-106 (du Plessis)
Did not bat: D. Miller, P. Collingwood, B. Cutting, S. Badree, M. Morkel, Imran Tahir
Bowling: Wasim 4-0-27-1, Khan 4-0-44-1 (1w), Shinwari 1-0-10-0, Raees 3.5-0- 36-0 (1w), Nawaz 3-0-25-1, Shadab 4-0-32-0