---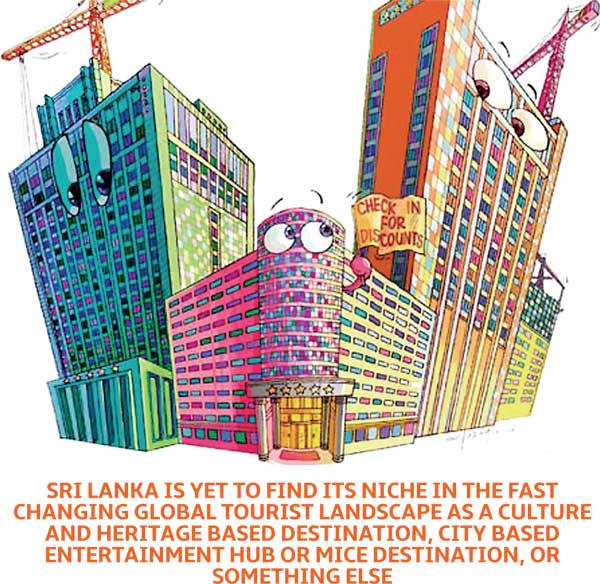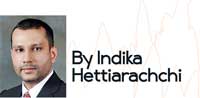 There have been recent news reports suggesting that Sri Lanka may face an over-capacity in the tourism industry. And there is growing skepticism among some investors about the leisure sector's long term attractiveness.

These concerns have emerged when industry experts seem to agree that Sri Lanka will need around 50,000 hotel rooms to cater to its medium term target of 2.5 million tourists per year. Furthermore tourism industry data suggests that tourism industry is expanding steadily.

According to official data, tourist arrivals and tourist guest nights (at graded hotels) grew by a 28 percent CAGR (cumulative average growth rate) during last 5 year. Graded room capacity grew by a 5 percent CAGR during the same period. Average hotel occupancy during the five year period (from 2010 and 2014) was 72.9 percent. Interestingly, 74.3 percent overall occupancy recorded in 2014, was achieved with nearly 2,000 (graded) rooms being added during 2014 – perhaps the largest ever annual increase of hotel room capacity in a single year.

Highlighted below are few general trends observed by Jupiter Capital Partners on the tourism sector which suggest that Sri Lanka's tourism sector is growing steadily and also experiencing positive changes. These trends reinforce the positive investment case for the tourism related industries in Sri Lanka.





Importance of tourism to the economy


Tourism industry is probably the only industry which continued to expand steadily during post-2009 period. Official (foreign) receipts from tourism in 2014 amounted to 3.4 percent of country's GDP.

Travel and Tourism sector contributed to an estimated 9.4 percent of GDP in 2013 which suggests that the tourism industry has already emerged as an important sector in the economy.

Around 3.4 percent of country's labour force is directly employed in travel and tourism related jobs. Moreover estimated total employment including jobs linked to the travel and tourism industry is estimated to be around 8.3 percent of total employment in the country.

Sri Lanka is yet to find its niche in the fast changing global tourist landscape as a culture and heritage based destination, city based entertainment hub or MICE (Meeting, Incentive, Conference and Exhibitions) destination, or something else. However, Sri Lanka has significant growth potential when we compare Sri Lanka's current status with other comparable tourist destinations in Asia. For example, tourism and travel accounted 20.2 percent of GDP in Thailand in 2013, and in Malaysia it was 16.1. . According to World Travel and Tourism Council, Sri Lanka's travel and tourism sector's long term growth ranks at 16th position among 184 countries.





Impact of growing non-graded room supply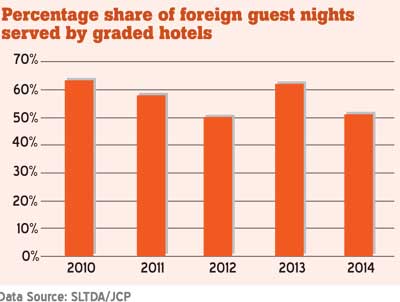 One of the growing concerns among some investors is the fast expansion of smaller accommodation providers such as boutique hotels and condominiums (officially termed as "supplementary establishments").

Growth of internet booking services have made it easier for small scale accommodation providers to sell rooms to a larger market. Popular hotel reservation engine – bookings.com, lists over 3,500 properties offering accommodation in Sri Lanka compared to around 300 graded establishments in the country.

However available data does not support an argument that supplementary establishments have been able to make a significant impact on the overall accommodation market, and that they have been able to shrink the market share enjoyed by graded hotel establishments.

The graph shows that graded establishments still account for a major share of the foreign tourist guest nights and there is no stable declining trend in their market share.

Percentage share of foreign guest nights served by graded hotels





Changing seasonal demand patterns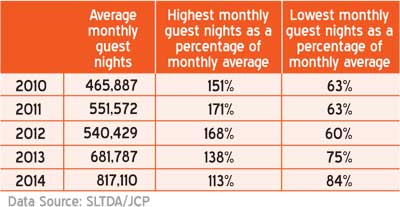 Another interesting trend we can observe is the gradual decline in seasonal demand fluctuations. Usually Sri Lankan hotels enjoy a peak season during December and low occupancy during months from April to June. As shown in the chart, demand gap between peak December and low occupancy months has declined.

This trend also suggests that Sri Lanka is probably undergoing a transition in demand patterns where hotels are unlikely to experience sharp "high" and "low" occupancy seasons in the future. This trend will help hotels to achieve higher overall occupancy and likely to bring more stability to the sector.





Higher occupancy and hotels getting "fuller"


Another noteworthy development which has emerged during last five years is that (estimated) average persons per occupied hotel room has increased sharply to 2 from less than 1.5 in 2009.

This trend probably has varying implications on many aspects of the industry, and also confirms possible structural change that has taken place in visitor profiles and patters.





Increasing room supply?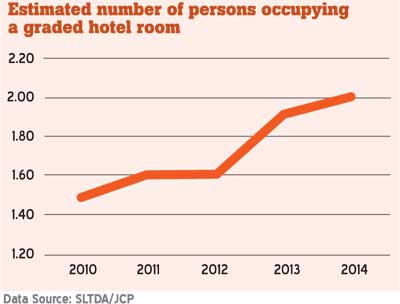 A report published by Jones Lang Lasalle in August 2014, estimates 5,910 hotel rooms are expected to be added during 2014 – 2019 period.
Another investigative article published in Sunday Times in June 2014, estimates 6,754 hotels rooms are expected to be added through on-going or planned hotel projects (A large part of 2,000 rooms added in 2014 were also included in these estimates). Given the time lag of planning and constructing a hotel, if we guesstimate that around 6,000 rooms will be added during next five years, Sri Lanka may reach around 24,000 hotel rooms in five years. It is unlikely that supplementary establishments which had 7,373 rooms in 2013 could increase their capacity to bridge the gap when Sri Lanka will reach 2.5 million tourists per year.

On the other hand if the tourist arrivals grow at a rate more than 10 percent, Sri Lanka could reach 2.5 million tourists before five years. It is likely that tourist growth could reach at least 10 percent in 2015. For the first five months, tourist arrivals grew by 14.5 percent (YoY) compared to 26.5 percent recorded for the same period in 2014.

Another point we must not forget in analyzing supply and demand for hotel capacity is that, supply also creates demand. Good examples are MICE and gaming market. When Sri Lanka hosted around 26,000 MICE visitors in 2013, Hong Kong attracted over 1.8 million MICE visitors in 2014 and Singapore's annual business visitors were estimated to be more than 3.5 million in 2014.





Long term prospects


Other frequently highlighted concerns raised by some critics include increasing cost of entering leisure sector, and other constraints such as availability of human resources. Some experts also cast doubt that Sri Lanka may not be able to maintain price competitiveness in the light of other destinations.

While most of these factors remain important, these will eventually adjust to long term demand and supply trends. Taking into consideration many salient trends that have taken place during last five years and also taking into account overall demand trends, it is not difficult to understand whether Sri Lanka is likely to face an oversupply or an undersupply of hotel rooms at the time it reaches 2.5 million visitors, which may happen in less than five years.

(Indika Hettiarachchi is the Founder/ Managing Director of Jupiter Capital Partners, a South Asia focused Private Equity Investment advisory firm. He could be contacted on – indika.h@jupitercapitalpartners.com)