---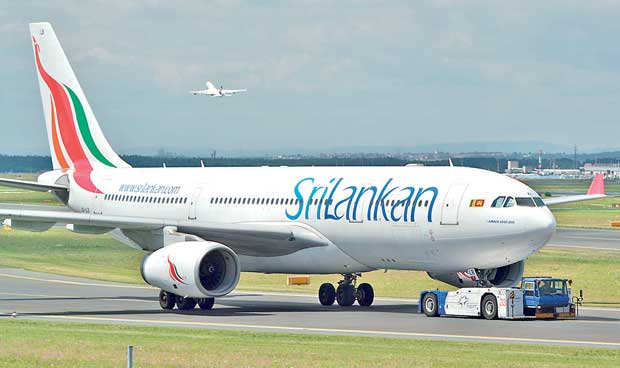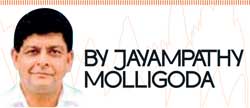 Prime Minister Ranil Wickremesinghe said at a press conference on April 26 that the Cabinet of Ministers had decided to seek an international partner to avoid having to close down SriLankan Airlines. The government has decided to take over debt and strengthen its balance sheet. The position of the government is that without reducing its debt, no partner will be willing to take it over. This reminds me the famous trade union slogan: "privatise profits, nationalise losses". While they just celebrated May Day, the government has already announced implementing its ill-conceived fiscal and monetary policies, including value-added tax (VAT) on health and education, with effective from mid-May 2016.
According to the Central Bank annual report 2015 just released, the government budget deficit has increased to 7.4 percent in 2015 from 5.7 percent in 2014. The total debt as a percentage of gross domestic product (GDP) was only 70.2 percent as at December 2014 and now it has gone up to 76 percent by end-2015. It is interesting to note that SriLankan Airlines' outstanding debt as at end-December 2015 has increased substantially to Rs.33 billion from Rs.9 billion as at end-December 2014, thus the major borrowings took place only during this government's tenure. However, the figures appearing in the recent Cabinet paper are substantially higher and somewhat confusing. As reported last week in the media, SriLankan was among the first 10 most valuable brands in 2016.
One of the criticisms against the previous government was the heavy foreign borrowings, especially from China. Contrary to popular belief, the Central Bank annual report revealed that the total external debt as a percentage of GDP was at 57.4 percent as at December 2014 against 54.9 percent of the GDP when former president took over the government in 2005. It is true that debt servicing is on the high side totalling US $ 3.4 billion (external debt service has increased to US $ 4. 7 billion in 2015) but end of the day, it was a current account surplus as at December 2014. The balance of payments (BoP) surplus during the previous years 2013 and 2014 have now turned in to a 'BoP deficit' in 2015 showing a clear economic downturn.
Despite the oil price reduction in the world market, the government could not reduce the overall import bill and save much-needed foreign exchange. It is a pity that the benefit of saving of US $ 1,900 million from oil price reduction in the world market has not realized due to imprudent monetary and fiscal policies. According to the Central Bank report 2015, the foreign debt service ratio has also increased to 19.5 percent from 14.5 percent in 2014. The BoP deficit of US $ 1,489 will further rise, as the Members of Parliament (MPs) will go after vehicle imports by using the duty-free permits. How much of the International Monetary Fund (IMF) loan will come this year?

Well-being economics as an alternative
Isn't there an alternate solution rather than selling public assets and imposing heavy taxes? The writer in his recent article published in Mirror Business highlighted the report of the United Nations Environment Programme (UNEP) released recently emphasizing, quote: "The environmental stresses are increasingly affecting the financial bottom line of companies all over the world. It makes sense that as we switch to a more resource efficient and green economy."
Unfortunately, the green economy has become just a buzz word in Sri Lanka and some are using green economy just to cover up the ill effects of development. It goes without saying that there are tremendous opportunities that businesses can capitalize on by migrating into a more resource-efficient green economy.
In order to make the economy work for people and planet, we need new well-being economic measures that take into account environmental and social issues and supplement mere 'GDP computations' to become a central measure. It is important to be aware that the idea of merely 'greening' consumption will not achieve the necessary absolute reductions in use of resources and eliminate waste. The solution to overconsumption is not simply to buy more 'green' stuff, however more efficient or 'green' it might be. The true story is that.
Work is under way in governments around the world to develop new indicators. These new indicators will change the way we look at life and our planet and are bound to be revolutionary in the way they impact on our economy. According to Prof. Dasgupta Parthe of the University of Cambridge, some of the things which make life most valuable cannot be expressed in monetary terms. What price clean drinking water, fresh air, friendship, health, tranquillity or a beautiful view? They also need to take into account the distribution of income, not just its growth. After all, £100 extra for a poor man is worth far more than £100 for a millionaire and yet currently 'national accounts' treat £100 income identically, no matter who receives it.
At present, there are at least two more indicators measuring economic development and well-being, in addition to GDP per capita (adjusted for PPP). The Human Development Index (HDI) measures a nation's achievement in three dimensions of human development: long and healthy life (indicated by life expectancy at birth), knowledge (indicated by literacy and school enrolment rates) and decent standard of living (indicated by GDP per capita). On the other hand, the second indicator, the Happy Planet Index (HPI) measures the ecological efficiency with which human well-being is delivered.
It is multiplying indices of life satisfaction and life expectancy and dividing that product by ecological footprint. The score would be relatively higher for a country when the people continuously achieve high levels of satisfaction and health without adversely impacting environmental resources. If HPI instead of GDP were used to determine membership of the 'G8 countries', then none of the current G8 would be members any more. (Source: New Economics Foundation)

Real change needed; not selling family silver
The proponents of well-being concept claim that a 'green consumption' approach will not work. Unfortunately, the 'green movement' preached by non-governmental organisations (NGOs) has largely fallen for the green consumption myth. They make the same mistake as the rest of the current system in treating people as consumers rather than citizens in sustainable communities, playing to their intrinsic selfish sides. Minor successes such as a greater use of hybrid cars and LED bulbs may still be a sign of our weakness for over-consumption and materialism. The solution to overconsumption is not simply to buy more 'green' stuff, however more efficient or 'green' it might be. This thinking is just not radical enough to effect the real change that is needed in society today. This concept is fast gaining ground world over.
Harold Macmillan, you may remember, was once claimed by David Cameron as his role model, had a photo of Macmillan, not Thatcher, on his desk. The selling off the family silver: that was the accusation against Margaret Thatcher, when Harold Macmillan condemned her at that time. "The sale of assets is common with individuals and the state when they run into financial difficulties. First the Georgian silver goes, and then all the nice furniture that used to be in the saloon. Then the Canalettos go." He ventured "to question the using of these huge sums as if they were income.
(Jayampathy Molligoda is a Fellow member of the Institute of Chartered Accountants of Sri Lanka and holds a Master of Business Administration (MBA) from the University of Sri Jayewardenepura. He is currently Director/CEO of a leading regional plantation company in Sri Lanka and can be contacted through [email protected])