---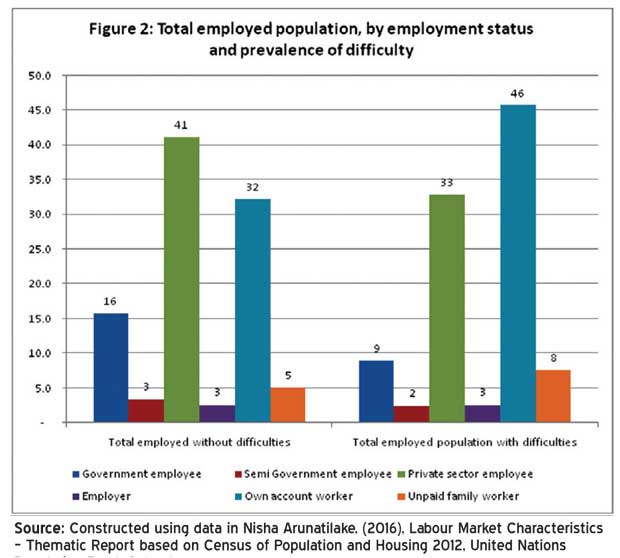 Chitra is a language teacher at the high school near her home. She is well loved by her students. But, her class room is different – it is brightly lit, all the time. Chitra is only able to see in bright light. Despite this seeing difficulty (see definition of a person with a difficulty in Box) she has studied well and obtained a degree.
The principal in the school she is now teaching was able to recognize her talents and was willing to provide a brightly lit class room for her, so she will be able to overcome her difficulty. But all persons with difficulties are not as fortunate.
According to the Census of Population and Housing (2012), 1,617,924 million (or 87 per every 1000persons aged five and above population in the country) have either partial or full difficulties in seeing, hearing, walking, cognition, self-care or communication. Amongst the different types of difficulties, the most prevalent difficulty is in seeing. For every 1000 persons, 54 persons have difficulties in seeing. Other difficulties (in order of prevalence) are: walking (39 per 1000 population), hearing (21 per 1000 population), cognition (18 per 1000 population), self-care (11 per 1000 population) and communication (10 per 1000 population).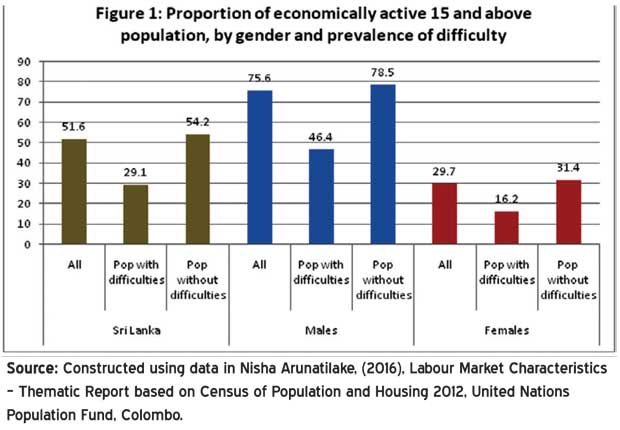 Sri Lanka recognizes that every person has a right to earn a living, this include persons with difficulties.Several policies and legislation to support persons with disabilities have been enacted or adapted in the last 25 years. These include: a) the 'Rehabilitation of the Visually Handicapped Trust Fund, Act No.9 of 1992; b); Protection of the Rights of Persons with Disabilities Act, No.28 of 1996; and, c) the National Policy on Disability for Sri Lanka of 2003.
However, the share of population economically active (i.e., either employed or unemployed) was much less for those with difficulties, compared to those without difficulties. This indicates that the labour market for persons with difficulties is not as favourableas that for persons without difficulties (see Figure 1).It is noteworthy that the unemployment rate (the unemployed as a percent of those employed or available for work) was lower for persons with difficulties, compared to persons without difficulties. This is not unusual; when it is difficult to find work, people stop looking for work or give up hoping to work . Even the persons with difficulties were more likely to be in vulnerable employment (i.e., either unpaid family workers or own account workers, who usually do not benefit from social security provisions enjoyed by persons working in the formal sector). As shown in Figure 2, close to half (46 percent) of persons with difficulties were own account workers and a larger proportion of them were unpaid family workers. Access to government employment was also less for persons with difficulties.
Policy recommendations
Given that the proportion of persons aged five and above population experiencing a difficulty is notable, it is prudent to strengthen policies to improve labour market participation of persons with difficulties.
Sri Lanka considers employment is a right for all. The current initiatives by the government to train and assist persons with difficulties to obtain employment can be improved further. Possible policies for improving labour force participation of those with difficulties could include, affirmative action to facilitate employment opportunities for persons with difficulties, assistance to firms to modify their work spaces to accommodate persons with difficulties, formal recognition of firms employing persons with difficulties, tax concessions for employing persons with difficulties.
Inclusion of persons with difficulties in employment can start with the public sector. The results show that the public sector can do more to provide employment to persons with difficulties. The share of persons with difficulties employed in the public sector was less than for persons without difficulties.
(Dr. Nisha Arunatilake is a Research Fellow at the Institute of Policy Studies of Sri Lanka)
---
Who is a person with difficulties?

"Any person who, as a result of any deficiency in his physical or mental capabilities, whether congenital or not, is unable by himself to ensure for himself, wholly or partly, the necessities of life" is defined to be a person with difficulties in Sri Lanka."
-Protection of the Rights of Persons with Disabilities Act No. 28 of 1996