---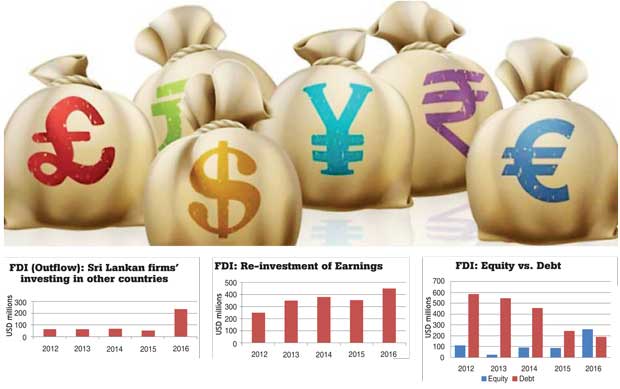 Lack of foreign direct investment (FDI) is highlighted as a major cause of the slow pace of development in the capital-starved Sri Lankan economy. The actual foreign capital flowing into the Sri Lankan economy has been comparatively low compared to the other frontier and emerging countries.
However, when we closely examine the latest Central Bank data, we can observe a possible increase in FDI-backed new venture activities as well as a sharp increase in Sri Lankan firms investing overseas. Highlighted below are these positive developments which are likely to push medium to long-term gross domestic product (GDP) growth prospects for the country.

Sharp increase in equity FDI and slow down in debt capital
The total value of FDI is not a good measure of the level of new investment and new venture activities backed by foreign investors. Equity investment is a better indicator of new venture/project activity and equity investment also reflects long-term capital commitment by foreign investors. The latest data show that the equity FDI increased considerably in 2016.
Equity capital represents 29 percent of the total FDI achieved in 2016. This is a good indication that the foreign investors' risk-taking appetite for Sri Lanka has increased. Higher equity investment suggests increase in new ventures/businesses and also possible change in the nature of businesses and industries backed by foreign investors.
In line with the increase in equity FDIs, debt capital inflows to Sri Lanka have been declining during the last five years. This is a good trend as there will be less capital outflows pressure in the future (in repaying debt) thus exerting less pressure on the country's BOP position. Developments in international capital markets may have also contributed to the slowdown in debt capital flowing into the country.

Increase in expansions by existing businesses
The expansions of the FDI-backed businesses are also a good indication of the future growth potential of an economy. The reinvestment of the earnings of the FDI-backed ventures also indicates the healthy growth of the already operating FDI-backed businesses. Further increase in reinvestments suggests Sri Lanka's attractiveness compared to other investment destinations where foreign owners could have expanded to!
In 2016, the reinvestment of earnings by FDI-backed businesses increased sharply to account for almost 50 percent of total FDI recorded in 2016. Reinvestments however do not represent new funds coming into the country but the funds otherwise could have flown out of the country.

Sharp increase in Sri Lankan companies investing in other countries
Many Sri Lankan businesses are seen expanding into other countries for various reasons such as lack of resource availability in the local market and due to the small size of the domestic market. In 2016, Sri Lankan firms have invested US $ 237 million in other countries – sharply higher compared to the average of US $ 62 million Sri Lankan firms have been investing annually during the previous four years.
Although higher capital outflow may have negatively impacted the country's balance of payments (BOP) situation, Sri Lankan firms investing in other countries is a healthy trend suggesting Sri Lankan businesses are becoming internationally competitive. Moreover, such investments may result in higher future foreign income into the country.
Many Sri Lankan firms have been expanding into other countries in industries such as garments and textiles, IT, construction, renewable energy and hospitality where Sri Lankan firms have gained significant experience. Financial services firms – especially firms in microfinance space have also been expanding rapidly into other countries during last few years.
The unusual increase in the capital outflow in 2016 also suggests that some foreign investors may be using Sri Lanka as an intermediary hub to undertake investments into third countries (following the budget proposal to allow easier foreign investment remittance into Sri Lanka).
As shown above, Sri Lanka's FDI trends point towards a higher growth prospects in coming years. Higher equity inflows and the decline in debt capital inflows will not only help Sri Lanka's deteriorating BOP conditions but also indicate growing foreign investor risk appetite for new ventures in Sri Lanka. The increase in reinvestment of retained earnings proves that foreign investors who are already invested in Sri Lanka prefer to expand operations in Sri Lanka. Finally, a sharp rise in Sri Lankan firms venturing into to other countries may result in an increase in future foreign inflow into the country as profit.
(Indika Hettiarachchi, a venture capital and private equity professional and founder of Jupiter Capital Partners, can be reached at [email protected])