---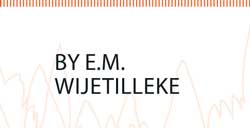 I first met D. Eassuwaren at the National Chamber of Commerce of Sri Lanka in 1993 and since then, up to his demise a few days ago, I had been associating him very closely.

He, in various capacities such as a successful businessman, a president of a leading trade chamber in the country and a social worker, contributed immensely towards the socio-economic development of Sri Lanka in a variety of ways.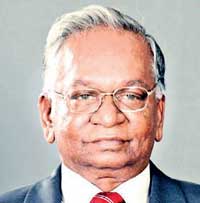 Being Chairman of one of the world-class tea exporting companies, he exposed to the world the quality of Sri Lankan teas.The late Eassuwaren never confined his efforts to earn profits at the expense of employee welfare. He motivated his employees not by way of warning and punishing but by keeping them happy, the wise and decent way of motivating employees.

Eassuwaren, who was very generous and kind hearted, always made it a point to see that anyone who works for him was happy and comfortable. Being a highly respected businessman, he never confined his association to a particular class or society. Eassuwaren rendered a yeomen service to the Sri Lankan business community when he was the president of the National Chamber of Commerce of Sri Lanka. One of the historic events under his presidency was to popularize and publicize the Sri Lankan Ayurvedic medical system locally and internationally through Ayrveda International Exhibitions and Symposia, which was his brainchild. The first-ever Ayureda 2007 International Exhibition And Symposium – 'Nature's Gift for Better Health' was held in Colombo by the National Chamber of Commerce of Sri Lanka together with the then Indigenous Medicine Ministry.

The event was a great success with the participation of many exhibitors and participants from countries such as India, Myanmar, China, Nepal, Pakistan, Japan and many other Western countries that could see the Sri Lankan expertise in indigenous medical sector and exchange their knowledge with their Sri Lankan counterparts.

His efforts to match make the local agricultural producer and Colombo buyer became successful through the agriculture exhibition 'Wellassa Krushi Udawa', held in Buttala in the Moneragala District in 2008 by the National Chamber of Commerce of Sri Lanka in association with the then Agriculture Ministry. This became a platform for the local producer and Colombo buyer to meet each other for mutual benefits. His successful efforts to support the regional small and medium enterprises in his capacity as President of the National Chamber cannot be forgotten. Eassuwaren was soft spoken and not driven by anger. Having believed that anger was an evil to society, he even conducted seminars to the business community on how to control anger. Though a Hindu devotee, he respected every religion. This was well proved by his contribution and commitment in creating the large rock Buddha statue in the Monaragala temple in Rambodagalla, a few miles away from Kurunegala. The late Eassuwaren was a role model for the present businessmen who neglect their employees in the race of profits earning or for that matter for everyone in present day's society.

May he attain the supreme bliss of nibbana!
(E.M. Wijetilleke is Immediate Past Secretary General/CEO of the National Chamber of Commerce of Sri Lanka)