---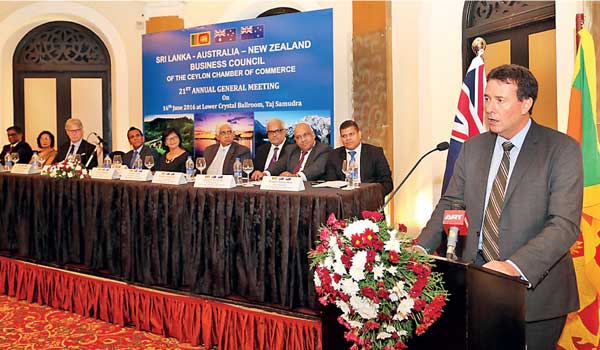 High Commissioner of Australia to Sri Lanka Bryce Hutchesson addressing the gathering at the 21st SLANZBC
By Zahara Zuhair
Asserting that they have big investments in the pipeline for Sri Lanka focused on skills for the tourism industry, High Commissioner of Australia to Sri Lanka Bryce Hutchesson said that they will look at Sri Lanka to provide the networking and the intellectual impetus to drive trade and investment, adding that they would like to see investing in Sri Lanka to be attractive as much as possible.

"Australian firms investing directly in Sri Lanka can help to create new industries and supply chains, with flow-on benefits for both Sri Lankan and Australian companies. There is already investment there, which we need to capitalize on to help drive these changes forward," he said.

The High Commissioner, who assumed duties as the High Commissioner to Sri Lanka in February 2016, said that trade wise both countries have more room
to grow.

"The most striking thing for me about my meetings with Sri Lanka's business leaders is how universally optimistic they are about Sri Lanka's future. Business thrives on sentiment and if my soundings are correct, the sentiments here are pretty positive," he said.
He made these observations in Colombo at the Annual General Meeting of the Sri Lanka-Australia-New Zealand Business Council (SLANZBC) hosted by the Ceylon Chamber of Commerce (CCC).
With regard to tourism, he said that they are working very closely with the Prime Minister's advisers on tourism to help shape a national plan for Sri Lanka's tourism, drawing on the lessons from their own industry. "I see a future where much more Australian travel to Sri Lanka and many more Sri Lankans enjoy our own brand of beaches and other attractions," he said.

Referring to bilateral economic relationship between Australia and Sri Lanka, he said that currently almost a billion dollars in two-way trade in goods and services growing at about 10 percent a year, between the two countries.
According to the Ceylon Chamber of Commerce (CCC), during the year 2015, trade between Sri Lanka and Australia accounted for a sum of US $ 427 million.

Main imports as noted are, edible vegetables, dairy products, edible products of animal origin and cereal while main exports includes apparel and clothing, coffee, tea and spices and rubber.
Talking about how to get to a relationship many times larger than that is already existing, he suggested that both countries could push towards this vision in three ways.
Firstly, to build the relationship by making the most of the trade that already both countries have.

"Our major two-way merchandise trade items are largely agricultural - pulses, paper, and diary, this way, and tea, rubber and textiles in the other way. These are all great industries with real growth potential," he said.

Finding new areas of trade
Secondly, the need to build the future relationship by finding new areas of trade. He said that a more open Sri Lanka would open up new areas of trade in goods and services as he sees a real potential in agribusiness, IT, logistics, consumer goods, infrastructure and more.

The High Commissioner noted that they would love to see an expansion in the two-way trade in food and beverages, including Sri Lankan ginger beer to Australia.
"The current government has talked the talk about bringing tariffs down. We would welcome that. If Sri Lanka is to grow into a regional hub, it needs to be more open to trade. As you all know better than I do, in the age of global value chains, imports and exports are now pretty much inseparable. If you constrain one, you drag them both down," he noted.
He said that with lower tariffs, consumption would go up, so revenue wouldn't suffer as it could grow.

"While we are on the topic of tariffs, many of you would have heard my views on Sri Lankan tariffs on Australian wines. They are prohibitive, and they are denying Sri Lankan consumers and tourists to this country, the best we have to offer," he said.

New levels through investment and innovation
His third point was to grow the trade relationship to entirely new levels through investment and innovation which he sees as big dividends.
Exemplifying his point he said that in the early 1990s when Henry Ford innovated to create an affordable passenger vehicle, people soon forgot about horses, and the impact was felt immediately but in unexpected ways. He said, for example, agriculture productivity grew as fields were freed from producing low-grade hay for horses to grow higher value crops.
"My point is that we are not well placed to anticipate the knock on impact of innovation, but we know that innovation can create great value," he said,
As innovation comes from research he said that an expanded research partnership is the logical next step for education partnership.

"Numerous Australian universities are active in Sri Lanka. I want to help build the research links between our countries that will uncover the innovation of the future and that may in time lead to new industries," he said.
Noting that they would love to see energy forming part of the future trade portfolio between the two countries where they are already taking forward that discussion, he said that he sees a big opportunity for Sri Lanka to reassess its energy future.

On the other note, he said that they will be working with the business community more and more through their official development program. "Sri Lanka is one of the focus countries for our Market Development Facility, that looks to encourage inclusive economic growth by supporting fledging businesses," the High Commissioner said.

Female contribution
However, he said that though Sri Lanka produced the world's first female Prime Minister, women's participation in economy, in labour force is surprisingly low compared to countries like Thailand and Malaysia.
"We are finalising an investment focused programme on lifting women's participation in the economy. If Sri Lanka is to thrive we need to increase women's labour force participation rate from 36 percent to the level of similar middle-income countries such as Thailand at 64 percent and Malaysia at 45 percent,' he said.

He said that Sri Lanka should set countries such as Thailand and Malaysia as the benchmark for development, but not South Asia as Sri Lanka is a step above that.
"These are the countries Sri Lanka should benchmark, not the rest of the South Asia, in terms of comparing the level of education, other social indicators, literacy, infrastructure etc." he said.
He also mentioned that as Australian cricket team would be touring Sri Lanka in early August this year, they will be looking to combine a bit of business and pleasure during the tour, as he requested to be in touch with the High Commission's Austrade office.

He also praised the Sri Lankan business community for demonstrating community spirit in the recent tragic floods and landslides.