---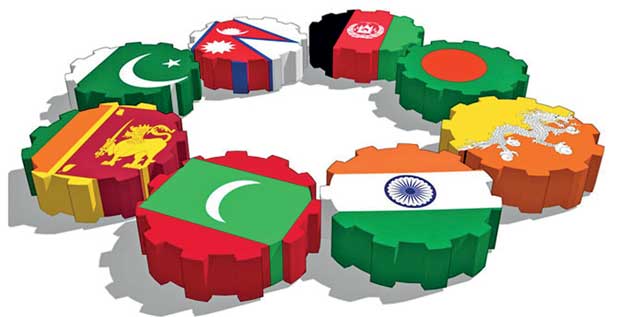 The South Asian Regional Cooperation (SAARC) seems to have reached its nadir. With Brexit having shaken up the European Union in June 2016, it is not surprising that the least economically integrated region of the world is breaking apart. In general, the rise of nationalism the world over seems to have relegated regional cooperation to a lower rank in the list of a country's priorities.

The SAARC meeting, which was supposed to be held in Islamabad on November 15 and 16, 2016, has been postponed indefinitely because India withdrew from it, protesting against Pakistan's hand in the Uri terrorist attack. All others except Nepal, the current head of SAARC withdrew. The chances are that the 19th SAARC meeting may not take place in 2017 in case all members are not present.
This is a very disturbing development that would hinder the progress of regional cooperation in South Asia. But it signifies that regional cooperation in the midst of two acrimonious neighbours cannot flourish anymore. Only if there is sub-regional cooperation among countries of the region can there be some success in achieving the goals of development and poverty reduction.

Begun in 1987, SAARC is only 30 years old. Today it comprises of eight members—Afghanistan, Pakistan, India, Nepal, Bangladesh, the Maldives, Bhutan and Sri Lanka. It is a shame that whatever progress has been achieved so far will be wiped out by the recent and indefinite postponement of the 19th Summit.

Regional cooperation is important for reducing inequality among member countries and promoting people to people contact that can increase tourism and enhance cultural ties. South Asia happens to be one of the most backward regions of the world containing 23.4 percent of the world's population but accounting only for 6.6 percent of the world's gross domestic product (GDP) (in terms of Purchasing Power Parity). It contains 40 percent of the world's poor surviving on less than US $ 1.25 a day.

The achievements of SAARC have not been spectacular though India has reduced custom duties on most product imports from the region. India has been especially generous to Bangladesh and Nepal with whom it has an open border. There have been cooperation deals signed in the fields of agriculture, energy, small and medium enterprises (SMEs), investment, services and human development at the 18th SAARC meeting in Kathmandu. Compared to the monumental problems all the countries face in the region towards eradicating poverty the achievements have been rather meagre.

There are still a lot of barriers to travelling freely between the countries of the region due to lack of connectivity and transportation. Geopolitics has taken over geo-economics in most cases and even when the countries concerned know the clear economic gains, they are reluctant to let down barriers to trade and investment for geopolitical reasons. Pakistan blocked three connectivity agreements proposed in the Kathmandu summit because Pakistan had not completed its "internal process" to endorse them.

Even though there is widespread smuggling going on between Pakistan and India, the total quantum of trade between the two countries is at US $ 2.6 billion, which is meagre as a proportion of India's total trade with the world. Pakistan has a huge trade deficit with India. Even so more trade and investment could have eased the political impasse as it would have increased the incomes and living standards of people in both countries. Yet, there is a tremendous amount of mistrust between the two governments on economic issues. Pakistan is afraid of being swamped by Indian goods, if it allows freer access to Indian goods.

Even though India granted the MFN status in 1995, Pakistan has been reluctant to reciprocate. Though the Pakistan Cabinet approved of it in November 2011, it has continued to delay. Now it has come up with another type of trade facilitation—Non-Discriminatory Market Access Agreement, which is not the same as MFN which means that Pakistan's tariffs will continue to be charged at differential rates for Indian products as compared to Pakistan's other trade partners.

China's presence
Political problems have stood in the way of cordial economic relations between the two countries. Pakistan however has good relations with Sri Lanka and has a free trade agreement since 2006. China's role is very important in the region. Out of the two huge countries dominating the region—China and India, China is gaining ground in terms of increasing trade and doling out monetary help for infrastructure building under its One Belt One Road Project. All the SAARC members have forged closer trade ties with China.

Nepal is specially becoming closer and China is investing a large amount in it. In March 2016, former Nepal Prime Minister K.P. Oli paid a visit to China and signed 10 memorandums of Understanding (MOUs) to boost economic cooperation that include an agreement to facilitate trade and transit between the two neighbours, concessional loan for constructing Pokhara Regional Airport and an economic and technical cooperation agreement. With India, in 2016, two MOUs were signed worth US $ 2 billion. The first was US $ 1 billion line of credit and second was US $ 1 billion assistance for rebuilding after the earthquake.

Bangladesh is also receiving a huge loan of US $ 21 billion from China making India's loan of US $ 2 billion look puny. There are 27 agreements and MOUs including 12 loan and mutual agreements in building roads, bridges, capacity building and skill development, BCIM-EC initiative and industrial production. China is number one trade partner of Bangladesh and it imported US $ 9.8 billion worth of goods in 2015-16.

In Pakistan, China is spending US $ 46 billion in infrastructure that includes the building of economic corridor between Kashgar, Xinjiang province of China and Gwadar, a Pakistani port on the Arabian sea. Prime Minister Nawaz Sharif recently inaugurated a 340 MW power plant built with Chinese aid and pledged that the menace of blackouts will last only till 2018. It is also giving soft loans of US $ 1 billion for three road projects in the China-Pakistan Economic Corridor.

Chinese President Xi Jinping toured South Asia promoting the Silk Road initiative and became the first Chinese Head of State to visit the Maldives where China is upgrading the Maldives' international airport after the cancellation of a deal with an Indian firm in 2012.

In Sri Lanka, China was financing s US $ 1.4 billion Colombo Port City project but due to some controversy, President Maithripala Sirisena cancelled it in 2015. But overall since 2005, China has funded or constructed 70 percent of new infrastructure projects.

Thus, SAARC clearly needs to be reorganized because in its current form it is unlikely to work with the souring of relations between Pakistan and India after the Uri attack and Pakistan's cosying up to China in building its infrastructure, some of it through POK. China is taking a more active role in all the member SAARC countries and they seem to be having strong bilateral relations with China and not with India, the biggest country in the region.

Admitting China in SAARC as a full member instead of being one of the Observers along with Australia, Iran, Republic of Korea, Mauritius, Myanmar the European Union, US and Japan, was discussed at the Kathmandu summit but it was not supported by India. India's role will remain important in SAARC in terms of geography and population (occupying 70 percent of the area and population) and GDP.

Since SAARC has faced many hitches in the past, several sub regional initiatives have turned out to be successful like the SASEC (South Asian Sub Regional Economic cooperation comprising of Bangladesh, Bhutan, India, the Maldives, Nepal and Sri Lanka and BBIN (involving Bangladesh, Bhutan, India and Nepal). BBIN sub region signed a motor vehicles agreement to ensure free and unfettered movement of passenger, personal and cargo vehicles.

Around US $ 30 billion regional projects have been started under SASEC in areas of transport, energy, trade facilitation and information, communication technology. Much will depend on how deeply interested Prime Minister Modi is in promoting regional cooperation and what relations India has with its neighbours in 2017. Pakistan's cooperation is also vital for SAARC to succeed and revived.

(Jayshree Sengupta is a Senior Fellow working with Observer Research Foundation's Economy and Development Programme)