---

Best sports journalist of the year- Channaka de Silva

Four journalists from the Daily Mirror won four awards at the Journalism Awards for Excellence ceremony 2011 held at the Mt. Lavinia Hotel Tuesday evening. Pix by Waruna Wanniarachchi


Best cartoonist of the year- Gihan de Chikera
Young journalist of the year- Dianne Silva
Dianne Silva
Merit award for Subramaniyum Chettiar award for social development reporting-Lakna Paranamanna
Feature writer of the year – English – Nadia Fazlulhaq - Sunday Times
Columnist of the year – winner – English – Chandani Kirinde-Sunday Times
Best Designed newspaper of the Year – Winner – Sunday Times
Dayaseeli Liyanage-Sunday Lankadeepa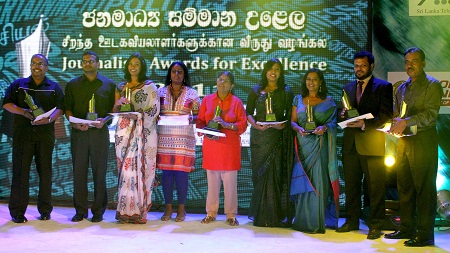 The winners of the Wijeya Newspaper Group
Award winners

Journalist of the Year - Lasantha Weerakulasuriya

Best Designed newspaper of the Year – Winner – Sunday Times

Merit – Rivira Newspapers

Merit – Express Newspapers


Best cartoonist of the year – winner – Gihan de Chikera – Daily Mirror

Merit – S. Jayapalan – Veerakesari

Merit – Anjana Indrajith – Lakbimanews


Photo journalist of the year – winner – Sanka Vidanagama Ceylon Today

Merit –Kanchana Kumara Ariyadasa

Merit - M. S. Saleem- Metro News


Best Sports Journalist- Channaka de Silva – Daily Mirror

Best Environmental Journalist – Ravindra Kuruwita – Lakbima news

Columnist of the year – winner – English – Chandani Kirinde-Sunday Times

Feature writer of the year – English – Nadia Fazlulhaq - Sunday Times

Best Business Journalist –Veerakesari Daily – Robert Anthony

Young journalist of the year - winner – Dianne Silva – Daily Mirror

Merit award for Subramaniyum Chettiar award for social development reporting-Lakna Paranamanna


Five senior journalists received the Distinguished Service Award for Journalism in Sri Lanka.

Mr. D. C. A. Bernie Wijesekera joined the Times of Ceylon newspaper of the Times Group in 1954 as a Proof Reader and worked until 1958. He was re-appointed a journalist of the Times of Ceylon in 1959. He joined The Sunday Times of Wijeya Group in 1996 and continues as a senior journalist.

Mr. Kandiah Nithyanandan started his media career as a proof reader in the Virakesari newspaper in 1961. While proof reading, he also tried his hand at drawing cartoons. He was editor overseeing upcountry news page, editor for the evening edition of Virakesari's sister newspaper Mithran Varamalar and editor politics and features.

Ms. Sybil Wettasinghe hails from Gintota Galle. In 1952, Sybil joined Lake House and worked for the Janatha tabloid newspaper as a children's artist and writer. She contributed to all the newspapers in Lake House as journalist and artist. In 1983 Sybil resumed working in the Wijaya Newspapers. In 1986 Upali Newspapers invited her to inaugurate a children's newspaper. She was the pioneer editor of Bindu.

Mr. S. Hewage Chithrananda was born on July 31, 1945. He started his career as a freelance photographer at Davasa newspaper in 1966. He was also employed at Udaya Newspaper. He joined the Times Group in 1973 as a freelance photographer and worked as a Provincial Photographer and later as the Chief Photographer. After the closure of the Times Group, he joined Lake House and was appointed Photo Editor. He retired from Lake House in 2002 and started his own studio.

Mr. Sunil Madawa Premathilaka is an old Anandian. He joined Silumina Newspapers as a very young journalist. During his 19-years service at Lake House he served as the Features Editor and the Assistant Editor. When the Divaina newspaper was started he resigned from Lake House and joined Divaina as the Features Editor. He is also Editor of Lakmina Newspaper. He is also a founder member of the Free Media Movement.
Video streaming by Ustream