---

Watawala Plantations PLC (WATA), a subsidiary of the diversified Sri Lankan conglomerate Sunshine Holdings PLC, handed over hospital furniture, essential medical equipment and medicine to the National Cancer Institute in Maharagama (Apeksha Hospital).

The donations were handed over by Watawala Plantations PLC Chief Executive Officer Binesh Pananwala to National Cancer Institute Deputy Director Dr. Buddika Kurukulasuriya who upon receiving the items thanked the local plantations company profusely for their generous contribution. The contribution was arranged with the money collected by WATA employees on their 'Friday Casual Wear Day', coupled with a generous contribution from Watawala Plantations PLC itself.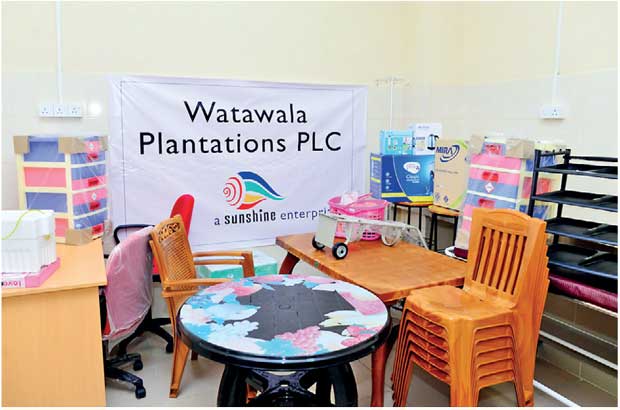 Among items donated were trolleys, chairs, tables, fans, an air condition unit and other furniture items as well as medical equipment like oxygen stands and regulators that the hospital had been short of for a long period. Inj Colistine, syringes, Filgen and Meranam were among the drugs that were donated to the hospital. All the donated equipment will be now used at the new Endoscopy Unit of the hospital as well as in the Intensive Care Unit (ICU).

At the official handing over of the items, Watawala Plantations Chief Executive Officer Binesh Pananwala said: "We think as a local company we have a responsibility towards the country and its people. This donation was made as a part of our CSR initiatives and we hope to continue empowering the country's health sector as we believe health is wealth."

Commenting on the initiative, Dr. Buddika Kurukulasuriya said: "We welcome this donation with open arms and we would like to commend Watawala Plantations for fulfilling their duty towards the country as a responsible and an exemplary business."

Watawala Plantations PLC (WATA) is a diversified Agri products company with interests in Tea, Oil Palm and Cinnamon.

Watawala Plantations has been Sri Lanka's largest producer of oil palm for several consecutive years. Watawala teas are world renowned for their quality and are Rainforest Alliance and Fair trade certified. The company has diversified into the Dairy sector as well, with a joint venture with Duxton Asset Management, Singapore.