---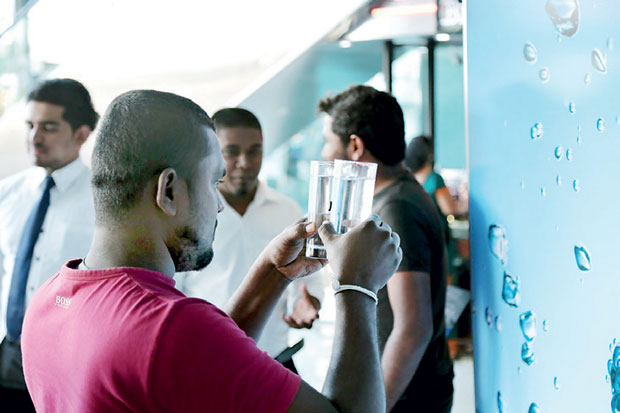 This week in an opening to an island-wide campaign that will unfold through this year to address the importance of clean drinking water, Unilever Pureit launched the'Simple Water Challenge.'
This cleverly engaging activation began with a focus on thought-provokingly educating the public about existing misconceptions around clean drinking water.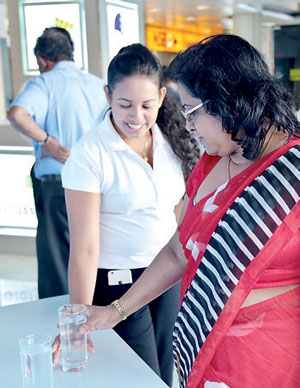 Conducted out of the World Trade Centre lobby, passers-by were presented with two seemingly identical glasses of clear water and requested to select the safe drinking water option from the two glasses. This was met with an array of responses and reactions.
"When I was asked to select the clean drinking water glass, I realised I have always assumed that clear water equates clean drinking water.Now I'm thinking about water more seriously,"noted Neel Indika Balasooriya who stopped to participate in the activation and took on the 'Simple Water Challenge'.
Clean water is accepted as an intricate element of human health, well-being and broader eco-life. Despite this, there is a tendency to make decisions aboutcleanliness of water on subjective values like colour, odour (or lack of) and taste. This launch was aimed at confronting the simple way we think about water tohelp people realise: Water is not as simple as we think.
The awareness campaign drew an enthusiastic response from the participants who were hitherto unaware of many of the sanitation and safety aspects of clean drinking water that were shared with them following the challenge.
This 2017, Unilever Pureit Sri Lanka launches into an island-wide campaign to raise public awareness about clean drinking water.
The 'Simple Water Challenge' will continue to key Lankan cities such as Kandy City Centre - 22nd January 2017 and Kurunegala- 28th January and is carried out by Pureit, a water purification system by Unilever (Pvt) Limited. Pureit is a point-of-use and in-home water treatment system and uses water purification technology that reduces harmful bacteria and parasites, which exists in drinking water. Pureit is available in 14 countries and was a result of extensive research and development undertaken by Unilever to ensure clean and safe drinking water around the world through
affordable means.