---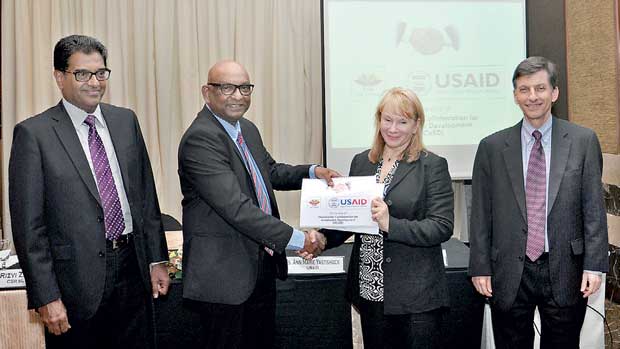 Seen here Chairman of CSR Sri Lanka Chandula Abeywickrema exchanging the Memorandum of Understanding with USAID's acting senior administrator Ann Marie Yastishock at the ceremony held Hotel Ramada. Also in the picture are Deputy Chairman of CSR Sri Lanka Rizvi Zaheed and USAID Mission Director Dr. Andrew Sisson
Pic by Damith Wickramasinghe
By Supun Dias
United States Agency for International Development (USAID) recently came forward to support CSR Sri Lanka's Stakeholder Collaboration for Sustainable Development (SCoSD) project to bring in strong collaboration among private sector companies, the public sector, civil society, the academia and a wide range of local and international stakeholders.
The SCoSD project spans over two years and seeks solutions relating to Corporate Social Responsibility (CSR) with sustainability through a wide collaboration of stakeholders.
With the assistance of USAID, CSR Sri Lanka is planning to create a functional and dynamic CSR cluster of business companies upon which stakeholders are catalyzed and nurtured to develop, validate and implement a national master plan for CSR in Sri Lanka.
Chairman of CSR Sri Lanka Chandula Abeywickreama said that Sri Lanka spends over Rs.4 billion annually on CSR through various avenues. However less attention is paid to the aspect of sustainability in most CSR projects as they are mere ad-hoc campaigns.
"You cannot run a business by totally eliminating the relationship with the society and environment. CSR has to be a part of the business strategy. There are five pillars namely; stakeholders, employees, customers, society and the environment. You have to bring transformational to all stakeholders. We have seen many organizations move towards CSR once the damage has been already done to the society and the environment. For any business it is a long journey, don't allocate a small percent for social and environment transformation. Progress means your profit has to be directed towards the planet and the people; that is sustainability," Abeywickrema noted. "Transformative CSR holds the key to making change happen, at a societal, organizational and individual level to create greater impact for the society and environmental enrichment. With transformative CSR being the way forward, private sector companies, NGOs and INGOs can now use their strengths to help their communities more effectively by engaging in collaborative partnerships with each other. By utilizing resources better, their contributions can make a larger impact," said the veteran banker.
USAID Mission Director Dr. Andrew Sisson said that he is privileged to support CSR Sri Lanka in order take transformative CSR forward in Sri Lanka as the United States have renewed partnership with the government of Sri Lanka, its people, businesses and society now.
"We have a programme to aid the war-affected regions to support apparel, agriculture and logistics sectors and provide employment for those people affected by the war with public private partnerships," he said.
"I recently visited Kilinochchi to one of the factories started after the end of the war. There are over 3000 women who suffered and lost all most of everything," he added.
Founded in 2013, CSR Sri Lanka is the apex body initiated by 40 leading corporate companies in the country to take on fostering transformative corporate social responsibility among businesses.