---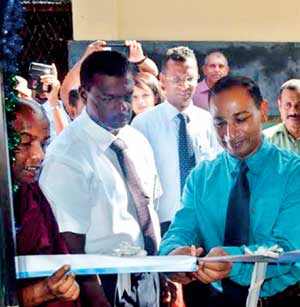 Premier fabric manufacturer Textured Jersey Lanka (TJ), the head office of which is located in the industrial zone of Seethawaka, provided one of their neighbouring schools, President's College, Avissawella with a state-of-the-art lab and technology centre.

TJ, which has a strong infrastructural corporate social responsibility (CSR) footprint in the vicinity of the area, received the request from the school and made a decision to meet the need.
The newly-built laboratory was supplied with all the basic facilities such as desks, chairs and green boards, etc.

Speaking at the opening ceremony of the new facility, Textured Jersey CEO/MD Sriyan De Silva Wijeratne said, "Education and the improving of young minds ensure that we are building our future leaders. As much as we value the educators involved in doing this, as corporates, we need to support the state's efforts to uplift rural education. Science and technological education is an important subject and one that runs closely with the knowledge and skill sets required in the textile industry. We recognize the need to address difficulties that rural schools in particular are faced with in teaching this subject and proving Presidents College with this state-of-the-art facility is part of our plan to help rural schools to upgrade their facilities." The project was supported by the old boys' association of the school as well.