---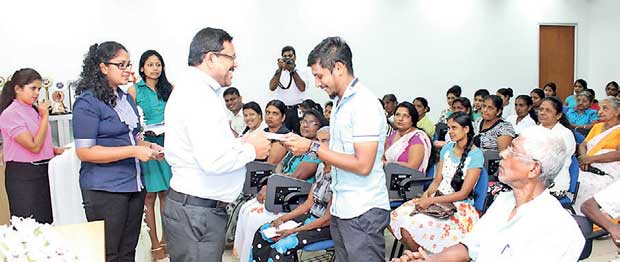 Sirio CEO and Omega Line Group Director Felix A. Fernando offering financial assistance to a grief stricken household due to the natural disaster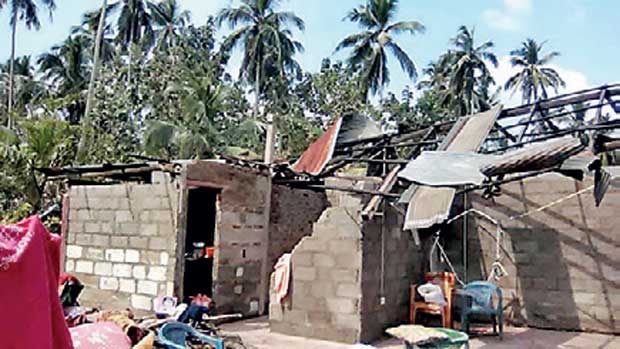 A house that was badly damaged as a result of the tornado that struck Badalgama, where the Sirio Ltd is situated
Sirio, a leading export oriented apparel company in Badalgama engaged in a massive CSR programme, where the company offered financial assistance to restore 65 houses of Sirio Ltd employees and people in the vicinity who suffered heavy losses due to the recent tornado in Badalgama, which caused heavy damage to houses.

The event to provide financial assistance that took place in Sirio premises was participated by Sirio CEO and Omega Line Group Director Felix A. Fernando, Divulapitiya Divisional Secretary H.M.L.S. Herath, Katukenda Grama Niladhari J.P.I.L. Jayakody and Badalgama Police OIC
Kolitha Ranatunga.

Sirio CEO and Omega Line Group Director Felix A. Fernando initiated this noble CSR venture with a quick decision to bring relief to grief stricken people in Badalgama due to this natural disaster that took place on January 12th.

Representatives of Sirio Ltd talked to people who were affected by the disaster that included Sirio company workers, to estimate costs to repair their houses that were badly damaged.

Providing financial assistance was done in three categories. In the first category, finances were provided to fully restore houses of 26 workers of Sirio Ltd who live in Katukenda, Menikwatte, Diklanda, Heeralugedera, Agalegedera and Pethigoda. The second category saw financial assistance being provided to people of 15 houses in the vicinity.

In the third category, Sirio Ltd provided financial assistance to renovate houses of 23 families in the Katukenda Grama Seva Wasama, (where Sirio Company is situated), who took shelter temporarily in tents provided by the government.

In addition to this, on a humble request made by Divulapitiya Divisional Secretary H.M.L.S. Herath, Sirio Ltd offered Rs.100,000 to a poor mother with a deformed son who lost her house due to this natural disaster and was living in a temporary house.

Further, Sirio took steps to provide breakfast, lunch and dinner for 10 days to around 250 families who suffered from the disaster that happened on January 12th. The company spent Rs.1.2 million for this noble CSR programme.

Felix A. Fernando speaking on this noble activity said: "The unfortunate incident that took place on January 12th caused heavy damages to houses and also to our company. We yet again realised in the midst of this disaster, how much the youth in the vicinity love our company. Power failure and road blockages due to trees falling on electricity wires caused us losses. Many workers of ours got stranded in the company premises and they were unable to go home. The youth in the vicinity took swift action to clear the roads to provide us relief."

"Because of this mutual relationship between people in Badalgama and Sirio Company, we always come forward compassionately as a company to help these people when they have difficulties. That is the very reason we took immediate steps to restore houses in the vicinity without sticking to restoring our company premises which too is badly affected by the disaster. I must also pay my respect to our Chairman, Vincenzo Joppolo and the Calzedonia Italy Company Chairman Dott. Sandro Veronesi for their prompt intervention for this just cause. Many members of our company too did tiring work to bring relief to their neighbors in the vicinity and I pay my respect to them too," he added.

Badalgama Sirio Company is affiliated to Calzedonia Group Calzedonia SpA in Verona City, Italy. Calzedonia is a leading company in the world that engages in manufacturing lingerie, socks, stockings, bathing suits.