---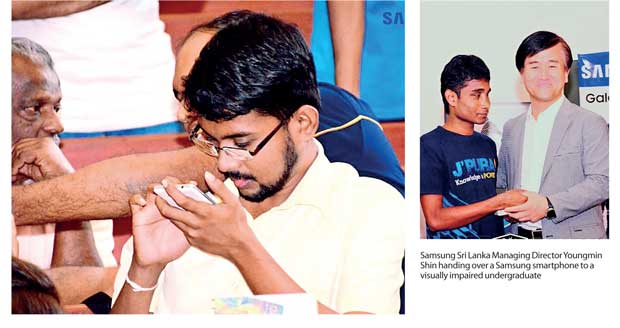 Samsung Sri Lanka recently extended support towards empowering 100 visually impaired undergraduates with smartphones that would enable them to make extensive use of digital technology in their studies.
This gesture, facilitated through the Enable Lanka Foundation, Rotaract Club of University of Colombo, Faculty of Arts and Rotaract Club of University of Sri Jayewardenepura, would be a pioneering breakthrough in the field of education for visually impaired undergraduates in Sri Lanka.
The smartphones provided by Samsung Sri Lanka would be of tremendous benefit for the students and will allow them to read audio books in English and Sinhala via a fully accessible mobile app LISN, developed by the first mobile audio books company in Sri Lanka. The smartphones would also help them in managing their studies as well as making use of cutting-edge technology in their day-to-day functions.
Commenting on the gesture, Samsung Sri Lanka Managing Director Youngmin Shin said that the visually impaired undergraduates would be able to optimize the usage of Samsung smartphones for their studies as well as for improving their skills in harnessing the capabilities of digital technology.
"The Samsung smartphones would connect them with the world and help them to make use of state-of-the-art mobile technology for knowledge acquisition," he added.
Of the estimated 800,000 visually impaired Sri Lankans, only around 200 get the opportunity to attend university, according to industry sources. One of the primary obstacles to their success is the non-availability of audio books in Sinhala.
Combined with the fact that the majority of the visually impaired undergraduates are not able to afford the purchase of a smartphone, it is both an apt and a meaningful gesture on behalf of Samsung Sri Lanka to be able to reach out to them in this manner, said a spokesperson for Enable Lanka Foundation.
The in-built applications of Samsung smartphones such as maps and voice dialers along with other apps offer tremendous benefits for differently abled users, giving them multiple opportunities to connect with the world while also enabling them to become independent and self-reliant. Features such as Samsung Touch Keyboard, E Speak, Talk Back and other software applications that provide greater support for the visually impaired, will be incorporated into the smartphones.
Samsung Sri Lanka believes that the potential of the smartphones donated would be able to inspire and encourage the talented recipients towards greater integration with the digital world.
"Today's technology can empower visually impaired young men and women in multi-faceted dimensions and enable them towards obtaining greater knowledge for the future," added Shin in conclusion.