---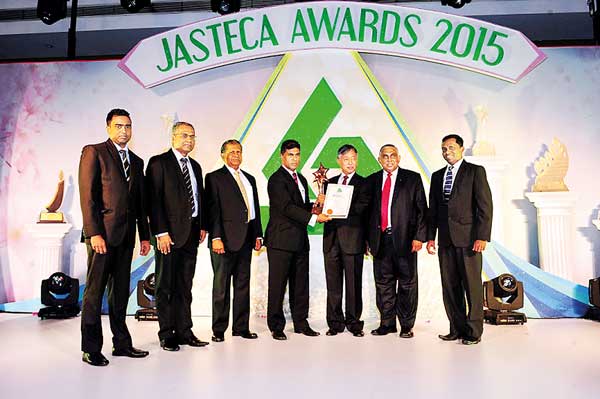 Trailblazing through the banking industry of Sri Lanka with unique CSR initiatives and sustainability efforts that ensure the wellbeing of the country and its citizens, Sampath Bank was recognized with a Bronze award at the JASTECA CSR Awards 2015, held on the 7th of March, 2016 at Galadari Hotel, Colombo.

Sampath Bank was honoured for its unwavering efforts and commitment towards uplifting the livelihood development of the citizens of the nation presented in the success stories of the bank's initiative - 'Sampath Saviya'.

Built on the concept of its Entrepreneurship Development Programme, 'Sampath Saviya' which consists of a series of workshops to assist Small and Medium scale Entrepreneurs (SMEs) in developing their businesses. Since the launch of the 'Sampath Saviya'it has witnessed a significant number of budding small and medium scale entrepreneurs build up their own businesses with great success and knowledge through the 'Sampath Saviya'programme.

Tharaka Ranwala, Pillar Head of CSR and Senior Deputy General Manager – Consumer Banking, Sampath Bank PLC, said "As one of the biggest banking institutions in Sri Lanka, we at Sampath Bank possess a whole heartedness to deliver real and quantifiable value to every stakeholder. It is etched into the core of Sampath Bank to present a promising future to all the citizens of Sri Lanka, with a genuine drive to create meaningful development that challenges conventional beliefs and advocates a much wider context of change for the nation. As such, we are greatly honoured to have received this award of recognition as the team at Sampath Bank always strive to ensure that our activities are in concurrence towards the needs of the society and well-being of the country and
its economy".

JASTECA CSR Awards, conducted by The Japan-Sri Lanka Technical and Cultural Association (JASTECA), is a flagship programme of JASTECA Sri Lanka that identifies best performers in the country who excel in the practice of Corporate Social Responsibility. In its recent efforts of recognizing unsurpassed performers of CSR, JASTECA declared a renewed set of guiding principles to inspire businesses and other organizations to have a wide-ranging CSR Policy which definesareas of concern and initiatives to improve relations with the people and environments affected by business operations. JASTECA further encourages business organizations to go beyond stakeholder and statutory obligations, in order to fulfil the aspirations toward the triple bottom line in a sustainable manner.

Sampath Bank envelopes its CSR initiatives with a '5E CSR Model' which focuses on Education for Development; Empowerment of Community, Ethics and Values, Environment Protection and Conservation and Entrepreneurship Development. In recognition of its unwavering CSR efforts in the past, Sampath Bank has been honoured with a Gold Award for "CSR Brand of the Year" at the SLIM Brand Excellence Awards 2015 and earned the title as "Overall Best Corporate Citizen" at the Best Corporate Citizen Sustainability Awards 2015presented by the Ceylon Chamber of Commerce. Sampath Bank further broke ground in the year 2015 for pioneering unique CSR initiatives that won prestigious awards for "Best Use of CSR Practices in Banking & Finance", and a category award for "Poverty Alleviation" at the 5th Asia Best CSR Practices Awards by CMO Asia,category awardfor 'Health Promotion' at Asia Responsible Entrepreneurship Awards 2015 by Enterprise Asia as well as a Silver Award for its 'Overall Excellence in Corporate Social Responsibility Reporting" at the Annual Report Awards 2015 by CA Sri Lanka.