---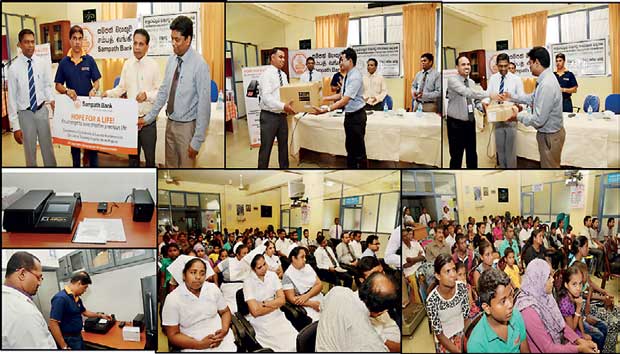 Reiterating its status as a responsible banker of the nation, Sampath Bank recently made an invaluable contribution to the Kidney Disease, Dialyzer and Transplant Unit ofthe Teaching Hospital in Anuradhapura.
Carried out under the Bank's 'Hope for a Life' CSR project, the endowment included a Maltipara Monitor and a Programmable Automatic Micro Plate ELISA Reader. These machines enable the medical fraternity to improve the management of Kidney Disease patients, thus saving another precious life with efficient, accurate and timely treatment.
Commenting on this initiative, Tharaka Ranwala, Senior Deputy General Manager – Consumer Banking & Pillar Head of CSR, Sampath Bank PLC said "Considering the crucial situation that the Anuradhapura District is fronting, the team at Sampath Bank were greatly overwhelmed by the number of lives that have been affected by the disease and the lack of immediate relief or advanced medical equipment. Therefore, we believe with the medical expertise, commitment and dedication of the medical fraternity at Anuradhapura to rid lives from this terminal disease, those affected communities are assured to live a healthier lifestyle with a promising future".
Further remarking on this effort, Dr. Anwar Sadath, Consultant Nephrologist, Teaching Hospital in Anuradhapura, "The special Kidney Unit of the Teaching Hospital, Anuradhapura is undertaking a great deal of responsibility to help the affected communities by providing a range of clinical services. Fortunately, with this contribution by Sampath Bank, our ability to help these communities has been lifted, as these machines can provide an ideal platform for providing patients with better care."
Identified as a region with a significant percentage of individuals affected by Chronic Kidney Diseases, the North Central Province of Sri Lanka continues to see an increase in the number of deaths and terminal cases.
As such, this endowment fulfils a vital requirement of the Chronic Kidney Disease Unit of the Anuradhapura Teaching Hospital to save the lives of CKD affected patients in the area.
Under the 'Hope for a Life' project, Sampath Bank has carried out various initiatives with a common denominator to elevate the standards of Sri Lanka's health sector and address some of its most critical issues. In efforts to combat CKD, Sampath Bank installed a water purification unit in Poonewa to provide the villagers with clean drinking water. Among the many initiatives, the Bank also donated a Neuro Navigator System to the National Hospital of Sri Lanka.